Calipari Bourbon Bottle to Make Sweet Music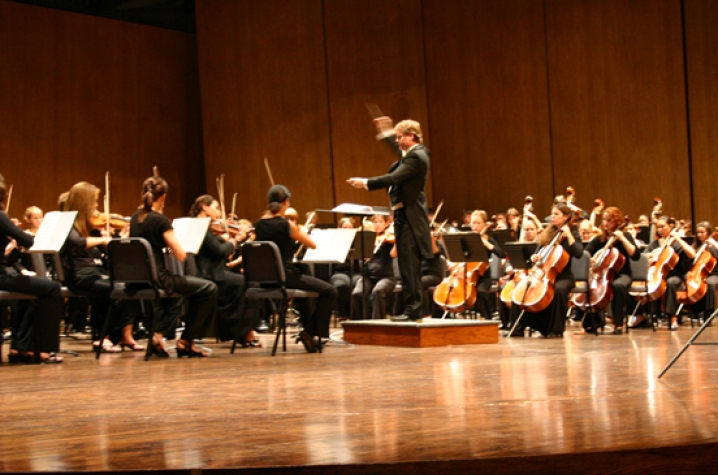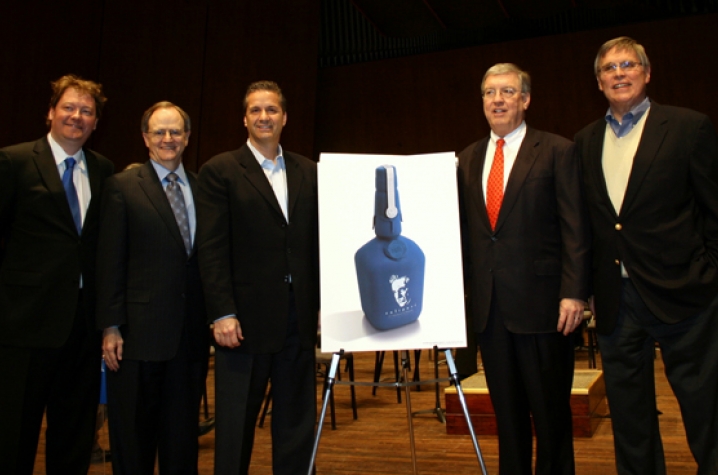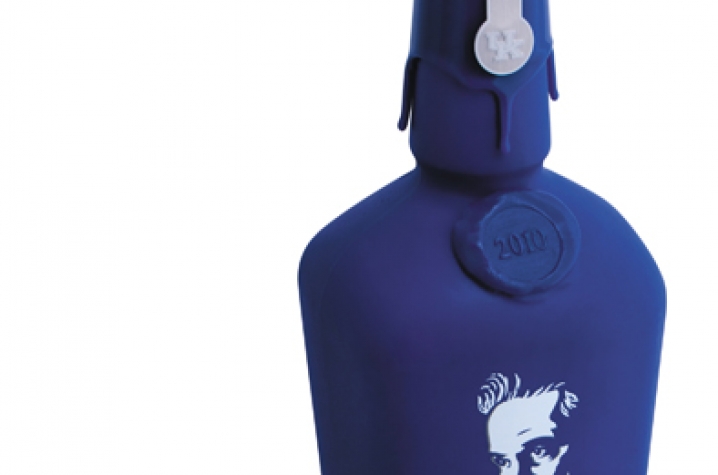 LEXINGTON, Ky. (March 2, 2010) − Building on the past success of the Maker's Mark/Keeneland charitable bottle series that supports projects at the University of Kentucky, Maker's Mark and Keeneland are continuing the program with the celebration of UK basketball coach John Calipari, whose likeness will be featured on the bottle this spring.
 
The popular coach will team up with University of Kentucky Symphony Orchestra, Maker's Mark and Keeneland to raise money for a unique extension program highlighting the performing arts for elementary school children throughout the Commonwealth.
 
"It's an honor to team with Maker's Mark and the university in this unique fundraising opportunity to help benefit the UK Symphony Orchestra Outreach Program," said Coach Calipari. "I'm not sure the world is ready for my face on a bottle, but if it helps the university, I'm all for it. I hope all our great fans will support this worthy effort."
 
Maker's Mark will donate proceeds from the sales – estimated to be about $300,000 from 24,000 bottles – to an extension program that is bringing the UK Symphony Orchestra and students from the UK School of Music into public schools and communities throughout Kentucky. UK is in the process of securing matching grants that, if sales of the bottles are successful, may create funding for this unique program in excess of $1.2 million.
 
"This year we launched the outreach program, and have already performed for thousands of young people around Kentucky," said John Nardolillo, director of UK Symphony Orchestra. "When we announced this program last year, we received dozens of requests from schools all over Kentucky, and when the famous fiddle player Mark O'Connor heard about it, he joined us for our first outreach concert, to Ashland, where we played for more than 1,000 schoolchildren."
 
"The performances around Kentucky funded by this program will be tremendous for our students in the UK Orchestra, the children who will participate in the programs, and the communities who will hear the concerts," added Nardolillo. "Maker's Mark and Keeneland are doing something which will have a lasting impact at the university and around the Commonwealth."
 
In a time when budgets do not allow for extensive arts programs in public schools, this partnership is beginning its second year of a possible three years of support for music education outreach for third and fourth grade students throughout Kentucky.
 
Maker's Mark President Bill Samuels Jr. said, "John Calipari brings so much excitement to Kentucky and he deserves to be honored for the phenomenal results he achieved with the men's basketball program in such a short period of time. More important is his dedication to the betterment of the University of Kentucky as an educational institution and achieving Dr. Todd's goals for UK. Cal's enthusiasm is contagious and is a wonderful way to show how the success of his basketball program can support the greater good of the university and education throughout the Commonwealth."
 
Born in Moon Township, Pa., Calipari played college basketball at the University of North Carolina-Wilmington and later Clarion, where he played point guard and led the team in assists and free throw percentage. He began his coaching career at the University of Kansas as a volunteer assistant and later served as an assistant coach at both Kansas and University of Pittsburgh.
 
In 1988, he took his first head coaching position at the University of Massachusetts, where he led the Minutemen to the Final Four in 1996. For his efforts, Calipari was named Naismith National Coach of the Year. Following a stint coaching the New Jersey Nets in the NBA, Calipari was named head coach of the University of Memphis in 2000, where his success there resulted in a second Naismith Coach of the Year award and an appearance in the National Title game in 2008. He is only the second coach to receive the honor multiple times. He was also named the 2009 Sports Illustrated National Coach of the Year. Calipari posted 252 wins -- 28 wins per season -- as the Tigers' head coach, making him the winningest coach in Memphis history.
 
In spring of 2009, Calipari became the 22nd coach in UK men's basketball history, and the seventh in the last 79 years. In his first season at UK, he has coached the Wildcats to their 2,000th win and their first No. 1 ranking since 2003. The Wildcats, who are currently 27-2 and first in the SEC east, have also garnered a league record in weekly awards this season from the conference. Currently the third winningest active coach in NCAA Division-I play, Calipari has also galvanized the Big Blue Nation to support several philanthropic endeavors, including the Hoops for Haiti fundraiser, which raised more than $1 million for Haiti earthquake relief efforts.
 
Since Nardolillo took the conductor's podium of the UK Symphony Orchestra, it has enjoyed great success racking up recording credits, performing on prestigious stages at the Kennedy Center and Carnegie Hall and sharing the stage with such acclaimed international artists as Arlo Guthrie, Lynn Harrell, Gil Shaham, Mark O'Connor and Sarah Chang. Among its recording credits are: "In Times Like These," recorded live with folk icon Guthrie in March 2006 at the Singletary Center for the Arts; the premiere cast recording of Thomas Pasatieri's "The Hotel Casablanca" with UK Opera Theatre; "Music of the Horse," a collection of equestrian-inspired music sponsored by UK School of Music and the Keeneland Foundation; and most recently a critically acclaimed recording of composer George Frederick McKay's "Epoch: An American Dance Symphony" with the UK Women's Choir. UK Symphony Orchestra is one of a very select group of university orchestras under contract with Naxos, the world's largest classical recording label.
 
Maker's Mark will produce 24,000 numbered, limited edition bottles honoring Calipari, and they should be available statewide Friday, April 2, opening day of Keeneland's Spring 2010 meet. The bottle should retail for about $49 if retailers take their normal markup.
 
"We are very proud that Maker's Mark, UK and Keeneland have come together on this very worthy project," said Keeneland President and CEO Nick Nicholson. "Congratulations to Coach Cal for being this year's honoree. This initiative underscores his willingness to donate his name and time to UK's Top 20 mission and Kentucky's future."
 
A bottle signing, scheduled the day of the Grade-1 Maker's Mark Mile, will be held Friday, April 9, trackside at Keeneland, with Calipari, Samuels and Nicholson. In an effort to better accommodate the growing legion of fans who attend the Maker's Mark bottle signing at Keeneland, a few guidelines and a new ticketing procedure is being established. Details on the ticket procedure for the bottle signing will follow later this month from Keeneland.