A Celebration in the Bluegrass: UK Homecoming is Here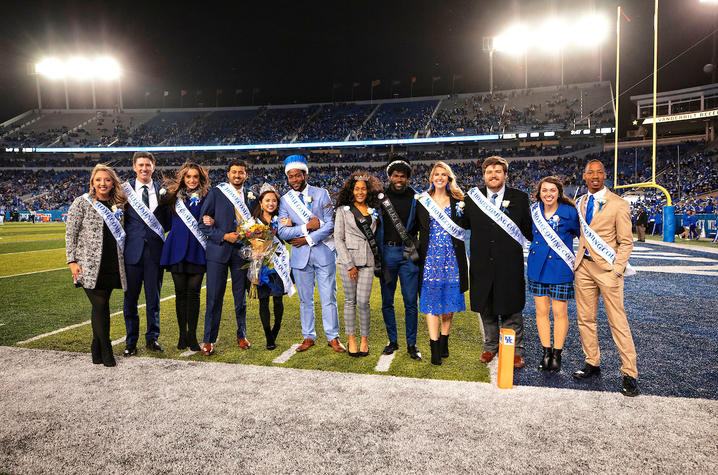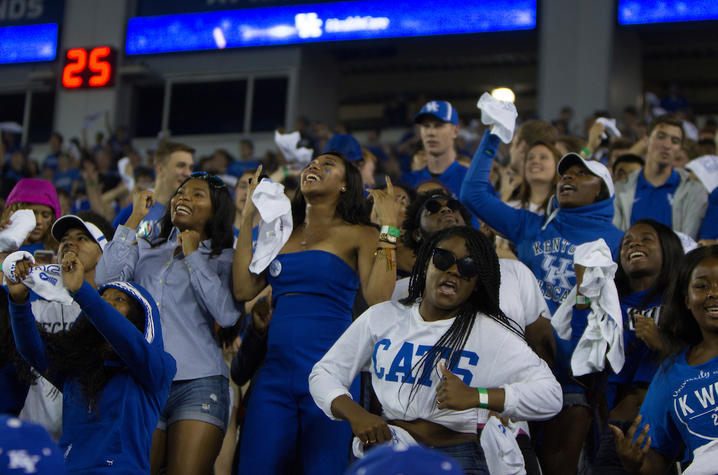 LEXINGTON, Ky. (Oct. 4, 2019) — The 104th Homecoming at the University of Kentucky is full of opportunities for students and alumni to continue the tradition of what it means to be a Wildcat. From Oct. 6-12, a bevy of events are planned leading up to the Homecoming football game against University of Arkansas, where the UK Royalty will be announced. The UK Alumni Association, individual colleges, Student Organizations and Activities, Black Student Union, National Pan-Hellenic Council and many other groups have been working hard to make Homecoming week a special time in the lives of students, alumni and all who take part in the festivities. 
This week of festivities is a highlight for the UK Alumni Association. "Homecoming is a special event that unites the past and the present. We are very excited to welcome all of our alumni and friends back to campus for Homecoming 2019," said Jill Smith, interim executive director of the UK Alumni Association. "We look forward to celebrating the Class of 1969's induction into the Golden Wildcat Society along with celebrations hosted by our colleges and constituent groups."
Here are some of the highlights of the week.
DanceBlue 5K Marathon: Sunday, Oct 6
Kick off your Homecoming week with a walk, jog or run with DanceBlue for the 5K run at Kroger Field beginning 2 p.m. Sunday, Oct. 6.
Register online here or at the 5K with a $5 increase in the registration fee. Packet pick-up will be from 8 a.m. to 5:30 p.m. today (Friday), Oct. 4, in the DanceBlue Office at the Gatton Student Center, Room A262.
UK students participating in the 2020 DanceBlue Marathon will be able to earn spirit points for their team. For every dancer registered, the dancer's team will be awarded 10 points. Also, if the dancers pick up their packets in the designated packet pick-up time, they will earn an additional spirit point.
Royalty Showcase: Monday, Oct. 7
Students, staff and faculty get the chance to meet the candidates for this year's Homecoming Court from 7-9 p.m. in Gatton Student Center Ballroom AB. The purpose of showcase is for the Homecoming Court to display their speaking skills, poise and public presentation of talent. All students who attend will be given a code to be able to cast their votes, which will take place for 24 hours. 
The list of Homecoming Court candidates can be found on the Student Activities Board website, here.
Mr. and Ms. Black UK Scholarship Pageant: Wednesday, Oct 9
Mr. and Ms. Black UK Pageant will take place 7 p.m. Wednesday, Oct. 9, in Memorial Hall. Since its inception in 1987 by the Delta Sigma Theta Sorority Inc., and now a collaborated event with the Black Student Union, the pageant serves as an event where contestants have a chance to show off their talent and abilities for the crown. It also serves as an event of unity with students of all communities coming together for a night of excellence. Admission to the event is $5. If you bring a gently used K-12 book, admission will be $3. 
Golden Wildcat Society Reunion: Thursday, Oct. 10
It's been 50 years since these Wildcats graduated from the University of Kentucky, and the UK Alumni Association has invited them back for induction into the Golden Wildcat Society. This elite group of UK grads who graduated 50 or more years ago makes up the Golden Wildcat Society Reunion, which gets underway Thursday, Oct. 10, with registration and a campus tour, followed by a welcome reception from 5-7 p.m. at The Campbell House. Reunion participants will enjoy other events throughout the weekend, culminating in a farewell breakfast at Kroger Field's Woodford Reserve Club Sunday morning.
National Pan-Hellenic Council Step Show: Friday, Oct. 11
The NPHC step show will take place 7:30 p.m. Friday, Oct. 11, in the Gatton Student Center Ballrooms. Tickets for the event can be found online here. The step show is a treasured tradition that allows for friendly competitions between the NPHC organizations. Sororities and fraternities perform routines unique to their organizations in hopes to be crowned the winner. The step show is one of the biggest highlights of the week, as people from across the state come to enjoy the performance. 
UK Football game against Arkansas: Saturday, Oct. 12
Cheer on the Wildcats in the annual Homecoming game as they take on the Arkansas Razorbacks for an SEC matchup at Kroger Field. Stick around during halftime as the 2019 University of Kentucky Homecoming king and queen will be crowned.
A list of more Homecoming festivities can be found on the UK Alumni Association page.