Chronicling a New Love of Language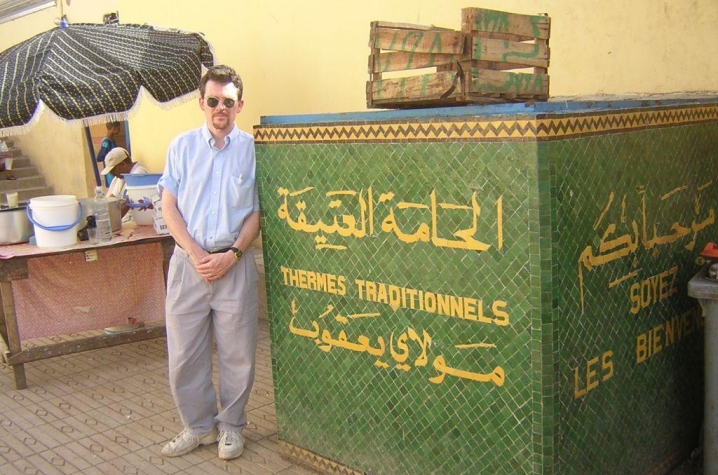 LEXINGTON, Ky. (Feb. 9, 2011) − "It's 11:57 a.m., and I'm hurrying to class with my backpack on. A colleague stops me in front of the Chemistry-Physics Building and says, 'You look like a student!' Actually, I am."
So begins the story of Alan Fryar, a University of Kentucky geology professor who elaborates on his midlife undergraduate experience in this week's Chronicle of Higher Education.
Fryar, who is also the director of graduate studies for the Department of Earth and Environmental Sciences at UK, began taking French language classes on campus last semester.
"At 46, I'm an associate professor of geology and one of 25 students in an elementary French class here at the university," he explains in the Chronicle Review. "I'm nearly twice the age of my oldest classmate and 20 years older than my instructor, an M.A. student. Many of my classmates are freshmen (as is my older son, whose girlfriend is in another section of my class)."
While French enthralled Fryar as he pursued his doctorate at the University of Alberta, ("farine de blé" sounds much more interesting than "wheat flour," he says), it was a query from Lahcen Benaabidate, a professor of hydrogeology in Morocco, that really brought him to the other side of the classroom.
Fryar and Benaabidate began working on water-resource issues together in North Africa and have become great colleagues and friends, as have their families.
Fryar's ultimate motivation for taking French courses arrived after he learned that he'd have to submit a two-page proposal synopsis in Arabic or French in order to apply for a Fulbright scholarship to Morocco.
"I chose French," he said.
Fryar's classroom experiences thus far have given him greater respect for undergraduate students, teaching assistants and non-native English speakers.
 
To read all of Fryar's commentary from the Chronicle, click on the PDF below.
 
MEDIA CONTACT: Erin Holaday Ziegler, (859) 257-1754, ext. 252; erin.holaday@uky.edu