College of Communication Students Get Advice From the Pros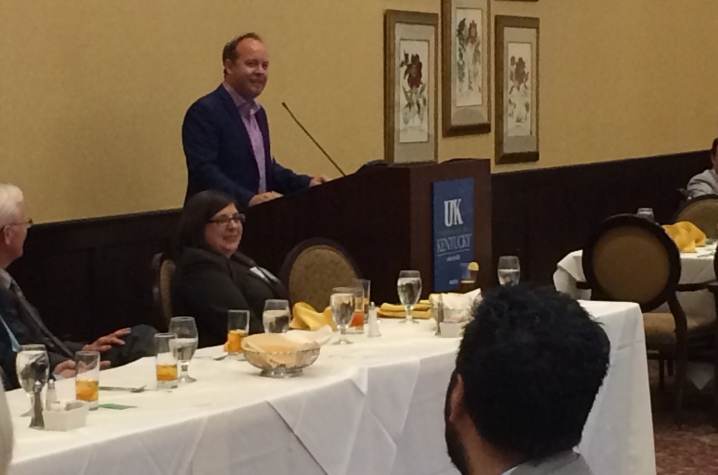 LEXINGTON, Ky. (Nov. 4, 2014) — The University of Kentucky College of Communication and Information is preparing soon-to-be graduates for their postgrad life. On Oct. 29, the college hosted a Professional-Amateur Networking Day at the Hilary J. Boone Center. This event gave junior and senior students in the college the opportunity to network with alumni and supporters of the program. Students were able to hear valuable advice before they embark on their professional lives.
Shari Veil, Elisia Cohen and Cyndy Miller organized and planned the event modeled after similar ones held on other college campuses. Cyndy Miller, director of the College of Communication and Information Internship Program, brought in the pros.
Students in attendance were given the opportunity to listen to real world experiences of professionals who are in positions similar to the ones students hope to hold. Companies represented ranged from Columbia Gas of Kentucky to Awesome Inc. The relaxed atmosphere made students feel like they were having lunch with a colleague, rather than sitting through an interview. According to Miller they were trying to "create an open conversation, led by students."
Drew Curtis, founder and CEO of Fark.com, gave the keynote address at the event. He mixed humor and a casual outfit into his highly insightful speech, which consisted primarily of life stories. The best piece of advice given to students in attendance was his version of the "secret to life," "do what's easy." That's not to say he didn't impress upon the audience the importance of hard work. He discussed how he chose his educational path, computer science. He noted how he liked the homework, and so that was the career path he chose to pursue. Because he chose a field that interested him, his 16-hour work days don't seem so long.   
The college hopes to be able to offer this event again in the future to students.
MEDIA CONTACT: Ann Blackford at ann.blackford@uky.edu