DanceBlue Fall Blitz Week is Here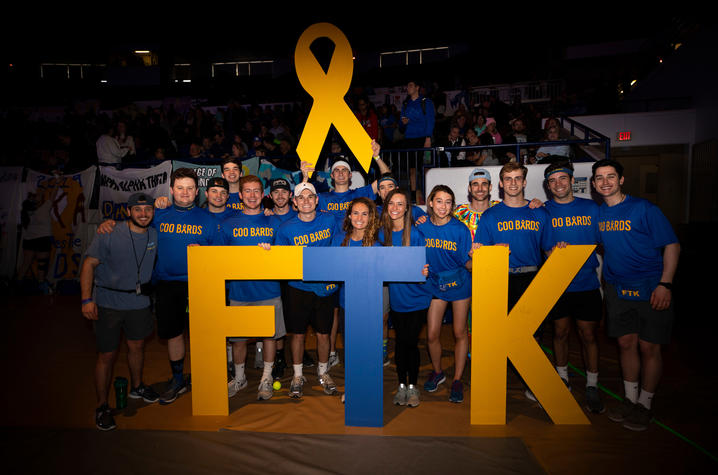 LEXINGTON, Ky (Sept. 20, 2019)  — Although the school year has just begun, the DanceBlue Committee has been working all summer and fall in anticipation for the marathon in the spring. Being one of the most participated in events on the University of Kentucky's campus, DanceBlue takes all year to fundraise and plan for the marathon and various events throughout the school year. In order to be part of the marathon, students must sign their teams up by 5 p.m. Friday, Sept. 27. Students can use the link here to register.
To mark the closing of team registration, DanceBlue Committee will be hosting a Blitz Week, Sept. 23-27, with several exciting events on campus throughout the week.
Monday, Sept. 23: Why Do You DanceBlue?
Every student has a different reason why they participate in DanceBlue. This day allows students to share their reasons on the DanceBlue chalkboard inside of the Gatton Student Center, and grab some lemonade from Elena's Lemonade Stand outside of the Mining and Minerals Building. Both locations will run from 10 a.m.- 2 p.m. Show support on social media using #DBBlitzWeek and #WhyDoYouDanceBlue and tagging and following @uk_danceBlue!
Tuesday, Sept. 24: Teammate Tuesday
Teammate Tuesday is a social media day! Use the fun Instagram Story templates that will be posted on the DanceBlue Instagram story to share which team you would be on for different aspects of the marathon. You can also talk about your dream marathon team, or post your own pictures of your favorite teammates. Anyone is welcome to participate! Use #DBBlitzWeek and #TeammateTuesday and tag @uk_danceblue for the chance to be reposted on our account.
Wednesday, Sept. 25: Wear It Wednesday
Show your DanceBlue spirit with new merchandise! Visit the DanceBluetique inside the Gatton Student Center, then head over to the  Mining and Minerals building to have a photoshoot in your DB gear. Both locations will run from 10 a.m.- 2 p.m. Cash, check and credit card will be accepted at the DanceBluetique. There will also be a merchandise giveaway to the person who has the best DanceBlue Instagram story for the day! Use #DBBlitzWeek and #WearItWednesday and tag @uk_danceblue to enter the giveaway.
Thursday, Sept. 26: Throwback Thursday
Throwback Thursday is another social media day! Use the Instagram story templates that will be on the DanceBlue Instagram story, or post your own pictures to reminisce on past marathons. Use #DBBlitzWeek and #ThrowbackThursday and tag @uk_danceblue to have the chance to be reposted on our account!
Friday, Sept. 27: FTK Finale Friday
Friday is the finale of Blitz Week and team registration! To celebrate, stop by the DanceBlue chalkboard and take a picture with the gold FTK balloons in the Gatton Student Center or grab some cookies and lemonade from outside of Mining and Minerals. Both locations will run from 10 a.m.- 2 p.m. To close Blitz Week, there will be a performance of the line dance outside of the Student Center at Blazer Plaza at 1:30 p.m. Registration closes at 5 p.m., so make sure to register your team before then!
DanceBlue has fostered a sense of community both on UK's campus and across the state of Kentucky. From supporting the families in the clinic, to dancing, sweating, and laughing together during the marathon, the bonds the organization creates are unbreakable. DanceBlue is UK's  24-hour, no sitting, no sleeping dance marathon that benefits the Golden Matrix Fund. The DanceBlue Kentucky Children's Hospital Hematology/Oncology Clinic opened its brand new facility in 2017 after a complete renovation funded solely from DanceBlue. For more information about DanceBlue, registration information or to support its efforts, please visit www.danceblue.org. Connect with DanceBlue on Facebook, Twitter and Instagram.