Employee Calls Free Fitbit Opportunity a 'True Benefit'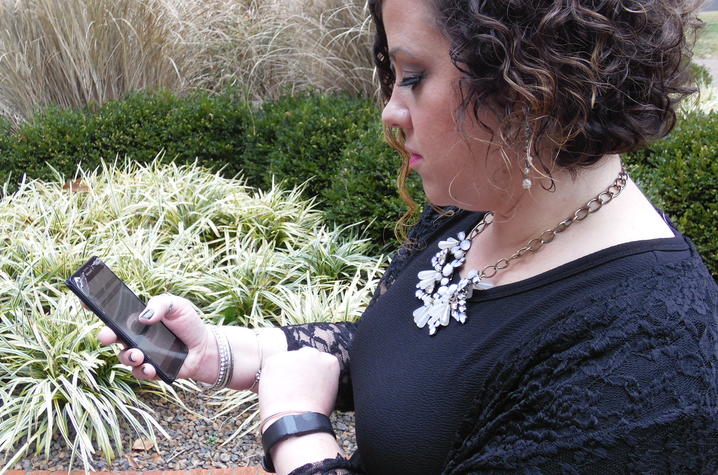 LEXINGTON, Ky. (Jan. 16, 2018) — More than 7,000 University of Kentucky employees, retirees and spouses have purchased a Fitbit through UK's recent promotion. It is just one way the university is helping the community improve their well-being. The promotion continues through Jan. 31.
"Walking more is an attainable goal," said Allison Walters, a UK employee for almost 20 years. "The Fitbit is a true benefit to my health because it keeps me in tune with how I'm doing."
"For me, being healthy means doing things that make me feel better — like being active," Walters said. "I notice my clarity is better, I'm more positive, and I'm less anxious and stressed."
An intrinsically motivated, process-oriented approach was not always her perspective.
"I think many of us — and I used to think this way too — have an unrealistic expectation of what health equals: ripped or super skinny," Walters said. "I think that prohibits people from doing anything. It's like I know I can't get to that point, so I might as well not do anything."
Her understanding of health shifted after seeing another perspective on social media about three years ago. A health coach who posted about habits and processes like working out and preparing meals at home caught her attention.
After first signing up to receive online health coaching, Walters also began working out regularly, which she considers a turning point. Today, physical activity remains a priority for her.
Enthusiastic about the current free Fitbit offer from UK Human Resources Health and Wellness, Walters explains what she likes about her Fitbit.
"Recognizing I wasn't feeling at my best was when I decided to focus on my health. The Fitbit reminds me to ask myself, if I'm not feeling at my best, do I need to be a little bit more active?"
Walters described this reflective process as "being an active participant in your Fitbit." She said this has been essential for her, along with UK Health and Wellness' role in hosting Step Up Challenges.
Challenges have helped Walters contribute to changing the culture in her workplace.
"Now it's easier to say, 'Let's take a walking break.' Because many of us have Fitbits, I'm part of work week challenges through Fitbit which encourages us to motivate each other during the workday. This is such a huge opportunity."
More than 20,000 employees are eligible for a free Fitbit. Employees may log in to their Health and Wellness dashboard and act by Jan. 31. Additional free benefits such as health coaching and a $7 per month fitness membership are also available in the Health and Wellness dashboard.