E.ON U.S. Sponsors UK in Solar Decathlon Competition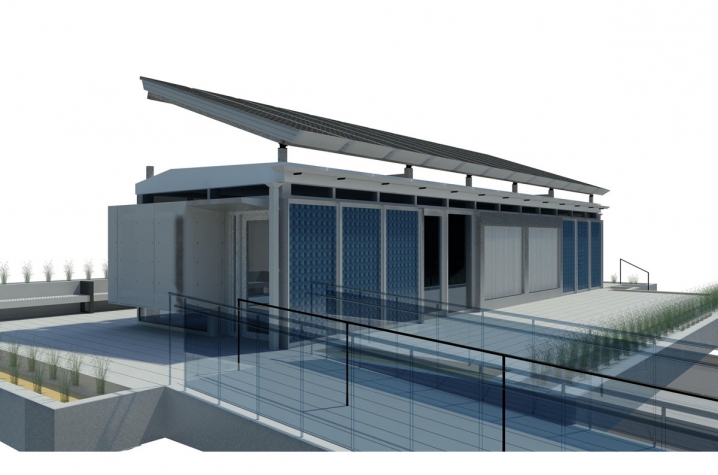 LEXINGTON, Ky. (Sept. 21, 2009) - With a $250,000 sponsorship, E.ON U.S. is shining some light on the University of Kentucky's efforts to build a "net-zero" energy house for the U.S. Department of Energy Solar Decathlon competition this October.
Dubbed "Solar Decathlon," the fourth biennial competition includes teams from 20 universities worldwide. Each 800-square-foot or less solar-powered house, built by the students on their home campus and then transported to the National Mall in Washington D.C., must demonstrate that homes powered entirely by the sun do not have to sacrifice all the modern comforts and appealing features that people have become accustomed to in their homes. 
The Decathlon gets its name from the 10 specific areas of competition: architecture, engineering, market viability, lighting design, communications, comfort, appliances, hot water, energy balance and home entertainment.
"This competition joins two central facets that are extremely important to E.ON U.S. – education and the environment," said Vic Staffieri, chairman, CEO and president of E.ON U.S. "We wanted to support the University of Kentucky in this very challenging and innovative competition where our state's knowledge of current energy issues can be applied on an international stage."
Since early 2008, UK's team has been hard at work developing its S•KY BLUE House.
The "Blues" Team, an interdisciplinary group comprised of students, faculty and staff from six colleges and 16 centers and departments within UK, is led by two principal investigators: Donald Colliver, professor of biosystems and agricultural engineering at the College of Agriculture; and Gregory Luhan, associate dean for research at the College of Design.
Other colleges with faculty serving the project are: the College of Arts and Sciences, the College of Communications and Information Studies, the College of Engineering, and the College of Medicine.
This October, as part of a solar village on the National Mall, the university teams' houses will showcase innovation in solar technology to the general public while concurrently being evaluated for the decathlon. An overall winner, considered to have the most energy-efficient and innovatively designed house, will be announced at the end of the event.
"Having an industry partner like E.ON U.S. is an important component to our team's overall success," said Lee T. Todd Jr., president of the University of Kentucky. "E.ON U.S. is a long-time partner with our university, particularly with our Center for Applied Energy Research. We appreciate their support in our efforts to make our 'net-zero' design a reality and win this competition."
For more information on Solar Decathlon 2009, visit www.solardecathlon.org. For more information on the UK house, see www.uky.edu/solarhouse.
E.ON U.S., headquartered in Louisville, Ky., is a subsidiary of E.ON A.G., the world's largest investor-owned energy services provider. E.ON U.S. is a diversified energy services company that owns and operates Louisville Gas and Electric Company, a regulated utility that serves 314,000 natural gas and 389,000 electric customers in Louisville and 16 surrounding counties, and Kentucky Utilities Company, a regulated electric utility in Lexington, Ky., that serves 538,000 customers in 77 Kentucky counties and five counties in Virginia.