Future Policymakers Visit Y-12, Oak Ridge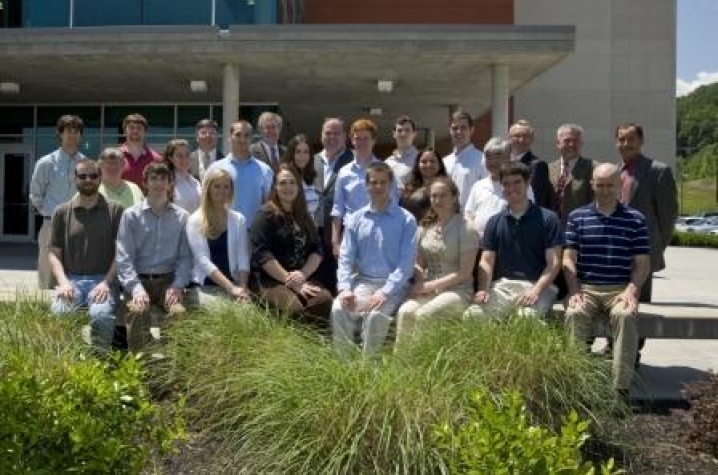 LEXINGTON, Ky. (July 29, 2010) -A visit to the Fort Knox of uranium isn't typical graduate school class fare. But the University of Kentucky's Patterson School of Diplomacy and International Commerce program is far from typical.
As director and former U.S. Ambassador Carey Cavanaugh explained, the Patterson School advocates practical training and real-world experience. "We want our students to witness national and international security, commerce and diplomacy first-hand," he said.
And Cavanaugh practices what he preaches, organizing a trip to the sensitive Y-12 National Security Complex in Oak Ridge, Tenn. for a Diplomacy of Nuclear Weapons class during the spring semester.
"It was probably the coolest school field trip I've ever taken," said Patterson School graduate Patrick Smith.
UK students began the day with an overview of Y-12, highlighting the new Highly Enriched Uranium Materials Facility (HEUMF), as well as the planned Uranium Processing Facility. Students also had the opportunity to tour parts of the Y-12 site and Oak Ridge National Laboratory (ORNL).
"We are the boots on the ground when it comes to nuclear security issues," said Gerald DeVault, Science, Technology and Partnerships' (STP) nonproliferation and nuclear security director. "These are future leaders and policymakers who will someday make decisions about how to manage weapons of mass destruction and about nuclear nonproliferation. What they learn here will add to their practical knowledge."
Smith was amazed at the cutting edge research featured at the sites. "I don't have a science background, so I was shocked at the amazing things our government scientists are doing every day," he said. 
Students were not only able to observe how nuclear weapons materials are being safeguarded and see the detection equipment used to stop these dangerous materials at U.S. borders, but had the opportunity to use the equipment provided to international nuclear inspectors to detect hidden nuclear program activities.
"It's one thing to study nonproliferation efforts in class, but seeing the HEUMF and meeting the top scientists and experts working in this area made it all very real for our students," explained Cavanaugh. "They were surprised and reassured by the human and financial commitment the U.S. has made to safeguard highly enriched uranium. It opened their eyes to this important national priority."
Cavanaugh said the student response was overwhelming, and he hopes to return next year with another group. "They were really inspired by their visit to Y-12 and ORNL," he said.
The Patterson School's focus on practical training and real world experience extends far beyond this visit to Y-12. 
"In less than a calendar year at Patterson I have met numerous current and former ambassadors and foreign officials, driven an M-1 tank simulator at Fort Knox, saw how weapons-grade uranium was secured at Y-12 and witnessed state-of-the art manufacturing at Toyota's plant in Georgetown," said Patterson student Carlton Travis Cone. "These real world experiences offer balance to the rigorous academic work going on inside the classroom."
As Smith heads up to Washington D.C. to begin an international relations specialist position with the Defense Department this month, he admits that the Patterson School was probably the best decision he ever made. "Trips like Y-12 really gave me the background I needed to go to the next level," he explained. "I learned the necessary content for my degree, but the program makes everything so real."