Gorton, Trimble and Godby Win 2015 Sullivan Awards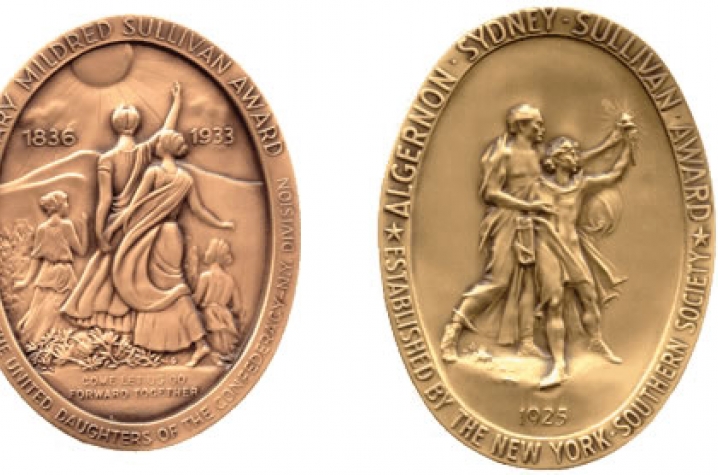 LEXINGTON, Ky. (April 13, 2015) ― A registered nurse who rose to vice mayor of Lexington with a reputation for fairness and good works, the founder of a nonprofit tennis and education program for disadvantaged Lexington children, and the creator of "Bucks for Backpacks" to help the homeless are the recipients of the University of Kentucky's 2015 Algernon Sydney Sullivan Medallions for outstanding humanitarian service.
They will receive their medallions this evening at UK's annual Honors and Recognition Awards Program in the Student Center Grand Ballroom. A 6 p.m. reception will be followed by the formal program beginning at 7 p.m.
The citizen recipient of the Sullivan Award this year is Linda Gorton, a retired registered nurse, who completed 16 years of public service in elective office in Lexington in 2014 as vice mayor. 
She earned a reputation for bringing competing factions together at city hall to do the public good, including her support for a fairness ordinance, the indoor smoking ban, the need for environmental regulations, and the Rural Land Management Plan to protect the area's agricultural economy. 
She served four terms on the Lexington-Fayette Urban County Council as 4th District Council member, being first elected in 1998; one four-year term as at-large member; and one term as vice mayor. 
Over the years, she served in leadership roles in organizations dedicated to improving the lives of children and to ensuring that people were being treated fairly. 
For six years, starting in the mid-1990s, she served on the Equity Council of Fayette County Public Schools dealing with issues ranging from the fair treatment of bus drivers to the challenge of closing the learning gap for children from low-income families. 
She co-founded the Friends of the Dog Parks, a nonprofit that works with the city to fund and run the city's dog parks. She received the Bur Oak Award for her work with The Arboretum, a joint project of the University of Kentucky and Lexington-Fayette Urban County Government, and she was honored by the Boy Scouts of America with the Silver Beaver Award for her work with youth.
Before arriving in Lexington, she worked as a nurse in Germany, Korea and Georgia, where in 1975 she served on a team of volunteer doctors and nurses at Fort Benning to assist with the U.S. government's "Operation Babylift," the evacuation of orphans from South Vietnam to the U.S. and other countries. She gave the babies and children physical exams before they were adopted. 
At the University of Kentucky, she serves on the Board of Visitors of the Martin School of Public Policy and Administration and on the Dean's Advisory Board of the College of Nursing. 
She was named one of the College of Nursing's 50 Outstanding Alumni and received the Woman's Community Leadership Award from Central Baptist Hospital. She served as co-chair of the Town and Gown Commission to help improve UK neighborhood relations, and she has supported FUSION, the largest one-day service event in Kentucky when UK teams up with nonprofit organizations throughout Lexington. 
The senior woman recipient of the Sullivan Award this year is Grace Trimble, a Rhodes Scholarship finalist in 2015 and a Truman Scholarship award winner in 2014.
She is founder and president of Smart Shots, a 501 (c) nonprofit tennis and education program for disadvantaged Lexington children. For Smart Shots, she initiated the design and implementation of a multimillion-dollar athletics and education facility in Lexington. 
Trimble, of Winchester, Kentucky, is a political science major with a history minor who will graduate from the University of Kentucky in May. 
She was named to the SEC Community Service Team in 2011-12 and 2013-14 for two of her three years on the varsity women's tennis team. In 2014 she was named to the Frank G. Ham Society of Character by UK Athletics​​​​ ​​along with the Scratch Award as part of The CATSPY Awards by UK Athletics. 
She has volunteered as a YMCA camp counselor, a Salvation Army bell ringer​​​​​​​​​ and as ​​​​an aide to the Ronald McDonald House​​​​​​​​​​​​, the Hope Center for homeless and at-risk people, a Special Olympics Bowling Tournament​​ and the​​​​ Catholic Action Center ​​​​​​​as well as UK's FUSION day of service.​​​​​​ 
She was inducted into Phi Beta Kappa, the nation's oldest honor society for the liberal arts and sciences, in 2014 and she was inducted into UK's Nu Circle of Omicron Delta Kappa, the national leadership honor society, in 2013. 
Trimble was named a Chellgren Fellow in 2012 to engage in a research project as part of the Chellgren Center for Undergraduate Excellence, and the same year she traveled to Addis Ababa, Ethiopia, on a service trip organized by UK Athletics. 
​The senior man recipient of the Sullivan Award this year is Max Godby, the creator of the "Bucks for Backpacks" program that has provided more than 150 homeless men and women with basic necessities, such as clothing, toiletries, food and water. 
Godby, a fifth-year senior on UK's football team as a lineman, was selected to the 2014 Allstate AFCA Good Works team and honored at halftime at the 2015 Sugar Bowl in January. 
As a member of UK's Christian Student Fellowship, he has become a regular speaker at elementary schools, high schools and churches, and he co-led a relief effort for the city of Joplin, Missouri, after a catastrophic tornado ripped apart the community in 2011. 
He also has worked with God's Pantry, the Salvation Army, the Special Olympics, Read Across America, Cardinal Hill Rehabilitation Center and the Haiti Food Drive. He volunteered with the "Walk a Child to School" event for Fayette County Public Schools and with several events for Athletes in Action, where he served for three years as a mentor and team leader. 
In 2014 he was named to the Frank G. Ham Society of Character by UK Athletics. For three years on the Student-Athlete Advisory Committee, he helped to coordinate team community service activities. 
In 2014 he was named to the SEC Community Service Team and was honored by UK Athletics at The CATSPY Awards for his community service. 
He was named to the All-SEC Academic Honor Roll​​​​​ four years in a row (2011-14), and in 2015 he was co-creator of the PRIDE Academy Mentoring Program at Lexington Traditional Magnet School. 
Godby, a 2010 graduate of Christian Academy in Louisville, graduated a semester early with a B.A. degree in Communications, and he is expected to earn a master's degree in sports leadership in May.
UK has been recognizing Sullivan Award winners since 1927 and is one of several Southern universities that present Sullivan Awards, sponsored by the Algernon Sydney Sullivan Foundation. The award recognizes individuals whose commitment to community service evokes a spirit of love for and helpfulness to other men and women.
"For several decades, the University of Kentucky has honored two outstanding students and one impactful citizen for their work in developing communities and serving others both near and far from the Bluegrass Region," said President Eli Capilouto. "This year's recipients exhibit the best qualities of servant leadership and have garnered the deep respect of their peers."
The criteria for selection, which puts a premium on character, integrity and humanitarian service, are written in the spirit of Algernon Sydney Sullivan, a Southerner who became a prominent lawyer, businessman and philanthropist in New York in the late 19th century.
MEDIA CONTACT: Blair Hoover, blair.hoover@uky.edu, 859-323-2395