Graduate School Sponsors 'Three-Minute Thesis' Competition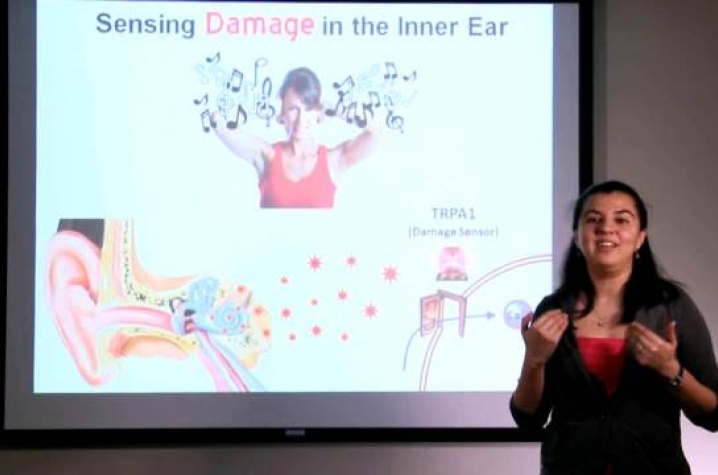 LEXINGTON, Ky. (Dec. 9, 2013) — The University of Kentucky Graduate School and Graduate Student Congress are sponsoring a "Three-Minute Thesis" (3MT) competition to give doctoral students practice at presenting their research concisely and engagingly to a public audience. This semester's final competition will take place from 5-6:30 p.m., Tuesday, Dec. 10 at the Student Center Worsham Theater.
The Graduate School and Congress held three preliminary heats this semester and have narrowed the field to eight competitors from across the disciplines. The winner of the competition will advance to a regional competition at the Conference of Southern Graduate Schools in February in San Antonio, Texas.
The Three-Minute Thesis is a research communication competition developed by The University of Queensland.  The exercise develops academic presentation and research communication skills and supports the development of research students' capacity to effectively explain their research in three minutes in a language appropriate to an intelligent but non-specialist audience. 
Morris Grubbs, an assistant dean in the Graduate School, sees translating one's research for a lay audience as crucial and particularly challenging. 
"When you know a subject so well, it's difficult to imagine what it's like not to know it.  As researchers and teachers, we all fight the curse of knowledge," he said.  "When our graduate students talk about their research, we want them to tell a compelling, vivid, memorable story." 
Cata Velez-Ortega, a doctoral student (PhD) in Physiology who presented last spring in a pilot competition, said participating in the 3MT competition was a fun project and she encourages all interested UK students to attend and support the finals on Tuesday. Velez-Ortega's 3MT was posted to YouTube which has been shared at other schools outside of Kentucky.
"The three-minute time constraint requires you to have a clear focus, and the nature of the competition pushes you to find relatable or even funny analogies while making sure to stay away from all the technical terms we use on a daily basis," she said. "It may seem hard at the beginning, but once you get the audience excited and eager to hear more about your research, that is when the fun really begins."
Heather Yonutas, president of the Graduate Student Congress said they are very excited about this year's Three Minute Thesis (3MT) competition.
"It gives graduate students a fun, yet competitive experience to appreciate the importance of presenting research ideas and findings in a clear and concise fashion," she said. 
MEDIA CONTACT: Ann Blackford at 859-323-6442; ann.blackford@uky.edu