Graduating Student's Research Leaves Mark on Campus Kitchen of UK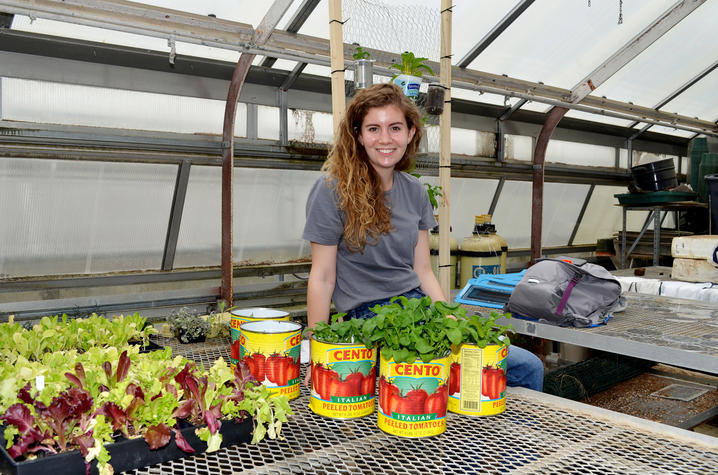 LEXINGTON, Ky. (May 1, 2017) – As a self-proclaimed foodie and a lifelong gardener, it was no surprise that University of Kentucky student Anna Townsend answered the call to share her knowledge when the Campus Kitchen at the University of Kentucky (CKUK) formed in 2014. As she prepares for graduation, Townsend, the group's vice president and garden fellow, will leave her mark on the organization through research.
As part of her Lewis Honors College capstone, and with funding from the Student Sustainability Council, Townsend, a biology major from Crestwood, sought to identify the type of indoor gardening method that is the most feasible and efficient for the student organization. The Campus Kitchen at the University of Kentucky is a part of the Campus Kitchens Project, a national service organization focused on fighting hunger by repurposing otherwise wasted food and providing community empowerment through education and fellowship.
Housed in the UK College of Agriculture, Food and Environment, CKUK uses student volunteers to glean produce that would otherwise go to waste. They use it to prepare healthy meals for Lexingtonians in need. Since it is a student-led, nonprofit organization, its budget is minimal. Townsend's research will allow the group to continue to produce fresh vegetables in the winter months in a sustainable and economical way.
"Anna's research results will inform future gardening initiatives for the Campus Kitchen at the University of Kentucky," said Amanda Hege, the group's advisor and director of community outreach for the Department of Dietetics and Human Nutrition. "From her research, we will identify the most feasible indoor garden that will provide fresh produce and herbs year-round in order to supplement food recovered and build healthful meals."
For the project, Townsend compared container, vertical and hydroponic gardens to assess their ability to grow several different types of lettuces.
"All of my containers for the vertical garden were donated by CKUK volunteers. My Starbucks cup is even up there, so this type of garden fights consumer waste and provides a sustainable way to grow fresh produce," Townsend said. "It can work in a room, outside of a building or by a window. It's very malleable."
Tammy Stephenson, UK assistant professor in the Department of Dietetics and Human Nutrition, is Townsend's research advisor.
"As an undergraduate student, Anna has been a leader in student-driven hunger initiatives during her tenure at UK," she said. "We are excited that Anna took on this research project to learn more about indoor gardening feasibility on campus to further support and grow the work of CKUK."
While she has always had a passion for food, her involvement in CKUK, as well as internships at the Vermont Community Garden Network and at North Carolina State University, Townsend knows she wants to continue to pursue ways to safely and sustainably produce food as a career. This fall, she will attend the University of Georgia on a research assistantship to pursue a master's degree in food science.
"I've been able to combine my biology background and love for food into a field that is very multidisciplinary," she said. "It means a lot to me to be able to teach people about gardening and provide healthy, sustainable and affordable produce to those who are food insecure."