Haiti: Creating Real Change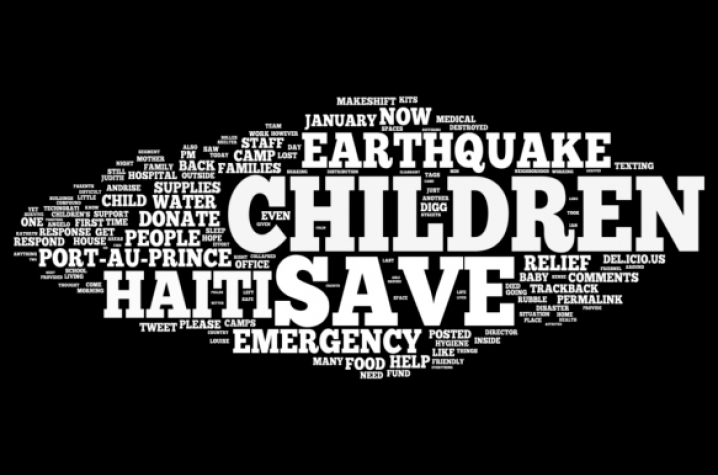 LEXINGTON, Ky. (Nov. 17, 2010) - Following January's magnitude 7.0 earthquake devastation in Haiti, Americans were quick to pour out their hearts and in many instances, their wallets. But how do these resources help the people in most need?
Discover how both the University of Kentucky and the United States are helping Haitians recover and how you can meaningfully contribute this Friday with a forum, titled, "The United States, the University of Kentucky, and the Haitian Crisis."
The two-hour discussion on Haiti reconstruction, sponsored by the UK Council of Endowed Professors and Chairs and the Office of the Provost, will begin at 2 p.m. on Friday, November 19 in Room 213 of the Gatton College of Business and Economics Building.
"In my mind, the purpose of the forum is to make faculty and students at UK more aware of what we have to contribute to the monumental project of helping Haitians recover from the earthquake," said UK history professor and event organizer Jeremy Popkin. "Many of us gave money, but, as academic specialists across the many disciplines we have here, we have other ways to contribute--and our efforts can contribute to our own educational mission as well as to assistance to Haiti."
Russell Porter, Deputy Coordinator of the United States Agency for International Development (USAID) Haiti Task Team, will be discussing America's contribution in reconstructing Haiti.
The USAID Haiti Task Team (HTT), comprised of a staff of 25 in Washington and approximately 50 professionals in the field, is responsible for management and policy coordination of the civilian relief and recovery effort for the Haiti earthquake.
Russell has 20 years experience managing strategic foreign assistance programs, advising senior policy makers and creating solutions to critical problems. Prior to coming to the HTT, Russell spent nearly 10 years with USAID's Office of Transition Initiatives (OTI) with substantial field and headquarters experience first as team leader for Latin America, managing and directing programs in Venezuela, Peru, Colombia, Bolivia, Haiti, Cuba and Honduras and then as a senior advisor assisting OTI programs worldwide.
From 1998- 2000, he was account supervisor for international clients at Powell Tate Public Affairs. Russell served as the senior press officer for USAID from 1993- 1996 and in various staff positions for Senator Sam Nunn from 1990- 1993. Russell is proficient in Spanish and holds an MA from Johns Hopkins School for Advanced International Studies and a BA from Rhodes College.
UK participants in Friday's forum include: UK Opera Program Director Everett McCorvey; Sam Matheny, the Nicolas J. Pisicano Professor of Family and Community Medicine at UK Medical School; Kerling Israel, a graduate student in UK's College of Public Health; and Popkin, a Marshall Hahn Professor of History.
"The brief talks by Kerling Israel, Sam Matheny, Everett McCorvey and myself should show some of the ways in which our specialized knowledge and abilities can be of use in this situation," said Popkin.
McCorvey will discuss Haitian Harmony, a children's choir from Haiti formed under the direction of UK opera graduate students Eric Brown and Manuel Castillo, along with the financial support of Alltech, a global animal health company providing natural, nutritional solutions to the feed and food industries.
Brown and Castillo have travelled to Haiti multiple times and spent weeks working in their quest to launch Haitian Harmony and the accompanying music program developed by UK Opera Theatre. 

During their first trip to Haiti in June, the UK students learned local songs and worked to identify talented kids from a school of about 250 children in Ouanaminthe, a city of 100,000 people near the border of the Dominican Republic in northeast Haiti.
 
After selecting a choir of more than 30 Haitian boys and girls, the duo returned to Haiti in late July to begin creating a concert program for the children to perform. After more than a month of preparation, Brown and Castillo conducted the students in Kentucky for multiple performances surrounding the World Equestrian Games.

Matheny will be discussing Shoulder to Shoulder, a Cincinnati-based nonprofit that connects U.S. universities with the Honduran government to reduce poverty in rural areas through programs in health, education, nutrition and environmental hygiene. UK is one of the organization's partner institutions.
Shoulder to Shoulder "seeks to create an integrated healthcare system providing primary care physician access within a one hour walk and specialty services within a one hour drive," according to its website. "Our systematic approach provides a high standard of care through affiliations with U.S. universities, and our commitment to local engagement."
Israel is a native of Haiti, as well as a physician. She worked in Haiti as a doctor and health program coordinator before coming to the U.S. to study as a Fulbright scholar. She offers the perspective of a Haitian citizen who is also an expert on health issues.
Working with the Center for Public Health System and Services Research (CPHSSR) within the College of Public Health, Israel is gaining specific knowledge in workforce development, health systems quality improvement and other areas.
"In addition to the mentorship, the CPHSSR is actively trying to link me with organizations and institutes that may provide me with resources to implement a health project significantly contributing to the improvement of the Haitian health system," said Israel. "It is important for UK and Lexington, because Haiti is a country neighbor and also because a potential cooperation between UK and Haitian health institutions could have positive consequences for UK."  
The Council of Endowed Professors and Chairs plans to host a series of public forums covering a broad range of issues, according to Mike Reid, Council Secretary and Shih-Chun Wang Professor and Chair of the Department of Physiology.
"We wanted to talk to student groups and faculty-led initiatives that focus on Haiti and show their effectiveness and efficiency, but we also wanted a global view of what our government is doing to spread awareness and consciousness in the community," said Reid. "This issue has inherent moral, ethical, economic, and political implications, but there are many opportunities for collaboration. Different perspectives can illuminate a problem."
This spring, the Council plans to bring Harvard law professor and Troubled Assets Relief Program (TARP) Congressional Oversight Panel chair Elizabeth Warren to campus, as well as hosting a one-day forum on community engagement.
The Council will host a reception following the forum at the Boone Center from 4-5:30 p.m.
For more information, please contact Popkin at (859) 257-1415 or popkin@uky.edu.