Humans of UK: Alumni Association President Antoine Huffman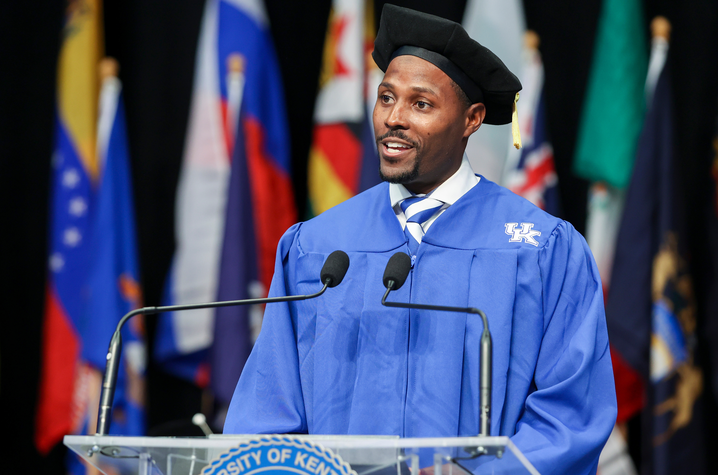 LEXINGTON, Ky. (Feb. 24, 2023) ­— With origins dating back to 1915, today, Black History Month is a time to honor the contributions and legacy of Black Americans across U.S. history and society — from activists and civil rights pioneers to leaders in industry, politics, science and culture. 
At the University of Kentucky, that sentiment holds true. 
In celebrating Black History Month, throughout February UK's social media channels are featuring Black students, faculty, staff and alumni who have shared their stories of what Black History Month means to them and why it is important. 
Today we are featuring Antoine Huffman. Huffman is president of the UK Alumni Association, alumnus of the College of Communication and Information.
Huffman received his bachelor's degree in telecommunications in 2005. While at Kentucky, he was a three-year starter for the Wildcats football team, becoming a UK NCAA record holder. He was also a member of the UK Athletic Association Board of Directors. He served three years as the Student-Athlete Advisory Committee president, two years as chairman for the UK Athletics Outreach Committee and was a member of the ODK National Leadership Honor Society. In 2005, Huffman became the first Black to be crowned UK Homecoming king. He is active in the community with Habitat for Humanity, Boys and Girls Club, Salvation Army, and is a motivational speaker at local churches, schools and special regional events. In 2002 to 2005, the Atlanta, Georgia, native was nationally recognized for his community service, academics and athletic achievement. In addition, he was a finalist for the Wuerffel Trophy. He received the ARA Sportsmanship Award, two-time ESPN The Magazine Academic All-America, four-time NCAA Academic All-American, four-time SEC Academic honor-roll, and was a member of the Good Works Team. Huffman has served as chairman for the Membership, Communications, Club Development, Nominating for Board of Directors, Finance & Investments and Governance committees within the UK Alumni Association. He served two terms as president of the Greater Nashville UK Alumni Club and served as the association's treasurer this past year. He is a past recipient of the Joseph T. Burch Young Alumni Award. He is in the medical field as senior director, regional sales for Mizuho OSI, and he and his wife, Jessica Kibbe Huffman, who is a UK College of Education graduate, are Life Members of the UK Alumni Association.
Read about what inspires Huffman and why he celebrates Black History Month below. 
Why is celebrating Black History Month important to you? 
Huffman: It really is an opportunity to reflect and dig into the past of those ancestors who set the foundation of our country, our history and our heritage. A wise person once told me to never forget where you come from and always look forward to where you want to go. I try to keep that in mind every year. It's a time to reminisce, it reinvigorates ideas and it helps me reset myself as an African American. I ask, "Am I on the right trajectory or in the right spot personally?" It helps me think of where I want to go.  
Can you share more about your background? 
Huffman: Since I left UK after earning my degree, I've been working in the medical field as a medical device sales representative. My company sells surgical tables in the operating room, and we're predominantly in the orthopedic end neurospine space. I've been doing that for about 16 years. I started out as a regional representative, worked my way up to what they call the "national directors" and am now the director of regional sales. I have 16 people who I manage in the southwest region. 
What attracted you to UK? 
Huffman: Football. I was recruited by the UK football team out of high school. When I visited campus, that's what really accelerated my decision to attend. It felt like a home away from home. It was six hours away from Georgia, and it was in the SEC. The people were really great, and it felt like the people I knew back home in Atlanta.  
You were the first Black UK Homecoming King. Can you share more about that experience?  
Huffman: It was surprising to say the least, for myself and for the team. It was one of those things that popped up, and I didn't know how you were nominated. Somehow, I was nominated, and the student body voted for me. It was a really big surprise — to see not only a student athlete, but an African American to be crowned king. I got notified 24 hours before that I would be king because we had to get special permission from the head coach at the time, Coach Brooks.  
We thought he would say "no." But, surprisingly, he said "yes" and that we could do it at halftime. Halftime is usually when the team goes back to talk about our mistakes, what we can do better and how we can win the game. But during that game, he allowed me to skip those conversations to attend the special ceremony at half time.  
You have strong ties to UK. Can you talk more about your role with the Alumni Association and why you have remained involved? 
Huffman: What drew me to the association is the activities and things they do with students. When I was a student at UK, I was involved in Student Athlete Advisory Committee, which is actually very similar to SAC on campus. We have some collaborating events together. That's how I knew what the Alumni Association did from that perspective. As a student, they did club events that I had the opportunity to speak at. I was intrigued by how they kept not only the student body engaged, but also the alumni across counties in Kentucky and around the nation. I wanted to be a part of that.  
Why, in your role, is diversity, equity and inclusion important as students graduate and become alumni, and as we work to keep them connected to this community? 
Huffman: It prepares them for life. It prepares them for the corporate world or whatever career path they follow. I truly believe in that. I truly believe that if I didn't come to UK, a predominantly white institution, would I have gained the intangible interpersonal communication skills with people from different backgrounds? That prepared me for the world I'm currently in. I can interact with people from different backgrounds and understand, to a certain extent, how to communicate with them. I think that's what diversity and equity really does for our students and for anyone — it prepares them for the real world. The real world is gray; there's no black, there's no white. It's a huge mixture and being able to engage with people from different backgrounds is how you become successful.  
Who has been your biggest inspiration?  
Huffman: It's a lot of people. Of course, Martin Luther King Jr. was a huge inspiration. I can remember back in elementary school doing the "I Have a Dream" speech. I would watch that speech like 100 times and try to enunciate and pronounce words the way he did. Ever since then, he has inspired me to engage with different people.  
On the other side of that, I would say former UK President Lee Todd, who was Caucasian. He was our previous president, and we came to know each other very well. He was sort of a mentor for me and helped me make decisions. I had a decision, did I wanted to pursue the corporate world in health care or stay at UK and work? He helped me with that.  
President Todd inspired me by the way he interacted with people, with students and with business folks. He could bring all these people together for a common cause. At that point, our objective was to be the top research university. And to do that, you have to bring people together under a common goal. Just by watching him from the sideline really inspired me and help me think about how I can be that kind of person in the corporate world. To this day, he finds a way to motivate me and inspire me with very few words.  
When I was making my decision post-graduation about staying at UK to work or going into the corporate world, President Todd said, "If you go into the corporate world, you're going to learn different things and be challenged in different ways. But those things that you learn, come back and bring them here." I took that direction and then a few years later got engaged with the Alumni Association. He had that vision, and I think we have continued to instill that in our students. To students, I say, we love for you to stay here and build all the things you need to be successful. But don't be afraid to go out and challenge yourself, learn new things and then bring that back to the Commonwealth.  
Is there a particular favorite UK memory that sticks with you to this day?  
Huffman: I think I'm living it right now, to be honest. Being the president of the association and being able to go to events as a figure of the Alumni Association is very rewarding and a blessing. But it's a testament to the staff and what they do each and every day, and how the events they do engage alumni here in Kentucky, across the country and also with the student body. If I had to pick a moment, it would be homecoming this year. It can be tiring, but I would not take back a minute — I said I would sleep later. I went to the Golden Wildcats breakfast, the student body events, the National Pan-Hellenic Council step show, Big Blue Madness, the Mo' Betta basketball game and the Lyman T. Johnson luncheon.  
What do you want people to know about UK or the Alumni Association?  
Huffman: The Alumni Association is the nucleus — it's the heartbeat of the university. They are entrenched in everything we do. As you enter the University of Kentucky, they're there. As you leave and go into your career, they're still there. So truly, it's the heartbeat — from cradle to grave, if you will. I think that type of experience and engagement is a legacy that lasts forever. We move through careers with our degrees, we see buildings on campus that go up or come down — those change. But the engagement and interactions through the Alumni Association are forever — they continue that impact. Those memories and experiences carry on from one generation to the next.  
As the state's flagship, land-grant institution, the University of Kentucky exists to advance the Commonwealth. We do that by preparing the next generation of leaders — placing students at the heart of everything we do — and transforming the lives of Kentuckians through education, research and creative work, service and health care. We pride ourselves on being a catalyst for breakthroughs and a force for healing, a place where ingenuity unfolds. It's all made possible by our people — visionaries, disruptors and pioneers — who make up 200 academic programs, a $476.5 million research and development enterprise and a world-class medical center, all on one campus.   
In 2022, UK was ranked by Forbes as one of the "Best Employers for New Grads" and named a "Diversity Champion" by INSIGHT into Diversity, a testament to our commitment to advance Kentucky and create a community of belonging for everyone. While our mission looks different in many ways than it did in 1865, the vision of service to our Commonwealth and the world remains the same. We are the University for Kentucky.