Improved Bike Routes and Facilities Around Campus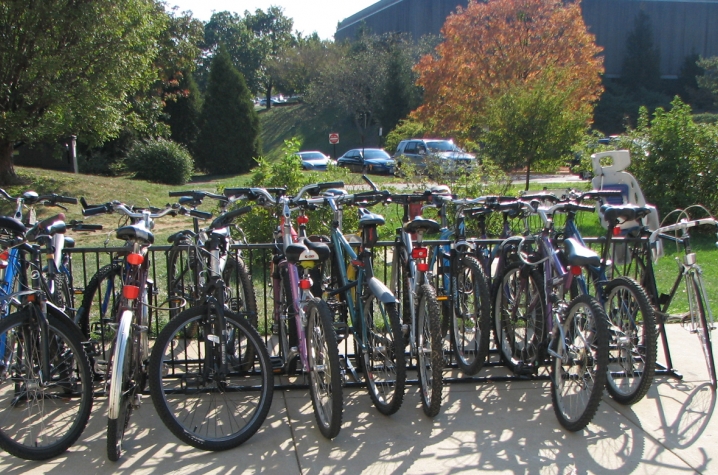 LEXINGTON, Ky. (Sept. 9, 2015) — The summer months were a time of transformation on campus, and bicycle facilities were no exception. The University's Bicycle Advisory Committee has helped implement a number of both on-street and off-street bicycle improvements while students were away.
The Arboretum Woods shared use path, which opened in July, provides a safe and efficient route for cyclists to connect to campus from neighborhoods to the south while avoiding Nicholasville Road. An additional component of the project was improving the connection from University Drive to Hiltonia via the Baptist Health campus.
The Alumni Drive corridor reconfiguration included new bicycle and pedestrian facilities, including a shared use path on Alumni Drive from Tates Creek Road to University Drive and a 5-foot lane in each direction in the same road segment.
New bike lanes were also added to Hilltop, connecting the Woodland Avenue lanes to the bicycle facilities on University Drive. In the coming weeks, bikes lanes will be added to Woodland Ave between Columbia and Euclid, creating a well-connected network of bicycle facilities on the east side of campus.
New residence halls Woodland Glen III, IV and IV all feature covered bike parking, while Smith, Ingels and Baldwin Halls received bike parking upgrades to a newer style of rack. In the past month, additional bike parking has been added at several other campus locations, including Bowman's Den, The 90, William T. Young Library and the Gatton College of Business and Economics, and the College of Engineering. All told, this represents more than 900 new or upgraded bicycle parking spaces on campus, more than 200 of which are covered.
As a reminder, bicycles may only be parked at bicycle racks, located at all residence halls, classroom buildings, and throughout campus. If you notice a need for more bike parking in a particular area of campus, submit a request via www.uky.edu/pts/help-and-resources_forms.
View a complete map of campus-area bicycle lanes and facilities (PDF), including rack locations.