ISC Students Win Gold, Silver at AAF Lexington Awards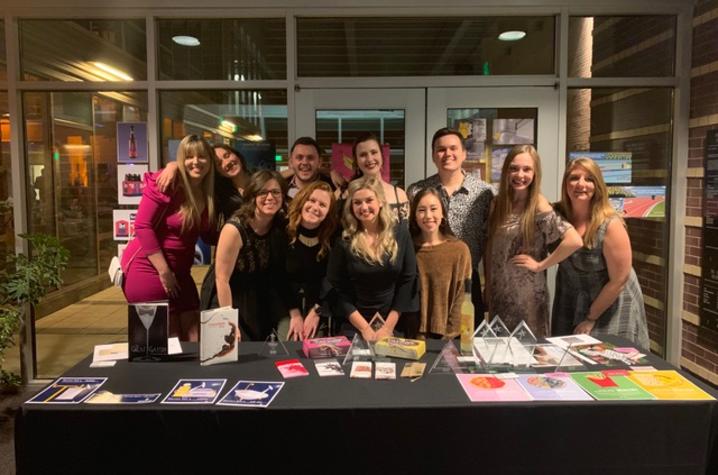 LEXINGTON, Ky. (March 21, 2019) — Several students in the College of Communication and Information's Department of Integrated Strategic Communication (ISC) won accolades at the 2019 Student Division of the American Advertising Awards conducted by the Lexington chapter of the American Advertising Federation (AAF). The awards ceremony took place in February at the historic Lyric Theatre and Cultural Arts Center.
The following ISC students won gold for their entries:
Leah Behling: Best in Show, Ten Candy Bar Package Design;
Robert Fischer: Judge's Choice Award, Plastic Posters Campaign;
Claire Monkman, Robert Fischer, Emi Deck and Jillian Jones: Judge's Choice Award, Every Child Deserves to Eat HEALTHY Campaign;
Morgan Smith: Traipse Chocolate Package Design; and
Robert Fischer, Elisa Diaz, Katie Swim, Rachel Friday, Abigail Yates, Rachael Freeman, Allie Graebe, Jaqueline Shmidt and Anna Nyberg: A Scoop Above the Rest Consumer Campaign.
Silver was awarded to the following ISC students:
Matthew Brock Johnson: Mrs. Meyer's Clean Day Direct Mail/Package Design; 
Will Carrico: Middle Aged Milk Stout Package Design; 
Jillian Jones, Jordan Prather and Rob Fischer: KRNL Magazine Cover;
Rachel Hughes: "Thank You" Video – UK Philanthropy; 
Robert Fischer, Savannah Stow and Abbie Heseman: Morton is Mor Campaign​; and
Kaylee Hoelscher: Fahrenheit 451 Book Cover.
Kaylee Hoelscher was also named the winner of Ad Club's $1,000 student scholarship.
Formerly known as the ADDYs, the American Advertising Awards are the first step in a three-tier national competition annually conducted by the AAF and sponsored by Ad 2 National, a division of AAF.
Gold-winning entries advance to district competition, where judges decide which work moves on to nationals.
The AAF was established in 1905 as the "Unifying Voice for Advertising." Headquartered in Washington, D.C., AAF boasts more than 200 local clubs across the U.S. and includes members across all disciplines and career levels in advertising. Its mission is to protect and promote the well-being of advertising. To learn more about AAF's programs and initiatives, visit www.aaf.org.