It's Football Time in the Bluegrass!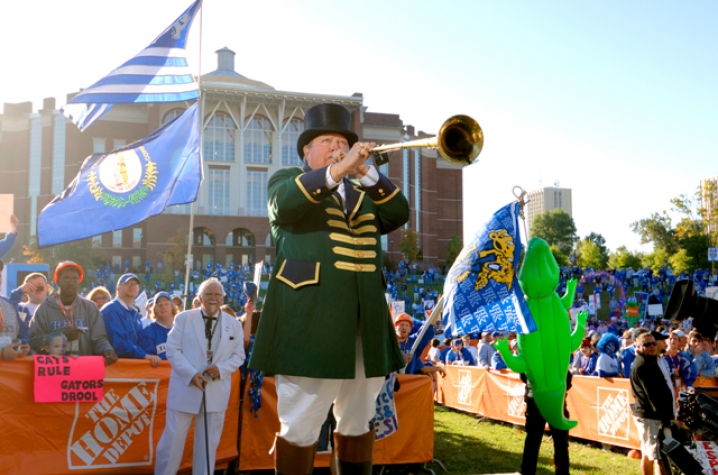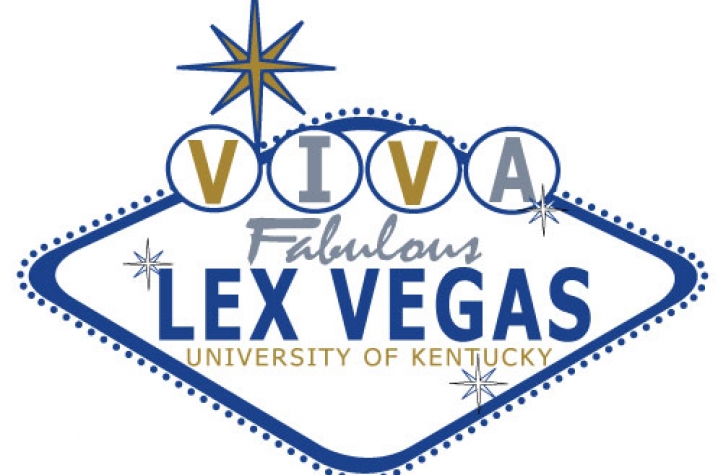 LEXINGTON, Ky. (Oct. 30, 2009) – Even though Homecoming week is wrapping up, there is still plenty of fun in store for this weekend. Join UK's Student Activities Board (SAB) for a big blue weekend, "Viva Lex Vegas"-style!
Friday begins with "see blue." Day at Keeneland. In its third year, this event brings together two of Lexington's greatest traditions, the University of Kentucky and racing at Keeneland. From 11 a.m. through 1 p.m., visit the North Terrace at the "see blue." Central Tent located on the North Terrace for autograph signings, giveaways and photos with Wildcat.
The fun will continue throughout the day with live racing at Keeneland beginning at 1:10 p.m. General admission is $5. Students, faculty, staff and alumni will be admitted FREE with their student, faculty/staff or UK Alumni Association membership card.
Also, UK Men's Basketball Coach John Calipari will be on hand from 1 to 2:30 p.m. signing copies of his book, "Bounce Back." This is the last public book signing before the holiday season, and a portion of the proceeds from sales at "see blue." Day will go to DanceBlue.
On Friday night, fans will get ready for the game at Wildcat Roar, the official Homecoming pep rally.
For the first time in many years, Wildcat fans have the opportunity to get pumped up for their Cats before they hit the field at Commonwealth Stadium. In the 1960s and 1970s, Wildcat Roar was a huge traditional pep rally with a "yell like hell" competition between student organizations and a concert, but the event disappeared over time. SAB is reviving this tradition as the perfect way to kick off your Homecoming Weekend.
"This is a great opportunity for Wildcat fans to come out and support their school, have a great time and get excited for the big game on Saturday," Bryce Moffett, SAB Traditions committee chairperson, said.
Wildcat Roar features UK Football Head Coach Rich Brooks, Men's Basketball Coach John Calipari, the 17-time national champion UK Cheerleaders, the UK Dance Team, the UK Marching Band, other UK celebrities and about 3,000 of your closest friends! There will also be a performance from comedian Tim Meadows from "Saturday Night Live" and "Mean Girls" fame.
Wildcat Roar begins at 8 p.m. Friday, Oct. 30, at Memorial Coliseum. Tickets are free and can be picked up at the Student Center Ticket Office prior to the event. That night, tickets will be available beginning at 6:30 p.m. at the Joe Craft Center Ticket Office. Doors open at 7 p.m. Seating is general admission.
Parking for the event is available in the Student Center or Martin Luther King Jr. Street Lots.
Saturday promises to be more of a treat than a trick for Halloween! The day begins with the 2009 "Viva Lex Vegas" Homecoming parade. With football season back in the Bluegrass, national, local and campus celebrities have been invited to participate in this year's Homecoming Parade! All campus organizations are encouraged to be represented in the parade by creating their own floats. The parade begins at 9 a.m. and departs from Memorial Coliseum and winds through campus toward Cooper Drive.
Then join UK's National Pan-Hellenic Council for the Homecoming Step Show. The show begins at 5 p.m. at Memorial Hall. Tickets are $10 in advance and $20 at the door. Contact Kimber Hatton at 270-304-6996 for more information.
Finally, Saturday night brings what Wildcat fans have been waiting all week for, the Homecoming battle between our University of Kentucky Wildcats and the Mississippi State Bulldogs. The gridiron game begins at 7 p.m. at Commonwealth Stadium. UK Athletics is encouraging fans to wear black to "blackout the Bulldogs." At halftime, the 2009 Homecoming Royalty Court will be recognized on the field and the 2009 Homecoming King and Queen will be named. Also, student organizations will learn who have won the coveted Wildcat Cup and been named champions of Homecoming.
For more information about Homecoming and a complete list of events, visit www.ukhomecoming.com.
For more information on SAB, visit www.uksab.org. For a complete list of "Viva Lex Vegas" Homecoming events, visit www.ukhomecoming.com.