Journalism Grad Makes Radio Waves in Zambia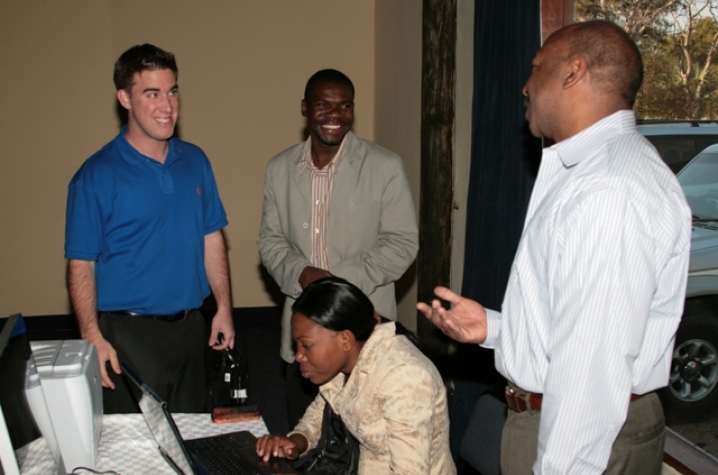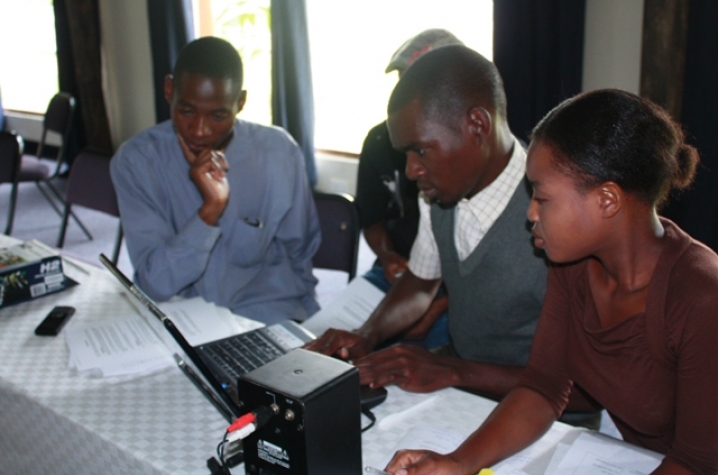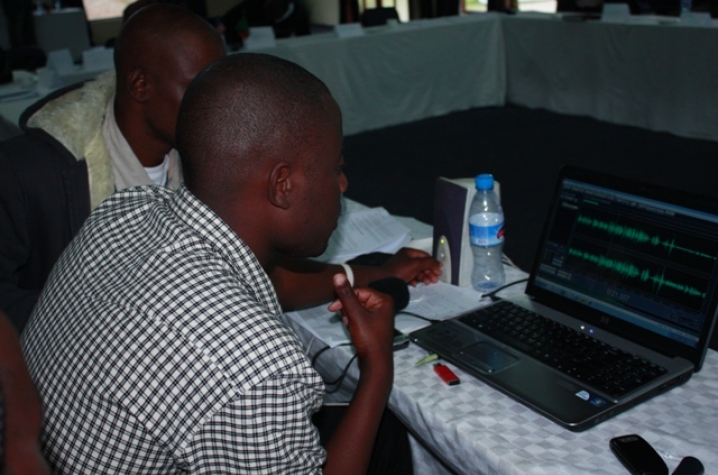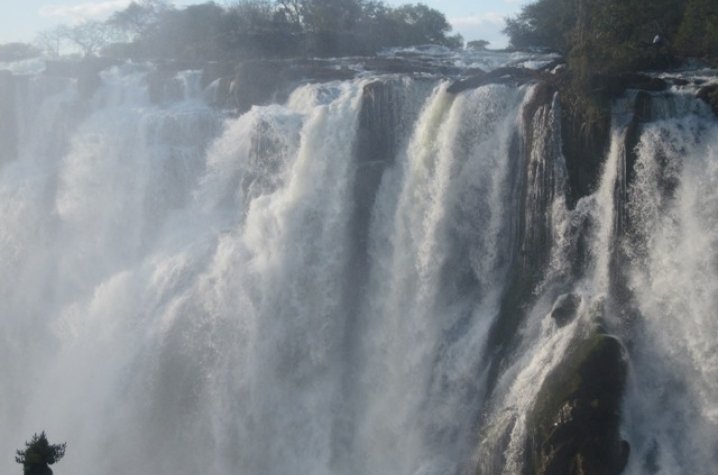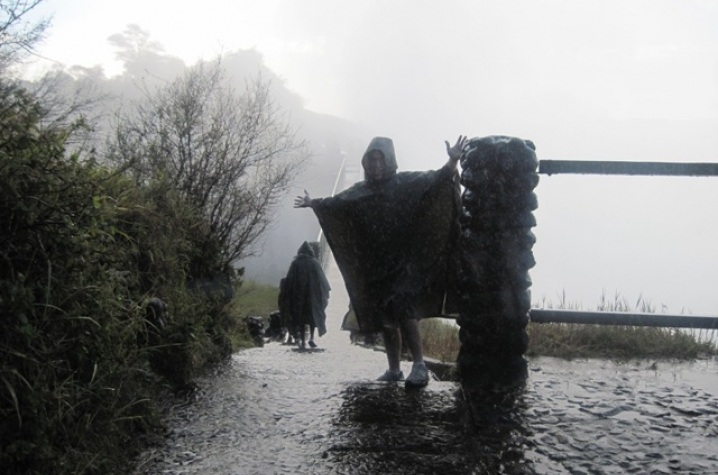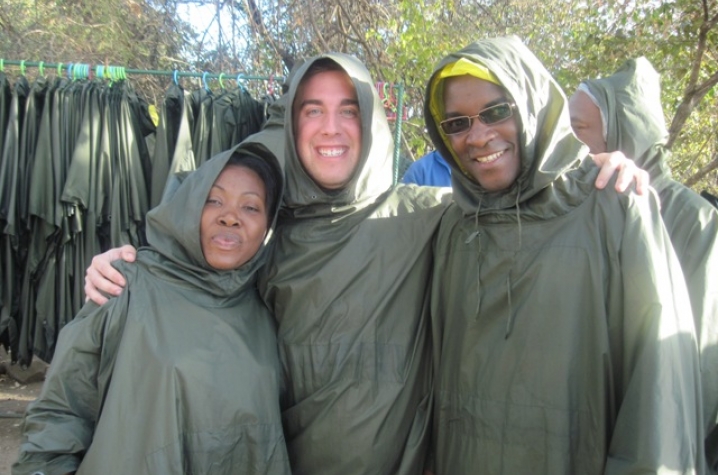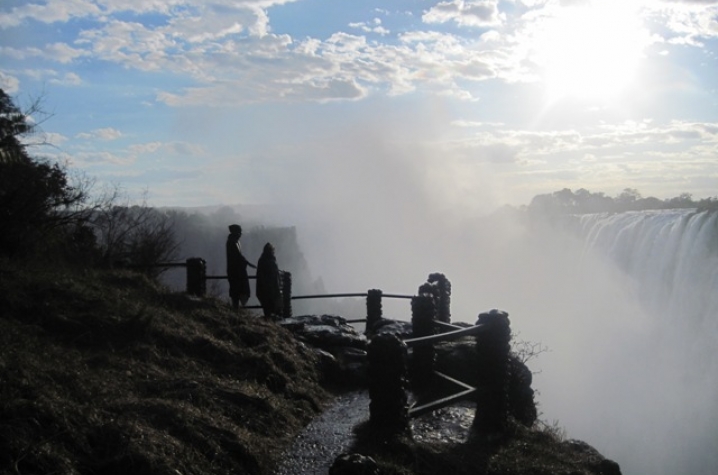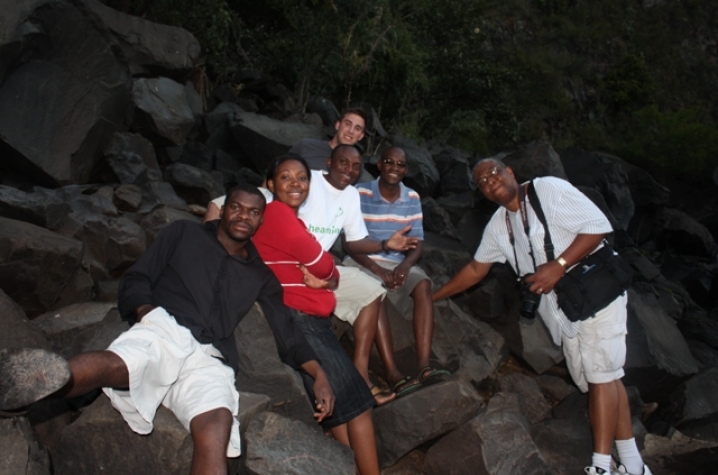 LEXINGTON, Ky. (Aug. 19, 2010) − Nick Stacy had never been on a plane before he flew out of Blue Grass Airport in May. When the Crescent Springs native landed in Johannesburg, South Africa, two flights and nearly 20 hours later, he barely knew where he was.
           
"I didn't know what day it was," Stacy remembered. "The windows were closed on the plane, so I didn't even know what time of day it was. I just wanted to go to bed."

Instead, he got on another plane and flew two more hours to Lusaka, Zambia, where he would spend the entire summer. He was there to help train journalists to use video editing software, assist students in putting together a television show, and show journalists how to tell stories more effectively using community radio. Stacy's spring 2010 bachelor's degree in broadcast journalism from the University of Kentucky's School of Journalism and Telecommunications prepared him to help the Zambian journalists engage their audience with effective storytelling.

Stacy's journey began last winter, when he learned about UK's partnership with ZAMCOM, a media training institute in Lusaka. UK's role is to help Zambian journalists cover HIV/AIDS issues.
           
"A couple people from ZAMCOM came, and that was my first exposure to it," he remembered. "They were joking around, saying, 'You should come over.'"
           
The school's director, Beth Barnes, didn't let it end there. She travels to Zambia herself as part of UK's partnership and thought Stacy was a good fit for the program. The ZAMCOM employees who had visited UK were receiving new computers as part of a grant, and they were eager to learn more about the video editing software they had begun using during their stay at UK. Stacy had the skills to help them.
           
"Nick had been a work-study student for us for two years. I knew his personality, and I knew his work ethic," Barnes said. "He struck me as someone who was adaptable. He certainly had the software skills. He just had the right combination of skills and personality - I felt he could rise to any challenge that came his way."

Stacy said the plan was to go over for a week or two, but gradually the trip grew to a full 10 weeks. Barnes and ZAMCOM director Daniel Nkalamo were able to get Stacy funding for the trip, and UK journalism Professor Mel Coffee helped ease Stacy's concerns.

"He had some good, appropriate questions," Barnes said. "With his graduation in May, he was concerned about postponing his job search. Mel and I both told him, this will set you apart."

Stacy's parents had concerns of their own in sending their son thousands of miles away, but ultimately supported his plans. "I think my parents were more nervous than I was," he said. "But they understood what a great opportunity it was."
Getting down to work
 
First, Stacy had to figure out how to sleep. Six hours ahead of Eastern Time, he spent his first week working 8 a.m.-5 p.m., sleeping until 9 or 10 at night, then staying up until 3 a.m. and sleeping until it was time to get ready for work. Eventually he got used to the new time zone and settled in, teaching ZAMCOM students the basics of broadcasting and helping to create a television show called "Young Inspirations." A project led by Stacy and ZAMCOM employee George Gevaio, "Young Inspirations" took eight students around Lusaka to interview local celebrities.

"They would set up the interviews and I would show them what kind of camera shots they should get, and go over their scripts," Stacy said. "I was basically their coach."

After the students shot the interviews, Stacy and Gevaio would edit them together with graphics, putting all the ingredients together into a finished show. Stacy even did some interviews on camera himself, to show the students how to conduct interviews effectively.

"They really benefitted from it, and I did, too," Stacy said. "It was my first non-internship in the field that I wanted to be in. I really enjoyed coming to work every day, working with these people who were very dedicated to what they did."

Coffee said Stacy's contribution to the "Young Inspirations" project will have a lasting effect on the students. "He really did show them how to produce a show effectively," said Coffee. "The interviews, the graphics - it really did show them a different way of doing things."

Stacy learned that Zambian journalists are restricted by their government on what they can report, one reason UK is sending school professors into the region to discuss press freedom. Stacy said the restrictions inhibit creativity for broadcasters. Still, he brought examples from American broadcasting to help the ZAMCOM journalists increase the quality of their coverage. Stacy said there is much more going on in an American broadcast, and the Zambian journalists he worked with were eager to try some of those techniques.

"Their news is really just one person at a desk with a blank background. Every once in a while there is a sound bite," Stacy said. "I brought stuff I'd done for local stations, just to show them the quality of the work we do here."
Food and friends
           
No trip abroad is complete without tasting the kinds of foods that make people back home cringe. Enter the cow intestine and fried caterpillars.

"I was tricked into eating cow intestine," Stacy said with a grin. "I ate fried caterpillar and it wasn't bad. It kind of tasted like popcorn."

The more run-of-the-mill foods in Zambia were very good, Stacy said. "There was grilled chicken, steak, tons of vegetables, fruit and lots of fruit juice," he said, adding that restaurant diners commonly ask what kinds of juices are available. His favorite vegetable? Pumpkin leaves.
           
"The cool part was learning the language," he said. "There are 72 different tribes in Zambia, every one with a different language. The two prominent ones are Nanja and Bemba."
           
Navigating the language maze isn't too difficult for Americans, since all of those Zambian tribes generally unite under the English language umbrella. Still, Stacy enjoyed learning as much as he could of the two most common languages.
           
"I learned a lot," he said. "I was only there 10 weeks, but I could speak those languages better than in my two years of Spanish."
           
Some things made Stacy appreciate what he had in America. Cars, for instance, are not prevalent in Zambia. "Some people would take 20 minutes to get to work," he said. "Others would take an hour and a half."

Water was another difficulty. Stacy had to either buy bottled water or boil the water from the tap - which didn't always flow.

"Even in my little flat, you would turn it on sometimes and it wouldn't come out," Stacy said. "I'd never had a night where I was thirsty and couldn't get something to drink. There, I had several nights like that."

Stacy also had to do his laundry by hand, in the absence of washing machines and dryers. But the friendliness of the Zambian people made up for those inconveniences, he said. The people themselves were his favorite part of the trip.

"Americans are very competitive," he said. "If you walk into a bar, not everyone is going to be friendly to you. There, you can walk up to anyone and they would immediately be friendly to you. They were always helpful. I made a lot of friends."
HIV/AIDS in Zambia
Stacy spent the last two weeks of his Zambian adventure in Livingstone, a town southwest of Lusaka on the Zimbabwe and Botswana borders. His focus was helping journalists use community radio more effectively to tell engaging stories about HIV/AIDS treatment and prevention in Zambia. UK and ZAMCOM have conducted several radio workshops in different places in Zambia, using the country's most popular form of communication to try to break the stigma of living with HIV/AIDS. The task is an important
one - but it isn't easy.

"If you came out and said you have AIDS, your family could disown you, your church could throw you out - leave you for dead in some cases," Stacy said. "Sometimes people are just scared to say that they're positive."

Treatment is available for those living with HIV/AIDS in Zambia. The difficult part is breaking through the stigma that people face once they test positive - and to get people tested in the first place. ZAMCOM and UK hope to make radio coverage more effective in doing that.

"The idea is to go out and find people affected by this - like when a family member died because they didn't have the proper treatment, because they didn't disclose that they were positive," Stacy said. "This is what we want to hear - these powerful stories. The idea is to get people to talk about it when they hear these stories."

Stacy visited one of Livingstone's small compounds, where he met people who Coffee said challenged Stacy's perceptions.

"He met people who lived in houses made of straw and thatch and mud. There was no running water; there was no electricity," Coffee said. "I think he was absolutely stunned that people were living like that - and were living healthfully."

One trip took Stacy to a village with 35 women who were all living with HIV/AIDS. The women, Coffee said, had a support network and medical care - something that he thinks had a deep affect on Stacy.

"In terms of all the crises in Africa, all you hear in the media is the bad news," Coffee said. "This was a total contradiction to that. It was really humbling for him. He learned a lot about human compassion."

Stacy helped train journalists to go beyond government reports and sound bites in their radio coverage, into communities where the debate between traditional healing and modern medicine is taking place. Bringing both sides together on the radio - traditional healers, as well as pharmacists - can help get information out about both types of medicine.

"We would teach them how to tell the story, how to make the message more effective," he said. "The ultimate goal was to change lives."
It may have been Stacy's own life that was changed the most during his 10 weeks in Zambia. He plans to work in broadcast journalism for a while, and then possibly return for graduate study. But he said he would love to go back - this time, for even longer. 
______________________
Attached video clips: Walk across the aptly named Knife's Edge Bridge at Victoria Falls in Livingstone, Zambia with Nick Stacy, and join Stacy and ZAMCOM professor Bruce Chooma at the bottom of the falls, known as the Boiling Point.