Kroger Field Awarded Prestigious LEED Silver Certification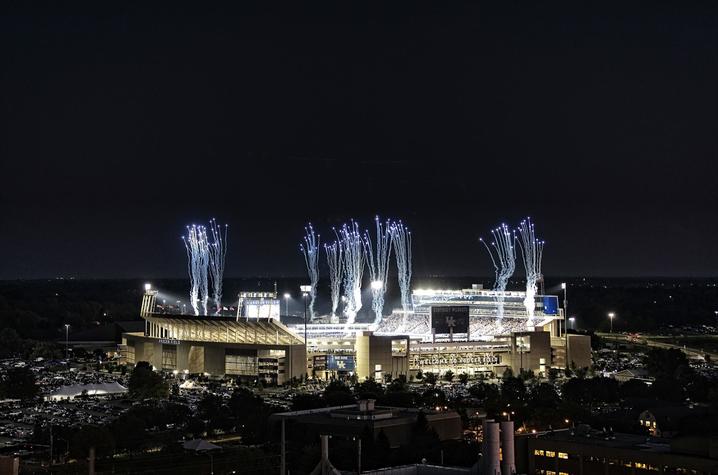 LEXINGTON, Ky. (Oct. 17, 2017) — Kroger Field, the home of the University of Kentucky football team, has been awarded LEED silver certification for its environmental performance and sustainable design.
The LEED (Leadership in Energy and Environmental Design) rating system, developed by the U.S. Green Building Council (USGBC), is the foremost program for buildings, homes and communities that are designed, constructed, maintained and operated for improved environmental and human health performance. Kroger Field is the first LEED-certified competition venue in the Southeastern Conference in any sport.
"In both the design and construction process, we were committed to transforming the longtime home of Kentucky football in a way that would be sustainable for years to come," UK Athletics Director Mitch Barnhart said. "We are proud Kroger Field has joined exclusive company in becoming LEED-certified for exactly that reason and thankful for the work of our partners in the renovation."
The University of Kentucky embarked on the ambitious renovation and expansion of Kroger Field — then known as Commonwealth Stadium — in 2013. UK worked with RossTarrant Architects and associate architect HNTB to create a new design for the facility that would completely transform the fan experience on game day.
The stadium reopened in 2015 after the completion of the $126 million renovation. As a result, today's Kentucky football fans enjoy widened concourses, new restrooms and a stadium packed with premium amenities including suites, clubs, loge seating and private lounges. What isn't as obvious to the average visitor is just how environmentally sustainable the new Kroger Field was designed to be.
"We knew from the beginning that sustainability was critical to the success of this project," said Kevin Locke, of RossTarrant Architects. "Achieving LEED silver is a real testament to the university's commitment to the environment. Knowing how well this stadium performs makes the experience they have created for Wildcat fans even more special." 
Kroger Field achieved LEED certification for implementing practical and measurable strategies and solutions aimed at achieving high performance in: sustainable site development, water savings, energy efficiency, materials selection and indoor environmental quality. Sixty-seven percent of the old stadium was reused to create the new Kroger Field, minimizing construction waste and the need for the manufacturing and transportation of new materials. Low-flow water fixtures are saving approximately 204,000 gallons of water annually. Meanwhile, the stadium uses a third less energy than the typical stadium. The result is a savings of 694 metric tons less of greenhouse gasses every year — equivalent to the annual energy consumption of 75 homes.
"Kroger Field's LEED silver certification demonstrates tremendous green building leadership," said Mahesh Ramanujam, president and CEO of USGBC. "LEED was created to make the world a better place and revolutionize the built environment by providing everyone with a healthy, green and high performing buildings. Kroger Field serves as a prime example of how the work of innovative building projects can use local solutions to make a global impact on the environment."
LEED is the foremost program for the design, construction and operation of green buildings. More than 90,900 commercial and institutional projects are currently participating in LEED, comprising more than 19.3 billion square feet of construction space in all 50 states and more than 167 countries and territories.