Ky. Archaeology Film Selected for Festival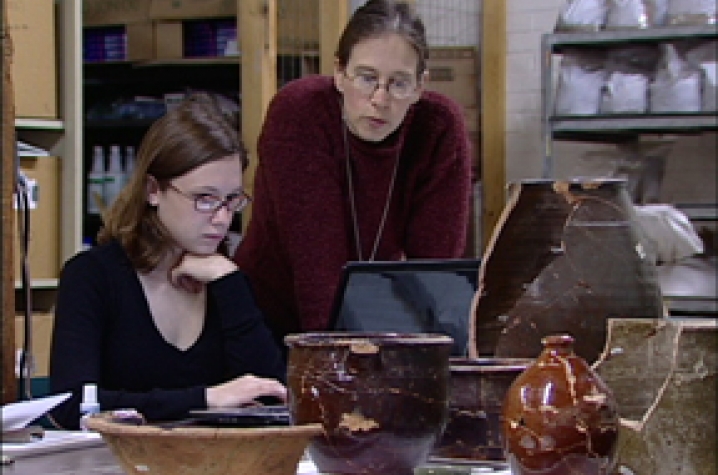 LEXINGTON, Ky. (May 25, 2011) − A 2009 film exploring the history that lies beneath Kentuckians' feet is one of 18 films to be featured in this year's Archaeology Channel International Film and Video Festival in Eugene, Ore.
"Historic Archaeology: Beneath Kentucky's Fields and Streets," produced by the Kentucky Archaeological Survey (KAS), the Kentucky Heritage Council (KHC) and Voyageur Media Group, Inc., will make its west coast debut on Saturday, May 28.
The festival began May 24 and includes five days of juried films and videos on archaeological and indigenous topics as well as a conference on Cultural Heritage Films.
"This is a great honor for KAS and Kentucky archaeology in general," said KAS director and University of Kentucky adjunct anthropology professor David Pollack, who was the film's executive director. "There were over 60 films submitted from countries all over the world."
Prior to the film's screening, Pollack and A. Gwynn Henderson, KAS education coordinator and UK adjunct anthropology professor, will give a one-hour presentation on the making of "Historic Archaeology: Beneath Kentucky's Fields and Streets."
This film examines what archaeologists have learned about the daily lives of Euro-American settlers, slaves, laborers and immigrants during the late 1700s and 1800s. The one-hour documentary travels to historic sites across Kentucky, merging interviews with archaeologists, videos of archaeologists working in the field and laboratory, archival photographs, and original animation. It is the third volume in the Council's popular "Kentucky Archaeology" series.
The film includes four segments featuring key scientific discoveries made over the past decade by archaeologists working in Kentucky. These segments consist of The Frontier, Antebellum, Civil War and Industrialization.
Historical archaeologists, like KAS archaeologist and UK adjunct anthropology professor Kim McBride, focus on material culture such as foundations, privies, artifacts, architectural debris, and food remains.
The film, which is available on DVD, has been broadcast on KET and in local Kentucky schools. In mid-June, KET will distribute the DVD, along with lessons KAS developed to accompany the program, to arts and social studies teachers during a professional development academy at KET. 
"Not only does the film highlight research conducted at the homes of famous individuals, such as Henry Clay, but it also examines the lives of less well-known people, such as enslaved African-Americans, and poor and middle class Kentuckians."
The Archaeology Channel film and video festival hopes to exhibit the diversity of human cultures past and present, while exploring "our place in history and in our world" and promoting archaeological film and video productions, according to its website.
In addition to KAS and KHC, "Historic Archaeology: Beneath Kentucky's Fields and Streets" was made possible with support from the Federal Highway Administration, the Kentucky Transportation Cabinet and Voyageur Media Group, Inc.
For more information, visit The Archaeology Channel's website.