Landon Young Named to 2019 Allstate AFCA Good Works Team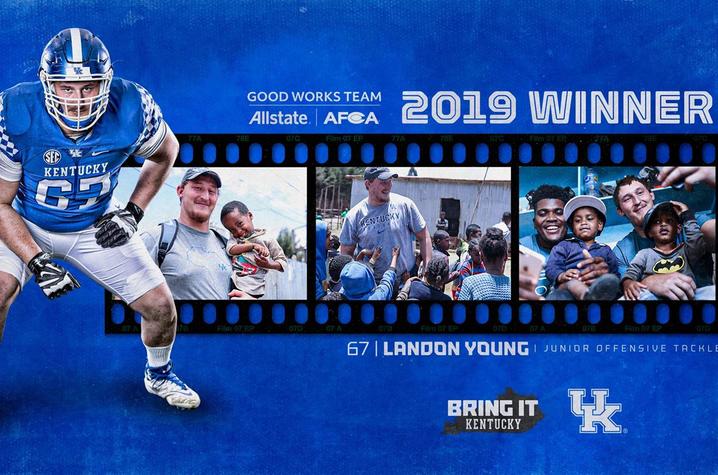 LEXINGTON, Ky.  (Sept. 17, 2019) – University of Kentucky junior offensive tackle Landon Young has been selected to the 2019 Allstate AFCA (American Football Coaches Association) Good Works Team®, an annual award given to college football players for the impact they make off the field. 
The list of 22 student-athletes (11 players from the NCAA Football Bowl Subdivision; 11 players from the NCAA Football Championship Subdivision, Divisions II, III and the National Association of Intercollegiate Athletics (NAIA)) and one honorary coach was narrowed from a list of 137 nominees by an esteemed panel of judges, including Kirk Herbstreit (ESPN) and Tim Tebow (Florida, 2009 team). These players stood out for their leadership in local communities and overall commitment to giving back.
Young was named to the team as he is one of the leaders for Kentucky football in terms of community service hours. Here are just a few of his community service projects:
Visited a local nursing home for a pre-Super Bowl party to give joy to the residents.
Guest speaker at local churches and elementary schools on seven different occasions, talking about life lessons, fighting through adversities, faith and football.
Volunteered at Habitat for Humanity.
Helped decorate Lexington's Hope Center with Christmas decorations.
Volunteered with Lexington Christian Church to do yard work for members not physically able to take care of their yards.
As an animal science major, has volunteered his time for eight straight years at a veterinary clinic in Cynthiana, Kentucky.
Participated in a one-week service trip to Ethiopia in May where he helped deliver essential nutrition, supplies, hope and love to families living in Korah, a slum made up of all the trash accumulated in Addis Ababa. He visited an orphanage with approximately 80 children and took teenagers from Korah to play arcade games and see "The Avengers" movie. The teens had never been out of their village, been in a movie theater or even seen a movie. He was paired with a feeding program that supplies meals to government schools in Cherkos, a poorer region in Addis Ababa, and helped served meals to the kids during lunch and played in the schoolyard during recess. The program began as a result of kids fainting and lack of focus in the classroom due to malnutrition at home, often missing breakfast in the morning and at night only leaving them with one meal per day.
The Allstate AFCA Good Works Team will be invited to the 2020 Allstate® Sugar Bowl® and will join Tebow and Allstate volunteers to give back to New Orleans through a special community service project. Allstate will recognize the team during the halftime show.
Fans are invited to visit ESPN.com/Allstate to vote for the 2019 Allstate AFCA Good Works Team captain once per day, now through Nov. 22. The team captain will be honored at The Home Depot College Football Awards on ESPN later this season.
The Allstate AFCA Good Works Team was selected by an esteemed voting panel, which includes Tebow, Herbstreit and O'Donnell, along with: Zaid Abdul-Aleem (Duke, 1994 team); Matt Stinchcomb (Georgia, 1997, 1998 teams); Brian Brenberg (St. Thomas, 2001 team); Mike Proman (Amherst, 2002 team); Wes Counts (Middle Tennessee State, 1999 team); media members Blair Kerkhoff (Kansas City Star), and Paul Myerberg (USA TODAY); Frank Solich, 2019 AFCA president and Ohio University head coach; and Joe Taylor, 2001 AFCA president and athletic director at Virginia Union University.
Throughout the season, fans can follow along and join the conversation by using #GoodWorksTeam on their social media channels to learn more about these incredible players and their stories.
Since being founded in 1992, UK ties Nebraska with the second-most players on the Good Works Team with 15, most recently Courtney Love in 2017. Georgia is in first place with 20 honorees.
Kentucky's College Football Association "Good Works" Team Members
1992, Doug Pelfrey, Kicker 
1994, Leon Smith, Split End 
1996, Kurt Supe, Defensive End
1998, Jimmy Carter, Punter 
Kentucky's All-Time AFCA "Good Works Team" Members
1999, Seth Hanson, Kicker 
2000, Matt Layow, Defensive End
2002, Antonio Hall, Offensive Tackle
2004, Antoine Huffman, Cornerback
2006, Jacob Tamme, Tight End 
2008, Tim Masthay, Punter 
2011, Jake Lewellen, Defensive End
2014, Max Godby, Offensive Guard
2015, Landon Foster, Punter
2017, Courtney Love, Linebacker
2019, Landon Young, Offensive Tackle