Landon Young Nominated for 2019 Allstate AFCA Good Works Team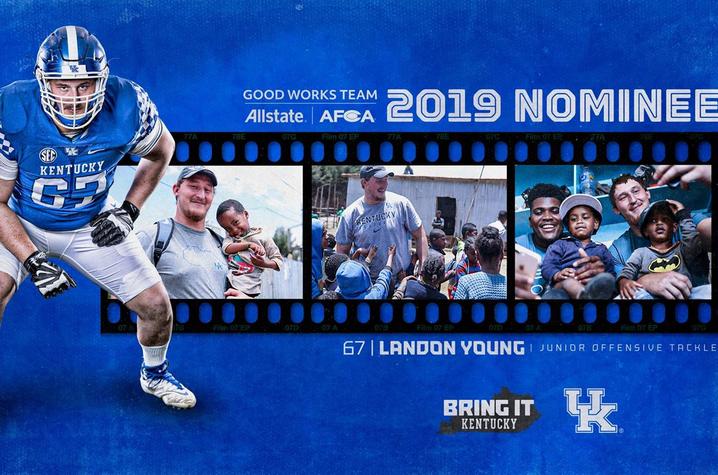 LEXINGTON, Ky. (July, 19, 2019) — University of Kentucky junior offensive tackle Landon Young is one of 137 nominees for the 2019 Allstate AFCA (American Football Coaches Association) Good Works Team®, an annual award given to college football players for the impact they make off the field.
Established in 1992, the Allstate AFCA Good Works Team® continues to be one of the most coveted community service awards in college football. From the 137 nominees, the final roster of 23 award recipients will be announced in September, bringing together 11 players from the NCAA Football Bowl Subdivision; 11 players from the NCAA Football Championship Subdivision, Divisions II, III and the National Association of Intercollegiate Athletics (NAIA); and one honorary head coach. To be considered for a spot on the Allstate AFCA Good Works Team®, each player must be actively involved with a charitable organization or service group while maintaining a strong academic standing. Young, an animal sciences major in the College of Agriculture, Food and Environment, is one of the leaders for Kentucky football in terms of community service hours. Here are a few of his community service projects:
Visited a local nursing home for a pre-Super Bowl party to give joy to the residents.
Guest speaker at local churches and elementary schools on seven different occasions, talking about life lessons, fighting through adversities, faith and football.
Volunteered at Habitat for Humanity.
Helped decorate Lexington's Hope Center — a recovery program for women — with Christmas decorations.
Volunteered with Lexington Christian Church to do yard work for members not physically able to take care of their yard.
As an animal sciences major, has volunteered his time for eight straight years at a veterinary clinic in Cynthiana, Kentucky.
Participated in a one-week service trip to Ethiopia in May where he helped deliver essential nutrition, supplies, hope and love to families living in Korah, a slum made up of all the trash accumulated in Addis Ababa. He visited an orphanage with approximately 80 children and took teenagers from Korah to play arcade games and see an "Avengers" movie. The teens had never been out of their village, been in a movie theater or even seen a movie. He was paired with a feeding program that supplies meals to government schools in Cherkos, a poorer region in Addis Ababa. The program began as a result of kids fainting and lack of focus in the classroom due to malnutrition at home. And he helped serve meals to the kids during lunch and played in the schoolyard during recess.
The final 22-member team and honorary coach are selected by a voting panel consisting of former Allstate AFCA Good Works Team®members and prominent media members who look for both their dedication to giving back and the embodiment of true leadership on and off the football field.   After the final team members are announced Sept. 12, 2019, fans can vote for this year's Allstate AFCA Good Works Team®captain through the official page on ESPN.com. Fans are also encouraged to join in the conversation by searching and using #GoodWorksTeam on their social media channels throughout the season.   Since being founded in 1992, UK has had 14 players selected to the Good Works Team, most recently Courtney Love in 2017.