Media Artist Christian Moeller to Speak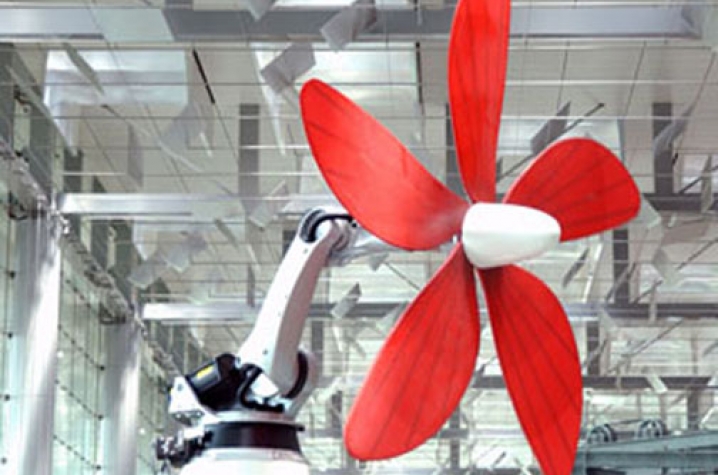 LEXINGTON, Ky. (Oct. 1, 2010) − The University of Kentucky College of Design welcomes Christian Moeller, a professor at University of California, Los Angeles Design Media Arts, to speak in this year's UK College of Design Lecture Series. Moeller's lecture is scheduled for 6 p.m. Monday, Oct. 4, in 209 Pence Hall. UK College of Design will team up with artwithoutwalls to present a second conversation with Moeller and College of Design Dean Michael Speaks in Louisville at 6 p.m. Tuesday, Oct. 5, at Museum Plaza. Both lectures are free and open to the public.
Moeller studied architecture at the College of Fine Arts and Applied Sciences in Frankfurt, Germany, and at the College of Fine Arts in Vienna before founding his own studio and media laboratory in Frankfurt. Moeller also served as a professor at the State College of Design in Karlsruhe, Germany.
In 2001, Moeller moved to the United States where he now works with contemporary media technologies. For two decades, he has produced some of the most original and innovative artwork, merging cinema, computation, music and physical space in unprecedented ways. Moeller's innovative artistry includes everything from handheld objects to architectural scale installations.
Moeller's work has been featured at exhibitions around the world. Some exhibition locations include: Schirn Kunsthalle in Frankfurt, Germany; the Spiral Walco Art Center in Tokyo, Japan; Centro Cultural de Belem in Lisbon, Portugal; the Science Museum in South Kensington, London; National Taiwan Museum of Fine Arts; ARS Electronica in Linz, Austria; and Frederieke Taylor Gallery, in New York City.
For more information on the Christian Moeller lectures or any of the UK College of Design Lecture Series events, call the UK College of Design at (859) 257-7617 or visit their website at www.uky.edu/design.