A Message About Move-In 2019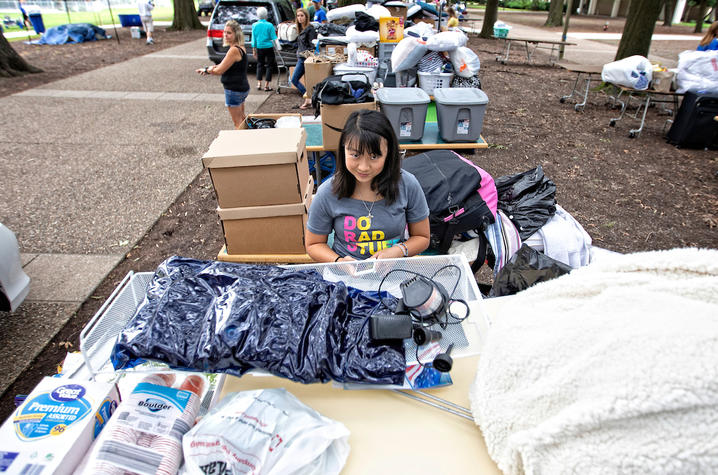 LEXINGTON, Ky. (Aug. 15, 2019) — Move-In 2019 for the University of Kentucky will bring more than 7,400 students to live on campus for the next school year. With that many Wildcats coming to the university over the next few days, the following email message was sent to campus about traffic and parking.
Safety is always a priority at the University of Kentucky – for our students and for all those who are part of this special community. University of Kentucky Move-In is an exciting time for our campus community and an important time to begin fostering student success — our top priority in everything that we do. Move-In — combined with current construction occurring on campus — will impact parking and transportation routes throughout the campus at various times. More than 7,400 students will be transitioning to campus at a time when traffic will be heavy and streets will be re-routed to accommodate Big Blue Move-In. The UK Fall Move-In webpage provides details. UK Police will be on hand to assist with Move-In. We urge everyone to be patient with the inevitable delays and to travel safely. We are expecting about 2,100 students to move in on each of the following three major assisted Move-In days.​
Saturday, August 17
Monday, August 19
Wednesday, August 21
We thank you in advance for your patience and help during this process. Below is information regarding student move-in traffic flow and parking impacts over the next week, including important information about one-way streets, no parking areas, and high traffic locations. Area drivers are encouraged to use the WAZE app for traffic updates. We encourage all faculty and staff to plan for potential delays. ONE-WAY STREETS: (see map) Effective 8 a.m. – 5 p.m. on August 17, 19 and 21.  Please note the additional day for Hilltop and Woodland below.
One-way southbound: MLK Boulevard between Good Samaritan parking lot and Avenue of Champions
One-way southbound: Lexington Avenue between Maxwell Street and Avenue of Champions

NOTE: Employee (E) lot entrance north of the Joe Craft Center CLOSED at Lexington Avenue; enter and exit only at Rose Street

One-way westbound: Avenue of Champions between Rose Street and South Limestone (No Through Traffic)
One-way westbound: Huguelet Drive between University Drive and Rose Street
One-way eastbound: Hilltop Avenue between University Drive and Woodland Avenue (Also Thursday, August 15)
One-way northbound: Woodland Avenue between Hilltop Avenue and Columbia Avenue (Also Thursday, August 15)
One-way southbound: Sports Center Drive between Woodland Avenue and the Employee (E) lot north of the Nutter Football Training Facility
Pedestrian walkway in front of Woodland Glen V: Woodland Glen sidewalk: One-way eastbound
NO PARKING AREAS: Due to the need to quickly unload vehicles near residence halls, several areas of campus will be NO PARKING zones from 12:01 a.m. to 6 p.m. on each of the Move-In days. Additionally, several streets on and bordering campus will have closures or other changes to traffic flow to accommodate Move-In. Watch for NO PARKING signs and bagged meters in these areas. Vehicles parked in the NO PARKING areas listed below will be TOWED. Owners will be responsible for all tow-related charges. If your vehicle is towed, please contact 859-257-1616. Saturday, August 17; Monday, August 19; Wednesday, August 21:
UNIVERSITY DRIVE (BOTH SIDES): from Cooper Drive to Hilltop Avenue
SPORTS CENTER DRIVE (BOTH SIDES): between Woodland Ave. and the Employee (E) lot north of the Nutter Football Training Facility
AVENUE OF CHAMPIONS (BOTH SIDES): between Rose Street and Limestone; including the metered parking in front of Roselle Hall (This area is also a no parking zone on Thursday, August 15.)
MARTIN LUTHER KING BLVD. (BOTH SIDES): between Maxwell Street and Avenue of Champions (This area is also a no parking zone on Thursday, August 15.)
LEXINGTON AVE. (BOTH SIDES): area between the Employee (E) lot entrance and Avenue of Champions (This area is also a no parking zone on Thursday, August 15.)
E LOT BETWEEN KELLEY BUILDING and MED CENTER ANNEX #5: the 6 spots in the lane just north of Medical Center Annex #5
WOODLAND AVE. (BOTH SIDES): between Hilltop Ave. and Sports Center Dr. (This area is also a no parking zone on Thursday, August 15.)
COMPLEX DRIVE (BOTH SIDES): between the entrance to the Kirwan-Blanding loading dock and Sports Center Drive
SOUTH LIMESTONE: the 9 spots on the east side, just north of Avenue of Champions
PEDESTRIAN WALKWAY in front of Woodland Glen V (BOTH SIDES): from Woodland Ave. to Sports Center Drive (This area is also a no parking zone on Thursday, August 15.)
HILLTOP AVE (BOTH SIDES): from the Rose Street Garage (PS #2) to Woodland Avenue (This area is also a no parking zone on Thursday, August 15.)
HUGUELET AVE (BOTH SIDES): from University Drive to the Jacobs Science Bldg. (This area is also a no parking zone on Thursday, August 15.)
Select spaces will be marked as no parking in the E lot behind Memorial Coliseum