Native American Musician, Story Teller Visits UK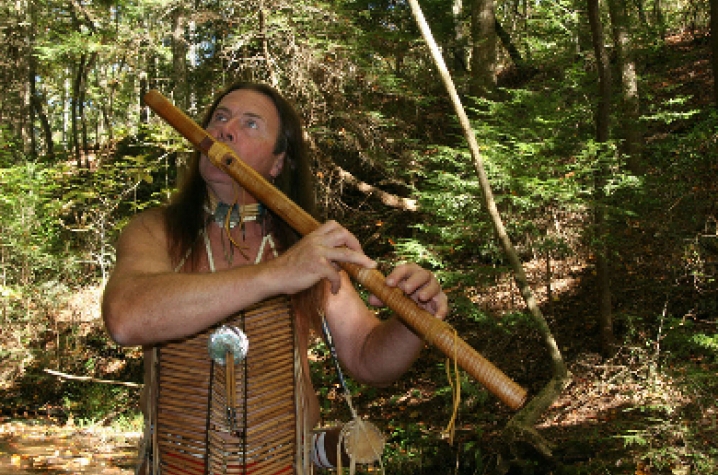 LEXINGTON, KY (March 18, 2010) – As part of the University of Kentucky's Cultural Diversity Festival, Worsham Theatre will be transformed March 24 by the haunting sounds of the Native American Courting Flute as performed by JJ Kent.
Kent (his Lakota name is Wicasa Ho' Waste', meaning "Good Voice Man") is known throughout the world as an exceptional player of the indigenous Northern Plains flute as well as a gifted storyteller, multi-cultural educator and dancer in the Native American customs of the Oglala Lakota (also known as the "Sioux"). His recording and concert career has spanned nearly 30 years, from Brykas Records in Nashville to Prestige Records in London, England. In addition to numerous awards over the years, Kent was named Flutist of the Year by the Native American Music Awards in 2009.
Kent is the adopted son of a full-blooded Lakota woman from the Oglala band and along with his Muskogee heritage was immersed in a proud lineage of both nations. He began learning the Native American Courting Flute from his uncles and elders at the age of 10. Some years ago, JJ was asked to share his knowledge of Native American history and story-telling tradition with school children. That experience encouraged him to continue sharing his heritage at all educational levels, from elementary schools to colleges in the United States and Canada. His story telling, enhanced by flute, song, dance and art, has become an important part of a spiritual journey for many.
Sponsored by the UK Office for Institutional Diversity and Vice President J.J. Jackson, Kent will present a lecture unlike any most college students have ever experienced. With stories, music and dance, Kent will give a cultural presentation in the ancient ways of Native American tribes. "Diversity of Native American Tribes" is slated at noon Wednesday, March 24, in the Worsham Theatre of the Student Center.
Later that same day, Kent will hold his audience spellbound with the unique ethereal sounds of the Native American Courting Flute at a concert at 5 p.m. in Worsham Theatre.
Both events are free and open to the public.
The 2010 Cultural Diversity Festival, Feb. 22 to April 10, 2010, features many cultures with events including concerts, performance theatre, interactive workshops and scholarly lectures. The festival promotes cultural awareness, highlights the wealth of diversity represented at UK and strives to engage all students, faculty and staff as well as the Lexington community by fostering dialogue, encouraging new experiences and promoting unity. Both the UK and Lexington communities are invited to experience these cultural and educational programs. All festival activities are open to the public, and most are free. For details, visit the Cultural Diversity's Web site at http://www.uky.edu/CulturalDiversity/