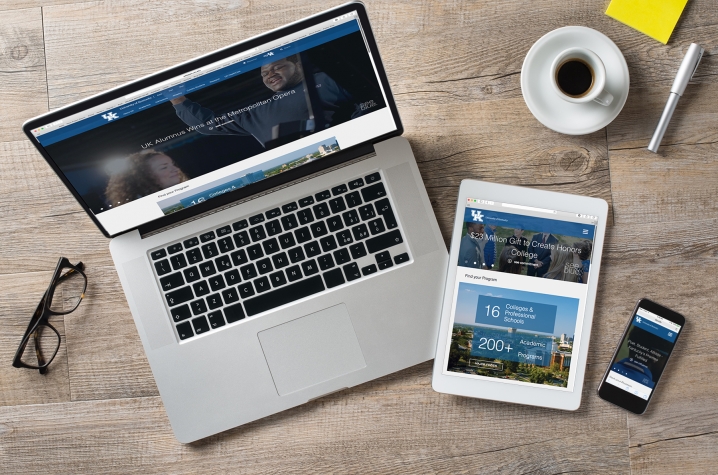 LEXINGTON, Ky. (Jan. 6, 2016) — The University of Kentucky recently unveiled a newly designed home page that utilizes responsive design to tell the stories of students, faculty, staff and alumni in a more compelling way.
The website — www.uky.edu — has a number of new innovations that, together, advance the university's web presence in significant ways, especially when it comes to students.
"At the University of Kentucky, we put students first in everything that we do," said Don Witt, UK's associate provost for enrollment management. "One of the most important ways we can and do communicate with our current students, and those who will soon join our special community, is through the university's home page and our entire digital presence.
"Our re-designed home page has students first and foremost in mind — through the compelling narrative, video and photo stories on the site to the increased access to majors, academic interests and other tools and programs that they can use to ensure their success at UK. This site is a portal for current and prospective students to visit a university — with a faculty and staff — steadfastly devoted to their success."
"For so many people, our home page is the front porch to the University of Kentucky," Jay Blanton, executive director of UK Public Relations and Marketing, said. "It's important that our front porch — this new home page — tell our stories in a compelling, clear and easily accessible way."
New features or innovations of the website include:
The new site uses responsive web design techniques to have a full-featured home page for desktop, mobile and tablets.
Utility and primary navigation is fixed to header for improved user experience.
It allows for profile/feature stories to be easily updated.
A new "Explore" feature under "Find your Program" in the middle of the page allows prospective students to preview and briefly compare colleges directly from the home page. 
The site includes the addition of a "mini app" on the home page for prospective students to easily request more information. 
It features a spotlight story as well as the latest news from UKNow, the university's official news website.
The site aggregates topical social media campaigns by hashtag (instead of by channel) to help users get a quick overview of conversation before further engaging via their social media handles/profile.
Along with the innovations to the new site, users will continue to find familiar elements. Many frequently visited internal sites used by on-campus audiences have been conveniently located together under the Resources tab. The header and site footer also remain virtually identical to the previous iteration of www.uky.edu, and the university's popular "see blue." campaign elements are also part of the site's design.
The old site will still be available here for a limited time while users make the transition to the new site.
MEDIA CONTACT: Katy Bennett, katy.bennett@uky.edu, 859-257-1909