Newest UKPD Officer Likes to Chase Leaves, Chew Sticks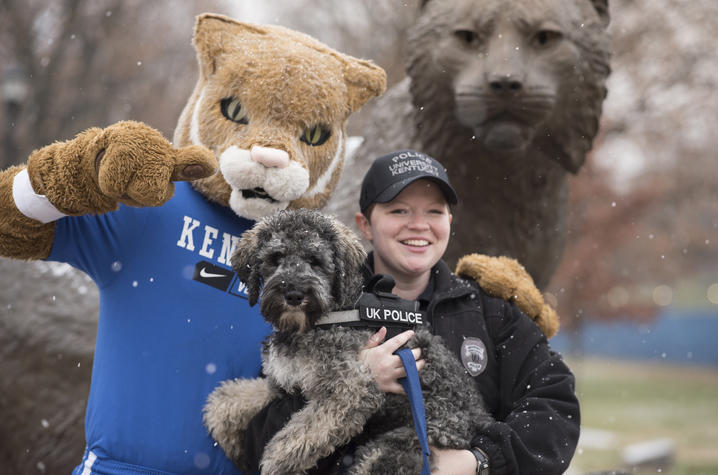 LEXINGTON, Ky. (Jan. 23, 2018) — The University of Kentucky Police Department has a new addition to its canine unit. Instead of sniffing for narcotics or explosives, this canine will be a source of comfort to others. His name is Oliver and he is a Bouvier des Flandres and poodle mix with curly fur and big brown eyes. He is also the University of Kentucky Police Department's first certified therapy dog.
"Law enforcement agencies across the country have had tremendous levels of success in utilizing therapy dogs in a number of traumatic situations," said UK Police Chief Joe Monroe. "Our hope is that this new program will benefit patients at hospitals, victims of sexual assault and alleviate stress to all members of our community."
Oliver, nicknamed Ollie, and his handler, UKPD Community Affairs Officer Amy Boatman, attended seven weeks of training focusing on obedience, manners, public access and task work from Pawsibilities Unleashed in Frankfort, Kentucky. Therapy dogs, different from service animals, are screened for their temperament and ability to handle stressors with ease, which make them ideal for school, hospital and law enforcement settings.
Research has shown that the act of petting a therapy animal is linked to a decrease in heart rate, blood pressure and reduction in anxiety. Their ability to provide nonjudgmental affection and comfort has positively benefitted veterans with postwar stress and trauma, children with intellectual disabilities, and victims of trauma.
Therapy dogs are also great at facilitating social interaction, especially when it comes to speaking with law enforcement officers.
"It's just a really great ice-breaker to talk about Ollie," Boatman said. "Wherever we go, people ask me questions about him."
Boatman suggested the idea of a therapy dog in April of last year. She conducted substantial research, reached out to other law enforcement agencies with therapy dogs, and wrote a proposal outlining the objectives, goals and cost of the program. She also wrote a 50-page paper for her Master in Science in criminal justice from the University of Louisville titled, "University Police Departments and the Benefits of Service and Therapy Animals."
"Officer Boatman was incredibly proactive in finding ways to benefit our police department and single-handedly built the foundation of the therapy dog program," Monroe said.
Boatman describes Ollie as playful dog who likes to run, jump, chase leaves and chew on sticks. His two favorite things are liver treats and his squeaky monkey. One thing he hasn't learned yet is how to fetch.
"Ollie is a little kid. He has a lot of puppy in him and while we are still in the early phase of our relationship, he is an incredibly obedient dog," Boatman said. "I'm surprised at how quickly we've bonded."
Though Oliver is the first therapy dog for the UK Police Department, he is not the first therapy dog at UK. The Gill Heart Institute has two therapy dogs, Carmine and Selah, who assist in rehabilitating patients at the Kentucky Neuroscience Institute.
While Officer Boatman and her new companion plan on visiting patients at Kentucky Children's Hospital, they will primarily attend various community events, visit students in residence halls and provide comfort to those who need it most.
"I look forward to expanding the programs we already have in place and utilizing Ollie to further the mission of the University of Kentucky Police Department," Boatman said.
To schedule a visit with Oliver, please contact Officer Boatman at amy.boatman@uky.edu
UK is the University for Kentucky. At UK, we are educating more students, treating more patients with complex illnesses and conducting more research and service than at any time in our 150-year history. To read more about the UK story and how you can support continued investment in your university and the Commonwealth, go to: uky.edu/uk4ky. #uk4ky #seeblue