North Campus Parking Impacts Expected for "seeblue." U Orientation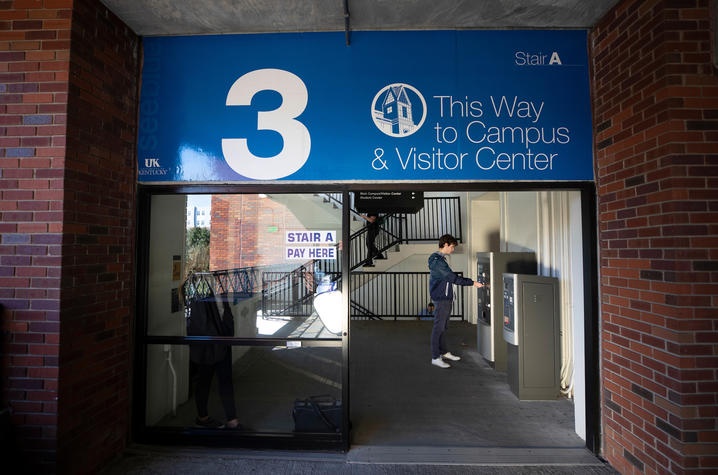 LEXINGTON, Ky. (June 17, 2019) — Beginning Monday, June 17, through Thursday, July 11, "seeblue." U orientation attendees will be on campus for their two-day sessions. Incoming freshmen and their families will park in the South Limestone Garage (PS #5) during this time frame. While employees, students and other visitors may still park in this garage, at times empty parking spaces may be unavailable.
Impacted employees are encouraged to park in the Scott Street Lots, located off Scott Street; the Memorial Coliseum Lot, located directly behind the Joe Craft Center; and the lots located off of Linden Walk behind the Stuckert Career Center on Rose Street. The employee parking map illustrates these and other parking options for employees.
Impacted students with summer permits are encouraged to park in the Scott Street Lots, the Greek Residential Lots (R11, R12, R14 and R15) located along Columbia Avenue and Rose Lane, and the Red South, Blue and Green lots, located off University Drive and next to Kroger Field. The summer parking map illustrates these and other parking options for students with a summer permit.
Impacted visitors are encouraged to park at other visitor parking locations, such as the William T. Young Library Visitor Parking lot, located off Hilltop Avenue, and the Sports Center Drive Garage (PS #7), located on the corner of Sports Center and Complex drives across from the Nutter Training Center. Explore here for more information on visitor parking on UK's campus.
For any employee or student who may be experiencing impacts and unsure of how best to remedy their transportation issue, see UK Transportation Services' Commute Planning Request form. This commute assistance option encapsulates walking, biking, busing and driving to campus. Simply complete the online form and submit it to receive advice.
UK Transportation Services strives to improve the quality of life on campus by offering responsive, sustainable and reliable access to infrastructure and mobility solutions. To learn more about transportation options, follow Transportation Services on Twitter @UKParking, or visit us online at www.uky.edu/transportation.