Officer Andy Eilertson and Officer Holly Williams are UK Police Department's First LGBTQ* Liaisons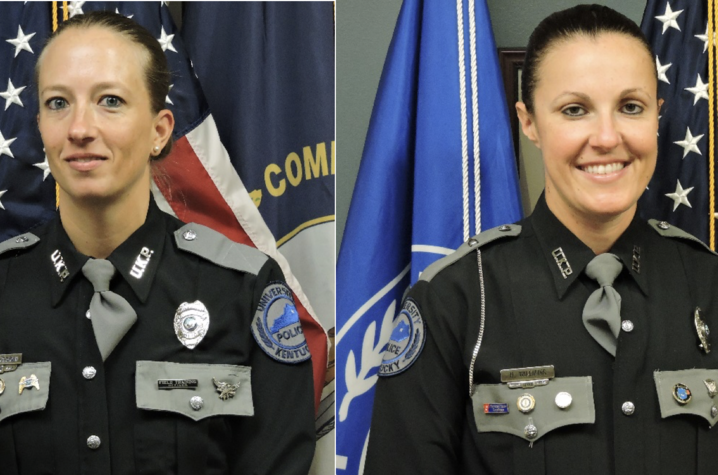 LEXINGTON, Ky. (Sept. 19, 2017) — Safety and security are at the forefront of the mission of the University of Kentucky Police Department, but so is building trust among its community members.
Furthering UK's commitment to create a community of belonging for everyone on campus, UK Police Chief Joe Monroe has created a liaison position dedicated to fostering relationships within the LGBTQ* community.
Officer Andy Eilertson and Officer Holly Williams are the first LGBTQ* Liaisons at UK's Police Department and are openly gay. Officer Eilertson was a former UK student athlete and began her law enforcement career in 2004. Officer Williams is one of the few female motor officers in law enforcement and actively raises money for Special Olympics.
Together, they will work closely with the Office of Institutional Diversity's LGBTQ* Resources Director Lance Poston to help build mutual trust, respect and understanding between LGBTQ* members and UK Police.
"Establishing the LGBTQ* Liaison position is the first step of many to actively demonstrate our support and begin building relationships with members of the LGBTQ* community," said UKPD Chief Joe Monroe. "My hope is that through opening direct lines of communication through our liaisons, we learn from one another and clear the path of advocacy for others."
Historically, members of the LGBTQ* community in places across the country have had negative experiences with law enforcement. As a result, although a significant percentage of the LGBTQ* population have experienced harassment and discrimination, there often is reluctance to turn to police. Having two police officers who identify with diverse sexual orientations is one important effort to change that mindset.
"I want to be able to give them assistance as a police officer and member of the LGBTQ* community," said Officer Eilertson. "We have faced some of the same struggles and can more likely relate to what they are going through."
Building strong relationships is key to public safety and the well-being of UK's community. In addition to having liaisons, UKPD will participate in 101 SafeZone training to give their officers a stronger knowledge base of strategies to demonstrate support. They will also act as host for several STARR self-defense classes for members who identify as LGBTQ* and are open to finding new ways to enhance sensitivity and support within the community.
"We value our LGBTQ* liaisons with UKPD as an integral part of our work toward belonging and safety for everyone who receives life-giving education or life-sustaining care on our campus," said Lance Poston, Director of LGBTQ* Resources at UK. "Our two liaison officers are wonderful bridges for constructive community dialogue and resources for our students, faculty, and staff."
Developing a stronger relationship with members of LGBTQ* was initiated by Officer Williams in June. She wanted the police department to show support during Pride Month and a meeting with Poston was soon held. "I initially wanted to reach out to the LGBTQ network at UK so they would know that there are members of the LGBTQ family working within the police department," said Officer Williams. "The LGBTQ community will always hold a special place in my heart and I hope this can be the beginning of a great partnership."
For more information about upcoming events with members of the LGBTQ* community, please see below or visit https://www.uky.edu/lgbtq/calendar-events. Some upcoming highlights include:
At noon on Sept. 19 at the M.L. King Center, 313 Blazer Dining Hall, Rainbow Conversations, Carol Taylor-Shim will discuss UK's Bias Incident Support Services. Rainbow Conversations are monthly discussions that feature campus and community research or activism related to LGBTQ* life. Lunch will be provided.
From 5:30 p.m. to 7 p.m.,  on Sept. 21 at the UK Arboretum, LGBTQ* and Friends Employee Picnic. This casual event is a time for UK employees to network, socialize, and expand community. Free music and food are provided and free parking is available at the Arboretum and follow signs to the picnic area. The event is being sponsored by LGBTQ* Resources and HR Work-Life.
The week of Sept. 25 is WellKentucky Week. This week will feature events across campus highlighting financial, mental, physical and emotional wellness hosted by the departments of the University's WellKentucky collaboration in LGBTQ* Resources and the Transform Health Clinic.
At 4:30 p.m. on Oct. 4, in room 219 of The 90 will be Fall Semester Open SafeZone Training. This is a UK SafeZone session that is open to all who want to go through the workshop to learn about LGBTQ* identities, strategies for supporting student experiences and exploring LGBTQ* related campus resources.
During the week of Oct. 9, the Office of LGBTQ* Resources will be co-hosting Queerslang in collaboration with WRFL. This week of programming features art exhibits, workshops, a concert and more.
At noon on Oct. 10 in room 161 N of the Don & Cathy Jacobs Science Building will be the OUTGrads Graduate and Professional Student Round Table. Graduate and professional students are invited for a discussion surrounding being Out in Grad School guided by UK faculty; lunch will be provided. This event is co-sponsored by LGBTQ* Resources and the Center for Graduate and Professional Diversity Initiatives and is scheduled to occur once each fall and spring term.
At 4:30 p.m., Oct. 11 in room 121 of the  Don & Cathy Jacobs Science Building will be the UK Second Annual LGBTQ* History Month Lecture on Race, Gender and Sexual Orientation. This lecture is the highlight of UK's celebration of LGBTQ* History Month and features Charlotte Chucky Tate, psychology professor at San Francisco State University.