Open House for Technology Learning Lab This Thursday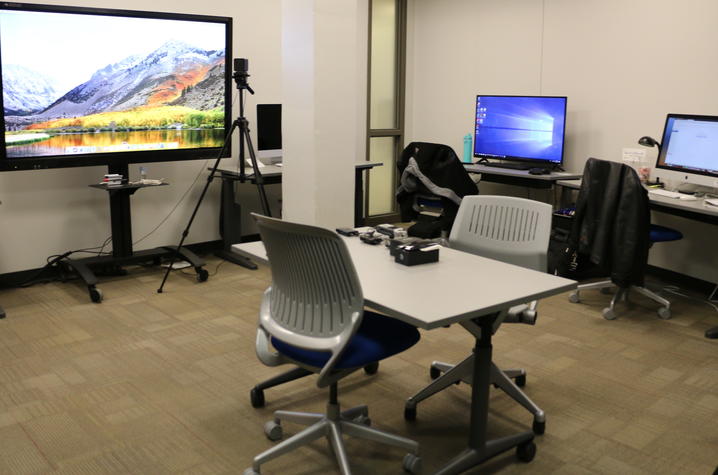 LEXINGTON, Ky. (Jan. 24, 2018) —  An innovative technology lab at the University of Kentucky College of Communication and Information has undergone a renovation thanks to sponsorship from UK Information and Technology Services. The lab is now ready for students, faculty and staff to conduct research using its cutting-edge technologies, beginning with an open house for the campus community from 12-4 p.m. Thursday, Jan. 25. 
The CI CoLab is a technology learning laboratory that fosters technological innovation and collaboration between students, faculty and staff. The CoLab provides a space to perform research in four divisions including user-experience (UX), eye-tracking, virtual reality (VR) and social media listening.
The multidisciplinary venture was first introduced in the spring 2016 semester by College of Communication and Information Senior Associate Dean for Administrative Affairs Derek Lane and College Media Officer Nathan Stevens, along with Dean Dan O'Hair, as the CI Collective. Today, the lab is called the CI Collaborative Laboratory (CoLab).
"The CI CoLab was built to find new technology, test it and find research within it. We're here to inspire the researcher into finding new ways to make their studies easier and more interesting," Stevens said. Stevens and Director of Operations Jesse Stallsworth are inviting students, faculty and staff from all departments and majors to tour the lab and experience its technology. The open house will be held in Room 310N of the Lucille Little Fine Arts Library and Learning Center.
"People from any discipline of study can make use of the technologies in the lab," Stallsworth said. His favorite division is the Usability Lab. "It helps to improve technology for the general public and will hopefully make new and existing technology easier to use," he said.
The CI CoLab is used to conduct usability studies for outside companies and organizations as well research for students, faculty and staff at UK. Many companies will bring in their technology for people to use, study and answer surveys about the pros, cons and potential improvements of the technology. The program also brings in professionals in IT to study how and why people might adopt certain technologies. 
Other projects underway in the CoLab are the Social Media Listening lab and "Arcadian Dream." The Social Media Listening lab allows participants to plan and analyze post engagement with the goal of creating more relevant content that audiences would like to see. It also gives participants the ability to view what people are saying about a particular topic and analyze the audiences' attitudes and engagement behaviors towards these topics. 
The buzzworthy "Arcadian Dream" is currently still being developed. It is a fun and entertaining virtual reality game that aims to distract those with terminal illnesses from their current environment. Developers are planning to conduct research using distraction theory and other theories of gaming psychology and engagement. The precursor study will be conducted in a pediatric clinic with the end goal of conducting research at Kentucky Children's Hospital oncology unit.
The CoLab has developed a team and is always looking for more participants. Internships are available for students each semester. Stallsworth stressed the importance of getting involved and using the lab as a resource for expansions in research. "Feel free to stop by, get involved and ask questions," he said.
The lab can be used by anyone who is looking to learn and conduct research in any field of study.
Stallsworth encourages the public to not only come and tour the lab but to later apply it to their academic studies. "I hope they get inspired to use even more technology. We hope to see a lot of meaningful research come out of the lab," Stallsworth said.
If anyone is interested in collaborative projects or if students are interested in working in the lab as an intern, or learning more information about how to get involved, contact Jesse Stallsworth at jst243@uky.edu or Nathan Stevens at nss@uky.edu.
You can find the CI CoLab in Room 310N Little Library, on the third floor. 
UK is the University for Kentucky. At UK, we are educating more students, treating more patients with complex illnesses and conducting more research and service than at any time in our 150-year history. To read more about the UK story and how you can support continued investment in your university and the Commonwealth, go to: uky.edu/uk4ky. #uk4ky #seeblue