Philanthropy Helping Fuel UK's Efforts to Advance Kentucky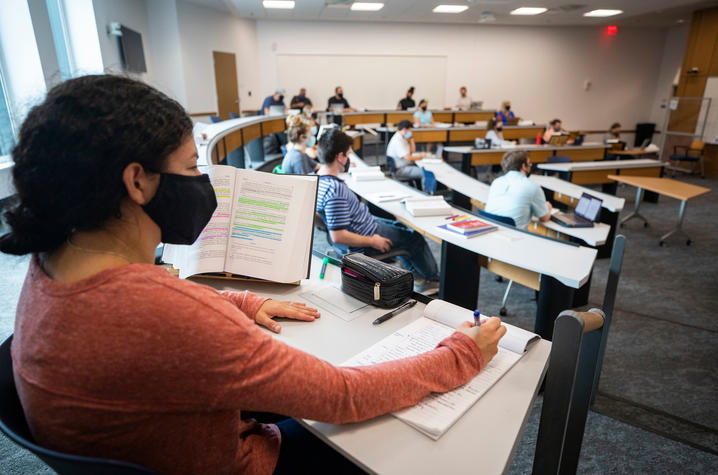 LEXINGTON, Ky. (Feb. 18, 2022) — The University of Kentucky is focused intently on aligning every dollar raised and every effort made on campus toward the chief goal of the institution's new strategic plan — Advancing Kentucky.
That was the focus of two days of meetings — Thursday and Friday, Feb. 17-18 — of the UK Board of Trustees:  how to focus philanthropic efforts and crucial state support toward specific ways to improve conditions in the state.
"We are utilizing partnerships — particularly through philanthropy in working with committed donors and friends — to lower barriers to access for students, to help ensure they succeed while they are here and to address our state's most pressing health challenges," UK President Eli Capilouto told trustees.
Specifically, Capilouto cited several gifts — among more than $30 million — that trustees recognized during their meetings Thursday and Friday:
$5 million from UK's largest donor, Bill Gatton, to provide scholarships to address unmet financial need, to help students who are the first in their families to attend college and to educate more doctors to serve the state. Read more about this gift.
$10 million from Joan Kincaid and Central Bank to improve and expand cancer care in the state. Read more about this gift.
More than $11 million from Karen and Stanley Pigman's Lighthouse Beacon Foundation to renovate and expand the Funkhouser Building and support need-based scholarships in the College of Engineering).
A $5 million pledge from Michael Marberry to support the renovation and expansion of the Funkhouser Building as well.
More than $1 million from Jacqueline Cain for scholarships in the College of Medicine.
The donations support key principles in the university's new strategic plan — the UK PURPOSE — which focuses, among other items, on student success and health care in the state.
Trustees also received a progress report on the university's philanthropy campaign, Kentucky Can, from Acting Vice President for Philanthropy and Alumni Engagement Tom Harris.
Harris told trustees:
$1.7 billion of the goal of $2.1 billion has been raised.
More than $170 million has been raised since 2013 for student scholarships.
More than $17 million has been donated for the UK LEADS effort, a nationally heralded initiative to address unmet financial need among students.
Capilouto said scholarships are particularly critical as some 25-30% of UK undergraduate students are the first in their families to attend college; 80% of them come from Kentucky.
In raising the final $400 million toward the campaign's historic goal, a focus will be placed on additional scholarships as well as on infrastructure, faculty and programs that align with strategic priorities.
Capilouto also emphasized that nothing replaces the importance of support provided by the state for UK's budget and its efforts.
He pointed to the fact that current budget proposals being considered by the legislature for higher education also focus on educating more Kentuckians and providing support for health needs across the state.
"There is no replacing the state support that policymakers and taxpayers provide," Capilouto told trustees. "It is the fuel for the engine that powers our efforts. We must leverage those investments for even greater impact.
We do that by tying the dollars from our donors into the students and strategies that will advance Kentucky — a state that is healthier, wealthier and wiser."
Kentucky Can: The 21st Century Campaign is a comprehensive campaign focused on increasing opportunities for student success, funding innovative research, improving health care, strengthening our alumni network, and supporting our athletic programs. For more information about Kentucky Can, visit kentuckycan.uky.edu.