President Eli Capilouto message to 2023 graduates: 'Your one wild and precious life'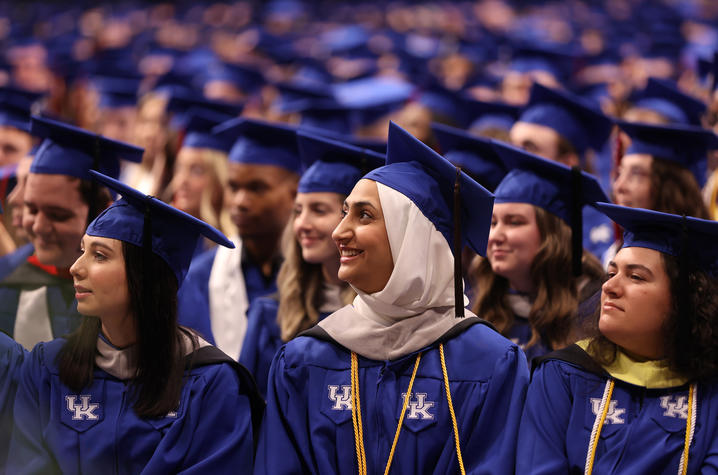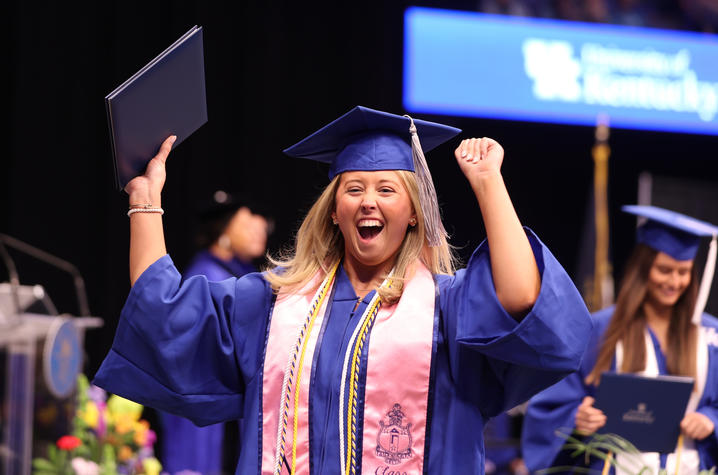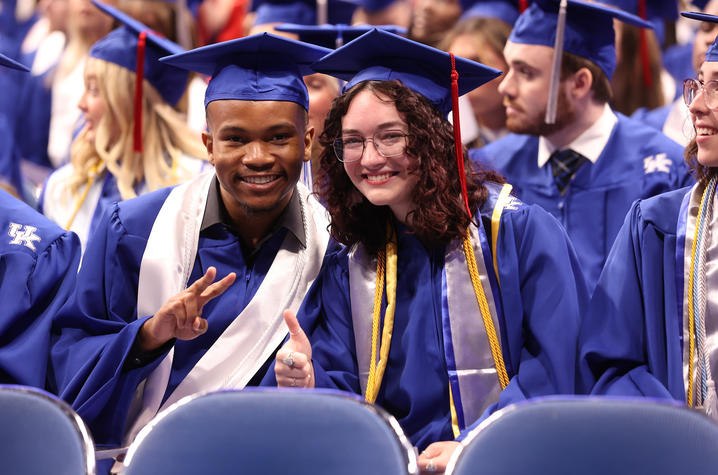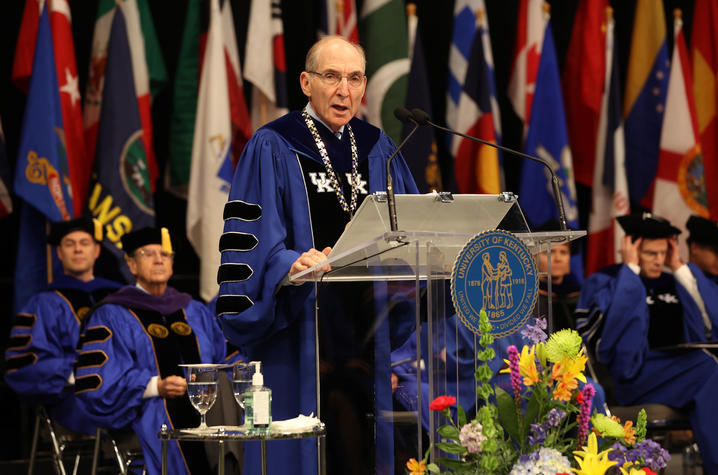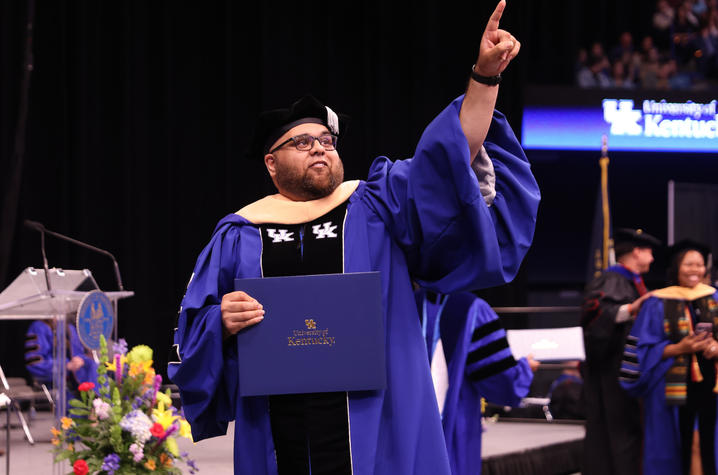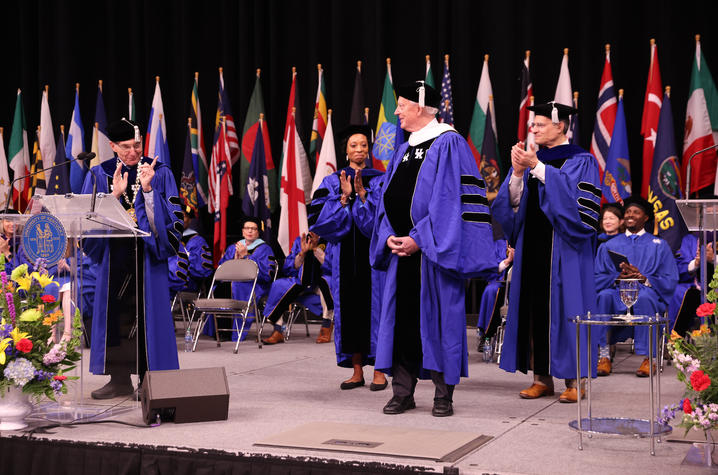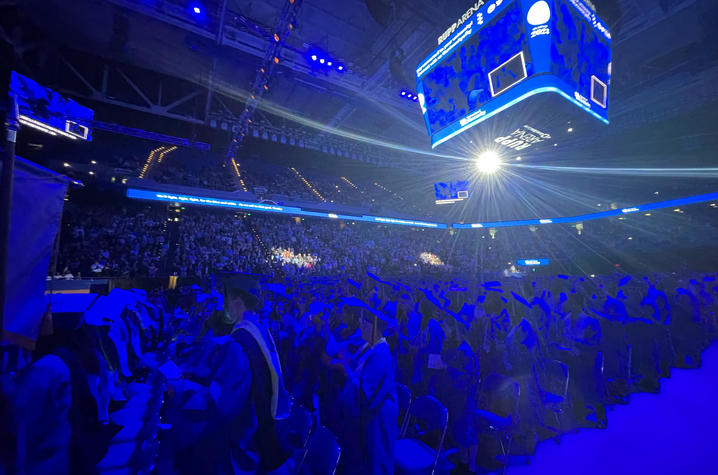 LEXINGTON, Ky. (May 8, 2023) — University of Kentucky President Eli Capilouto gave the following remarks at the 2023 University of Kentucky commencement ceremonies on May 5 and 6. More than 4,000 students crossed the commencement stage to become UK's newest alumni. Overall, the UK Board of Trustees conferred 5,811 May degree candidates. This includes 3,745 undergraduate, 1,433 graduate and 633 professional degree candidates.
Your one wild and precious life
Graduates of 2023 …
One of my favorite moments each year is notifying the different students who have been selected to speak at each of our commencement ceremonies.
I read their remarks with gratitude, and always a bit of awe, because they are willing to tell us their stories.
I wish you could hear all of them. I feel humbled and honored to do so.
They are stories, for example, of volunteering at Kentucky Children's Hospital to clean toys for sick children …
Of living, at times, without enough food or water and learning as one student wrote, that "hardship is not a setback, but a vessel for growth."
They are stories of working with social workers on home visits to help assess parents and children … and of being raised by a father in Eastern Kentucky, who loved this university so much, that he sang "Touchdown Kentucky" as a song to soothe a crying child.
We each have a story to tell, and your time at UK is but one chapter — a chapter that that you may have, at times, considered normal or even boring … but I'm confident you will look back and describe it as extraordinary.
Your chapters are filled with commitment and compassion, acts of selflessness and sacrifice, promise and potential. The tales within are distinctive and precious.
Your stories, which I have been so privileged to witness, remind me that every generation has been challenged with answering a call.
In the nearly 160 years that this university has existed for Kentucky, generations have passed through classroom and residence hall doors. They cheered as fans on courts and fields … found friends and partners in clubs and organizations and gathered at concerts and intramural competitions.
Students found and created community and prepared themselves, under the watchful eye of faculty, staff and family, for lives of meaning and purpose.
But each generation, too, experienced hard knocks and daunting obstacles. Before the mid-point of the last century, UK students encountered two world wars, their own global pandemic, and a worldwide depression.
Those who came later would march for civil rights and confront the contentious circumstances of another war.
Before you stepped foot on our campus, you and your families dealt with a Great Recession, where millions of jobs were lost, and lives were painfully disrupted.
You, of course, faced hardships while you were here, as well.
For more than a year, you were forced to be separate rather than congregate to keep each other safe. You donned masks and received multiple vaccinations. You practiced new safety protocols and switched back and forth between remote and in-person classes.
You grieved the experiences you had to give up ... to keep others safe.
And ... you grieved the loss of precious loved ones, taken too soon by a cruel disease.
But amid this time of pain and uncertainty, you also rose to the occasion.
You continued to look for the fullest ways possible ways to live out your time with us while preparing for a life of meaning and purpose — finding internships, whether remotely or on location
… Subbing for teachers that COVID kept out of classrooms …
Competing in entrepreneurial competitions that stretched your skills and opened your minds to further possibilities …
Even creating companies that confront and address issues that vex us today and will pose even greater challenges a generation from now.
You participated in protests over violence that took lives and forced us to reckon once again with the sin and stain of racism.
You rushed to volunteer to raise dollars for hillside communities and river towns in Eastern and Western Kentucky, ravaged by flooding and tornadoes. You pledged to be there, wherever there was need, to provide hope and help find answers.
You experienced a world beset with fear and anxiousness ... one that is often so riven by division and discord that it feels irredeemably battered and broken.
Except you don't think that's the case.
And because of you, I don't either.
At the height of the pandemic, you volunteered at clinics, putting the needs of others ahead of your own. You supported those who provided shots of healing and hope for the elderly and sick, firefighters and police officers, teachers and health care workers.
You danced your hearts out to raise millions of dollars to defeat pediatric cancer. You volunteered in clinics and schools, teaching other young people that giving back is, itself, an incredible gift.
You spoke out and stood up for justice. And you found ways, through it all, to serve others, while continuing to learn and grow yourselves.
The way you responded during unprecedented and uncertain times set a standard for us all.
You made a difference. In doing so, you taught us as much we could ever teach you.
And, yet the real legacy of your generation — your complete story — has yet to be written.
We hope we have done our part to equip you ... to write it well.
Dr. Martin Luther King Jr. told us that "the arc of the moral universe is long, but it bends toward justice."
But as another writer reminded us, that arc will be bent "by those with strength and tenacity and the will and the want to leave the world more just than they found it."
You are being asked to do the work. Indeed, there are challenges ahead.
Technology places at the touch of a screen the ability to connect and communicate in ways that transcend the barriers of geography, language and time.
But through the poison of distraction, it diverts our attention from each other, encouraging us to isolate ourselves within our safe and small bubbles of, at times, false unity. It makes division and anger readily reachable as compromise and cordiality are always harder.
You will be asked to tame technology and harness its potential to create greater access to knowledge, while minimizing its tendencies to drive us apart.
Many are engaged in fraught debates that seem to question ideas so fundamental to who we are — over speech … religion … beliefs … liberty and freedom.
You will be tasked with helping navigate these turbulent waters to help us find some sense of common ground.
We live in a world of such plenty. But far too many suffer from gaps in access to health care and employment, income and stable, loving homes that foster connectedness and bind us together in community.
You will be charged with finding ways to close these chasms.
As your stories proceed, you won't be asked to cure all our ills, but we do believe you can make them better.
We have seen you do it here, at this place, in this moment and for our campus. You are not a generation that sees "things as they are and says why." I believe you are a generation that will "dream things that never were and say, why not?"
That is your power: your sense of what is possible and your willingness to make it happen. With a sense of grace and grit, resilience and resolve, you have added to the stories of those who came before you. In writing this chapter, you have added to the legacy of this special place.
But you are not done. One chapter of the story has been written. We are proud of what you have accomplished as you prepare to cross this stage to mark this important milestone.
Now, you are called to add to this legacy ... to continue writing ... on behalf of a world that needs what you have to offer.
As the poet Mary Oliver has said, "tell me what is it you plan to do with your one wild and precious life? We are watching with great excitement."
You are precious — each one of you … you are precious to me … you are precious to so many here on this campus and beyond.
We are watching with great excitement to see what you will do with your one wild and precious life.
Today marks the start of your next chapter. Write it well.
Thank you, graduates of 2023.