Pretty Fly for a Science Guy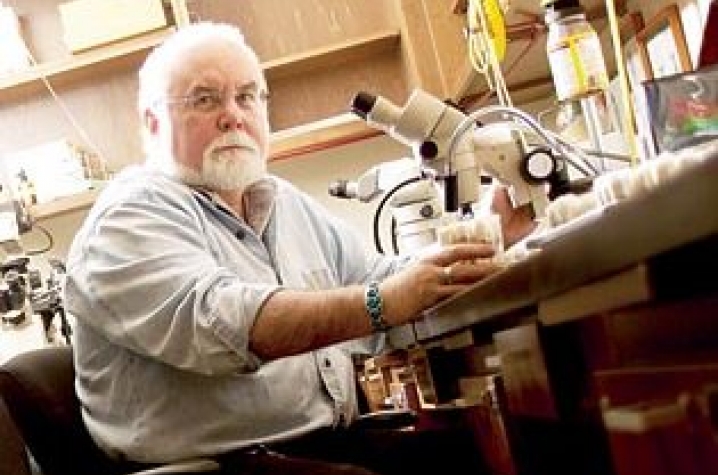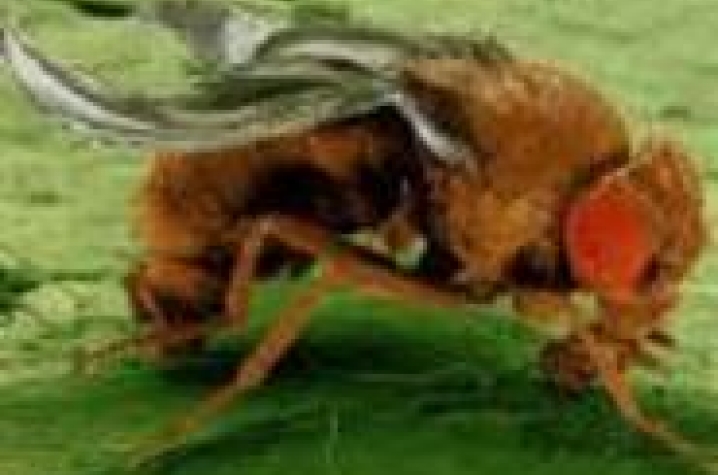 LEXINGTON, Ky. (Oct. 7, 2009) – Renowned geneticist Thomas Kaufman, also known as "the fly guy," will be the speaker for the second annual Thomas Hunt Morgan Seminar, hosted by the Department of Biology in the University of Kentucky College of Arts and Sciences and funded by the Gertrude Flora Ribble Endowment.
Kaufman, known for his work on the species Drosophila (fruit flies), will present two lectures on Oct. 8 and 9, about how the tiny insects help geneticists unravel the mysteries of the human genome.
At 4 p.m. Thursday, Oct. 8, in Room 116 of the Thomas Hunt Morgan Biological Sciences Building, Kaufman will present a lecture titled: "Evolution of the Hox Complexes: their not-so-constrained role and genomic organization in the insects." This presentation will be aimed at satisfying the research interests of fellow researchers, but will be of interest to anyone with a basic interest in biology and genetics.
At 9 a.m. Friday, Oct. 9, also in Room 116 of the Morgan Biological Sciences Building, Kaufman will present "From T.H. Morgan to modern – the first 100 years of Drosophila research and why you should care." This lecture is designed to appeal to a general audience.
Both lectures are free and open to the public.
Drosophila has been used to study genetics since Morgan's pioneering work a century ago. The short life cycle of the fly (10-14 days from egg to adult) and its small size enables scientists to study multiple generations of the fly within a relatively short time frame in a small space.
But Drosophila is important for another reason – genetic similarity to humans.
"The genes in the fly are the same as those involved in human diseases like Parkinson's disease and Alzheimer's disease. The similarities are absolutely stunning," said Kaufman.
"Studying model organisms is extremely important to the pharmaceutical industry and drug discovery. Seventy-five percent of the known disease-causing genes found in humans are also in flies. By studying the fruit fly, you'll understand human life and help alleviate human suffering."
Kaufman, Distinguished Professor of Biology at Indiana University – Bloomington, is also the co-founder and co-director of the IU-based Drosophila Stock Center, where flies are bred and distributed to researchers worldwide, and FlyBase, a massive database of Drosophila DNA sequence information.  He also administers the Drosophila Genomics Research Center at IU.
A graduate of the University of Texas, Kaufman is a member of the National Academy of Sciences, a fellow in the American Academy of Arts and Sciences, an investigator for the Howard Hughes Medical Institute, a 1998 winner of the Conklin Medal and a 2005 winner of the George W. Beadle Award. He is the author of approximately 134 academic papers.
The seminar is named for Thomas Hunt Morgan, a UK alumnus and pioneering geneticist. Kaufman is only three academic generations removed from Morgan, having studied under scholars whose own mentors studied under those personally mentored and trained by Hunt Morgan.
For more information about the Thomas Hunt Morgan Seminar, contact Randal Voss at (859) 559-3788 or the Department of Biology at (859) 257-4711.
___________________________________________________________________
Additional Related Links for Researchers:
Xun Z, Kaufman TC, Clemmer DE. 2009. Stable Isotope Labeling and Label-Free Proteomics of Drosophila parkin Null Mutants. J Proteome Res. 8(10):4500-10.
Xun Z, Kaufman TC, Clemmer DE. 2008. Proteome response to the panneural expression of human wild-type alpha-synuclein: a Drosophila model of Parkinson's disease. J Proteome Res. 7(9):3911-21
Drosophila 12 Genomes Consortium, Clark AG, Eisen MB, Smith DR, Bergman CM, Oliver B, Markow TA, Kaufman TC, et al. 2007. Evolution of genes and genomes on the Drosophila phylogeny. Nature. 450(7167):203-18.