Q&A: Easy ways to help K-12 students transition back to school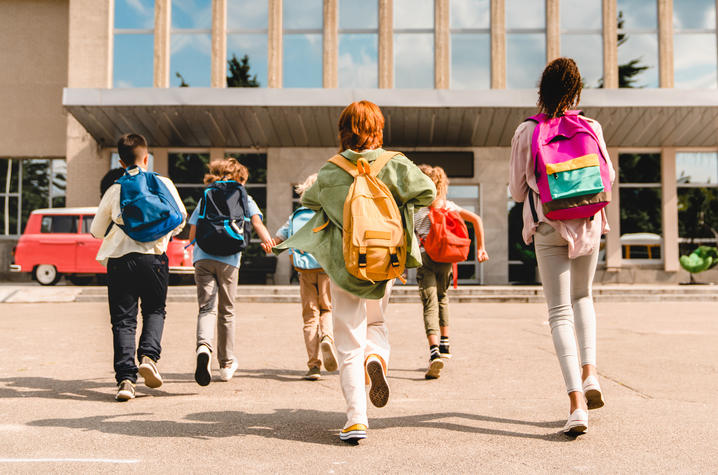 LEXINGTON, Ky. (Aug. 11, 2023) — Whether your child is stepping into kindergarten or gearing up for high school's final year, back-to-school time brings a flurry of preparations and anticipation. For K-12 students, this annual transition marks not only a shift in daily routines but also an opportunity for growth, learning and new experiences.
We asked University of Kentucky College of Education faculty for advice to set your student up for success.
Faculty experts include: 
Cindy Jong, Ph.D., professor of mathematics education in the Department of STEM Education;
Jennifer Doyle, Ph.D., visiting assistant professor of English education in the Department of Curriculum and Instruction; and
Melinda Ault, Ph.D., professor of special education and acting chair in the Department of Early Childhood, Special Education and Counselor Education.
UKNow: What are easy ways to help K-12 students transition back to school?
Jong: Kids often get excited if they are able to attend an open house or back to school night to meet their new teacher(s) and connect with some familiar faces. I like the prompt "What are you wondering about with the start of school?" to learn what is on a kid's mind. It's important to validate whatever emotions they are having then provide encouragement. 
Doyle: The best way to help high school students transition back to school from summer break is to get them accustomed to a regular routine and schedule again. Many teens spend their summers staying up late and sleeping in. It can be a hard adjustment waking up for school again in the fall. In the week(s) leading up to school, it can help to start going to bed earlier and waking up at the time they'd have to get ready for school.
Ault: For parents of students with special needs, familiarize your child with the school, especially if this is a new school. Arrange to meet the teacher prior to the first day of school and/or ask the teacher to make a video addressing your child. This could include a tour of the classroom or school that your child can watch repeatedly as needed. 
UKNow: How do you build excitement around the idea of returning to school?
Jong: There are several inclusive, affirming and funny first day of school children's books that can help make a kid feel excited about school. "The Day You Begin" and "The Pigeon HAS to go to School" are two that come to mind. Taking a child to shop for school supplies on their list or picking out what they will wear for the first day of school can add some excitement. 
Doyle: School can be exciting for some high schoolers, especially freshmen and seniors. It can also be a scary transition. To get them excited about returning to school, you can ask what classes they are most looking forward to taking, what activities/extracurricular activities they are interested in doing this upcoming year and who they are most looking forward to connecting with after summer break. High school is a unique time where students are offered more choice and flexibility. Emphasizing these things can help build excitement for heading back to school after summer break. If you have a teen who hates school (as many of them do!), you can ask them to pick at least three things they can look forward to in the day — whether that's lunch, P.E., seeing their friends in the hallway, etc. Encourage them to find the positives throughout the day — even if they hate math class, they can look forward to meeting new people in their math class. You can help them shift their mindset around school.
Ault: You can prepare your child and ease fears by making a book or PowerPoint presentation with photos of the school, classroom, teachers, adults at the school and other classmates. Review it with your child while discussing starting school. You can also provide your child with a calendar that clearly shows the first day of school and they can mark off the days to count down.
UKNow: Are there any tips to set them up for success early in the school year?
Jong: Preparing backpacks and picking out clothes the night before can contribute to smoother mornings. In the afternoons when kids return exhausted, having snacks ready can help them begin to relax. While parents often want to know all the details, kids might not be ready to answer a ton of questions. Asking to share the best part of their day could be a positive opener, then you can wait to hear more at dinnertime.
Doyle: The best way to set up your teens for success early in the school year is to help them plan and schedule their time. Sit down with them and go over their class schedule. Make a weekly calendar and plan each homework assignment, project, test and quiz. Figure out a set time they will do their homework each night (usually before doing anything fun like playing video games, watching TV or scrolling social media). Help them build reward systems for themselves — once they finish their homework. Encourage them to make useful connections with peers and teachers. The best way to have a successful high school year is to start off on top of things and maintain it. It's much easier to maintain a good GPA than it is to try to bring up a low GPA. Most of all, encourage them to get involved and take an active role in their education.
Ault: If your child qualifies for special education, review your child's IEP or 504 plan and refamiliarize yourself as needed. Review the accommodations and ensure they are up to date and appropriate for your child's needs. With your child, rehearse procedures for school a few days prior to school starting. This could include getting up at the time they will wake up, practicing getting dressed and getting their backpack ready, practicing walking to the bus stop or getting out of the car at drop off, working on opening lunch boxes and containers and eating lunch and practicing getting in the car at pick up time.
UKNow: How important is setting up a structured routine?
Jong: Routines are on-ramps to help us get to where we want, so it's important to name what matters when setting up a routine. If you know your child needs 10 hours of sleep to avoid crankiness, then slowly transitioning from a later summer night to an earlier bedtime a few days before school starts can help with mornings that are not as rushed. Figuring out the right time for homework is also important. Depending on the grade and demands, younger children might need the assistance of an adult to complete their homework and an after-school snack time could be a good way to tackle two things at the same time. Some kids might need down time when they return from school and homework might work better after dinner. 
Doyle: I cannot stress enough how important it is for high schoolers to have a structured routine. They have to keep up with several different classes/teachers/schedules each day. Having a regular routine helps them know what to expect and when. A set bedtime and daily wake up schedule makes a world of difference in teens' lives both in and outside of school.
Ault: Routines are important for all students, but can be especially helpful in the special education classroom. Parents can support students by developing before-school and after-school routines that are followed consistently. Having a schedule that is clearly visible/accessible to the child that contains photos or words of the schedule displayed in sequential order that is followed daily, can help build skills and make the routine predictable for the child. The child should be taught to access the schedule, do the first activity, mark the activity as completed and then move to the next activity on the schedule.
UKNow: How can you build a relationship with your child's teacher?
Jong: Being responsive to their requests or questions shows that you care. Teachers rarely get acknowledgment for their important and demanding work. I have found that simply sending a small note of thanks goes a long way and better yet if it comes with a gift card. Encouraging your kid to write or draw a note can make teachers feel more appreciated. If you have the resources, you can ask a teacher if they have a wish list to contribute to their classroom materials. Early on, kids and/or family members are asked to complete an info sheet about the student. This is where you can also share specific information to help the teacher meet your child's needs and build trust. 
Doyle: The parent-teacher relationship changes and evolves as students get older. Once students are in high school, we encourage them to take more responsibility for themselves and that can mean less parental involvement. However, it is still (and maybe even more) important to develop a relationship with your student's high school teachers. The best way to do this is to email each of your student's teachers and introduce yourself at the beginning of the year. If you know your teen struggles in certain areas or is particularly strong in other areas, you can relay that information to the teacher. You can also ask the teacher how to best support your teen at home so they have a successful year in their class. High school teachers can have upwards of 150 students they teach each day, so it can be more difficult for them to reach out and build individual relationships with each parent. It helps if you take a proactive role by introducing yourself early in the year. It also makes it easier for teachers to reach out to you if your teen needs extra support.  
Ault: Introduce yourself to the teacher, exchange contact information and let the teacher know how you prefer to be contacted and who in your household the teacher should contact. Share any relevant information about your child prior to the school year starting (e.g., child's strengths, interests, previous challenges) that will help the teacher know your child's strengths and approaches to best meet their needs. Collaborate with the teacher to follow-through and reinforce classroom learning at home. Arrange a meeting to discuss how your child's teacher plans to implement accommodations that may include such things as changes in the curriculum, accommodations for testing procedures or additional support from a paraprofessional or related service personnel. Don't hesitate to ask for clarification should you have any questions or not be familiar with educational terms or jargon.
As the state's flagship, land-grant institution, the University of Kentucky exists to advance the Commonwealth. We do that by preparing the next generation of leaders — placing students at the heart of everything we do — and transforming the lives of Kentuckians through education, research and creative work, service and health care. We pride ourselves on being a catalyst for breakthroughs and a force for healing, a place where ingenuity unfolds. It's all made possible by our people — visionaries, disruptors and pioneers — who make up 200 academic programs, a $476.5 million research and development enterprise and a world-class medical center, all on one campus.   
In 2022, UK was ranked by Forbes as one of the "Best Employers for New Grads" and named a "Diversity Champion" by INSIGHT into Diversity, a testament to our commitment to advance Kentucky and create a community of belonging for everyone. While our mission looks different in many ways than it did in 1865, the vision of service to our Commonwealth and the world remains the same. We are the University for Kentucky.