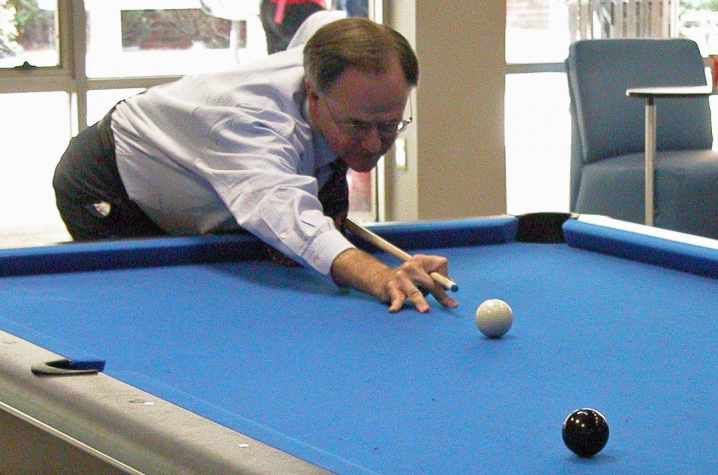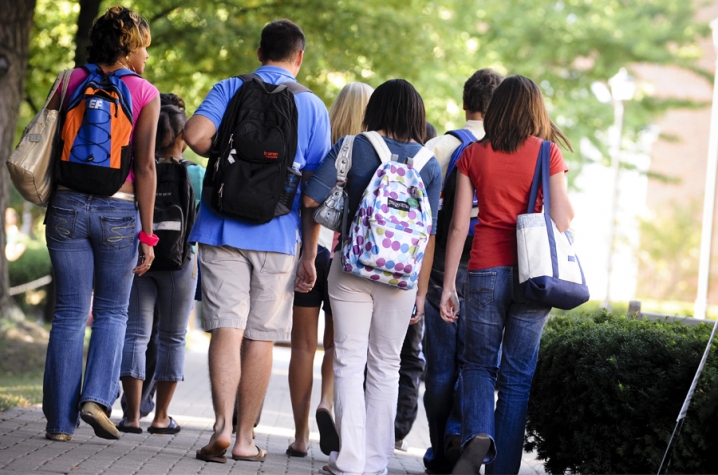 LEXINGTON, Ky. (Aug. 25, 2010) — Today, the first day of fall semester 2010, University of Kentucky freshmen step across the threshold into a new life. Some will stride boldly. Others will tiptoe quietly. Still others will merge gently. The one thing the Division of Student Affairs does not want to see is a new student to stumble blindly.
Although there have been many opportunities during K Week for freshmen and new transfer students to learn about their new environs, there will still be more than a few who need a little help along the way today. After all, they have moved to a strange, new community of 50,000 citizens, by population the fifth largest "city" in the state.
It is the sworn mission of Student Affairs to make the transition as smooth as possible, to make the 795-acre campus feel smaller, friendlier. Super Start is today's approach.
From 7:30 a.m. to 3 p.m. Wednesday and Thursday Super Start tents will be pitched at the Student Center, White Hall Classroom Building, South Campus, and Rose Street. Students – lost or merely misplaced -- will be greeted by friendly, sympathetic smiles and handy campus maps. There will be answers when a student confuses Anderson Building with Anderson Tower, or Memorial Hall with Memorial Coliseum, or Frazee with Funkhouser. Even if you aren't lost, be sure to stop by one of the Super Start tents during the first two days of classes. Leaders of the Division of Student Affairs will be there to greet you and assist you.
K Week has planned several events throughout the day that will nicely fill an extra hour or two between classes.
Historical Marker Scavenger Hunt
8 a.m. – 5 p.m.
Sturgill Development Building, 450 Rose Street
Across campus are historical markers noting important people, places, and events in Big Blue history. The Student Development Council invites you to take part in a scavenger hunt that will help you learn about UK and win you some cool stuff. Stop by the Sturgill Development Building by yourself or with teams of up to four to get started. Sponsored by the Student Development Council.
Cats Den Game Room
9 a.m. – 10 p.m.
Cats Den, first floor Student Center
The Cats Den, the Student Center's game room, hosts a number of entertainment options for UK students including bingo' comedy' concerts' tournaments' big screen television' foosball' pool' arcade games, and many more throughout the year. Enjoy free play on games this week only. Sponsored by the Cats Den.
UK Veterans Appreciation BBQ and Resource Fair
11 a.m. – 3 p.m.
Outside Funkhouser Building
Join us for food and fellowship with fellow student and faculty/staff veterans. There will also be a resource fair. Sponsored by the Veterans Resource Center and Registrar's Office.
The World Is Your Canvas
11 a.m. – 5 p.m.
Rasdall Gallery, 2nd floor Student Center
The Rasdall Gallery in the Student Center is an amazing place to relax and be creative. This event will allow your creative juices to flow Sponsored by Student Activities Board.
UK Alumni Association Welcome Back Cookout
5 – 7 p.m.
King Alumni House, corner of Rose Street and Euclid Avenue
The UK Alumni Association, in partnership with the Stuckert Career Center, greets new and returning students back to campus with a Welcome Back Cookout. All students are invited to the King Alumni House to enjoy free food, music and games. This is a great opportunity for students to meet other students, learn about the programs, events, and services offered by both the UK Alumni Association and Stuckert Career Center, and network with employers. Sponsored by the UK Alumni Association and UK Stuckert Career Center.
AMSTEMM Fall 2010 Community Kickoff
6 – 7:30 p.m.
Grand Ballroom, Student Center
All new and returning AMSTEMM (Appalachian & Minority Science, Technology, Engineering, & Math Majors) students are invited to join us to kick off the school year with the AMSTEMM community. Sponsored by UK AMSTEMM Program.
UK's Amazing Race
7 - 9 p.m.
King Alumni House, corner of Rose Street and Euclid Avenue
Students are invited to take part in a fun-filled race around the UK campus. You'll need your K Book to win. Bring a friend to form a team of two or pair up with someone at the King Alumni House before the race starts. Each team will need to bring a digital camera. Fabulous prizes await the winning team. Sponsored by the K Book Editorial Board and the UK Alumni Association.
Work Up a Sweat
7 – 9 p.m.
Gymnasium in Alumni Gym
During fall 2010, UK students will be able to use Alumni Gym for open recreation during specified hours. Come visit today so you can check out the facility, play some ball, and find out more about other Campus Recreation opportunities. Club sports that practice in Alumni Gym will also be present to recruit and answer questions. Sponsored by Campus Recreation.
Fraternity Open Houses
7 – 11 p.m.
Fraternity houses and recruitment locations
The Interfraternity Council invites you to walk around to the different houses and check out the
various fraternities. For more information, visit www.kentuckyifc.com. Sponsored by
Interfraternity Council.
Comedy Caravan 
8 – 10 p.m. 
(Cats Den, 1st floor Student Center)
The Cats Den is the place to be every Wednesday to see nationally touring stand-up comedians for free. Sponsored by Cats Den.
Late Night at the JC
9 p.m. – midnight
Johnson Center
Check out the state-of-the-art facilities at the Johnson Center with a late-night workout, game of pick-up basketball, or a jog around the indoor track. Your UK student ID is required for admittance. Sponsored by Campus Recreation.
Graveyard Shift Water Balloon Filling Party
9 p.m. – 2 a.m.
CSF Building, corner of Woodland & Columbia
Pull your first all-nighter the first night of classes. Well, at least stay up until 2 a.m. We've got Mountain Dew on tap and free pancakes at midnight. Plus, you get to help break the world record for Friday night's World's Largest Water Balloon Fight. For more information, visit www.ukcsf.org .Sponsored by Christian Student Fellowship.
Tie Dye & Ice Cream
10 p.m. – midnight
Courtyards of North and South Campus Residence Halls
Do you enjoy tie dying your old white T-shirts? If so, then bring a white T-shirt and watch it turn from drab to fab with a little dye. Then give in to your sugar craving and indulge in some tasty ice cream. Sponsored by the Office of New Student and Parent Programs.
Cheap Seats Opening
10 p.m. – 12 a.m.
Haggin Field; rain location: Worsham Theater, Student Center
The Student Activities Board hosts Cheap Seats‖ throughout the year where you can watch the latest and greatest movies for only a dollar. For this special event, we will be showing Iron Man 2 for free on Haggin Field. Make sure to get your free T-shirts with the movie schedule for the semester, so you will never miss a Cheap Seat. We will also hand out a calendar with our movie times and locations for the semester. Don't miss out on this incredible opportunity to socialize and meet new friends after the first day of class. Sponsored by the Student Activities Board.