Reminder about UK drone policy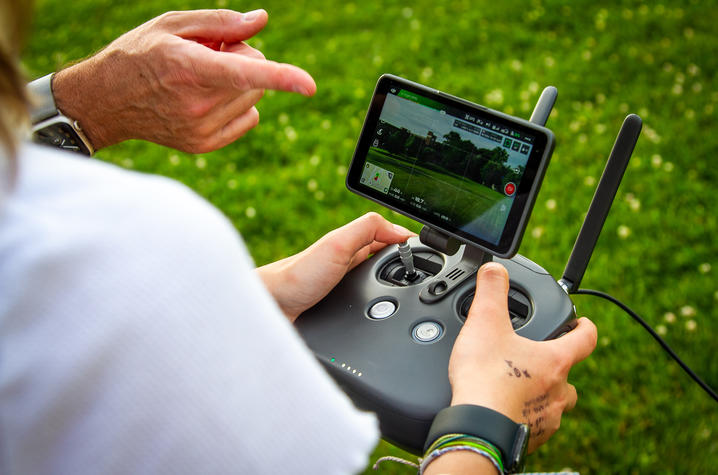 LEXINGTON, Ky. (Oct. 6, 2022) — The use of drones for recreation or commercial purposes is prohibited on the University of Kentucky campus. Requests to use a drone for research or instruction must be registered and approved by UK's Office of University Events.
"The Office of University Events, Risk Management and UK Police all collaborate to review drone requests so that they are safely and legally operated on campus property," said UK Police Chief Joe Monroe.
Primary concerns about drone use include the proximity of any campus flight to Kroger Field as well as to the heliport located at UK HealthCare's Albert B. Chandler Hospital. Federal Aviation Administration (FAA) regulations restrict flights of unmanned aircraft systems (UAS) near airports.
The university policy prohibits flights without permission. The Temporary Flight Restriction (TFR) prohibits flights without permission from the FAA.
Drones are prohibited to operate in and around Kroger Field. The UK Police Department (UKPD) utilizes technology that detects and gives us location information when there is a drone operating on our property.
UKPD will dispatch officers to locate the drone and its pilot who would then be subject to prosecution under state and federal laws.
Hobbyist or recreational use of drones or UAS is prohibited on all UK owned, operated or controlled property. This includes the main campus in Lexington as well as other sites such as Coldstream Research Park and farms the university owns or operates across the state.
Commercial use of drones, unless prior approval is granted by UK and the appropriate registration for use has taken place with the FAA, is prohibited. Licensed operators — for commercial use or institutional purposes — must apply for permission through the UK Event Management Office at least seven days prior to the requested event.
Operating a drone or UAS directly above open-air events or above thoroughfares such as roadways, sidewalks, bike paths and pedestrian paths is prohibited.
The Office of University Events will work with the requestor on the appropriate certificate of waiver or authorization for flight operations. Anyone seeking to fly for a particular use on campus must have proof of general liability insurance that covers the operation of UAS.
You can visit this site for more information.