Reminder: Move Vehicles From Kroger Field Lots for Football Game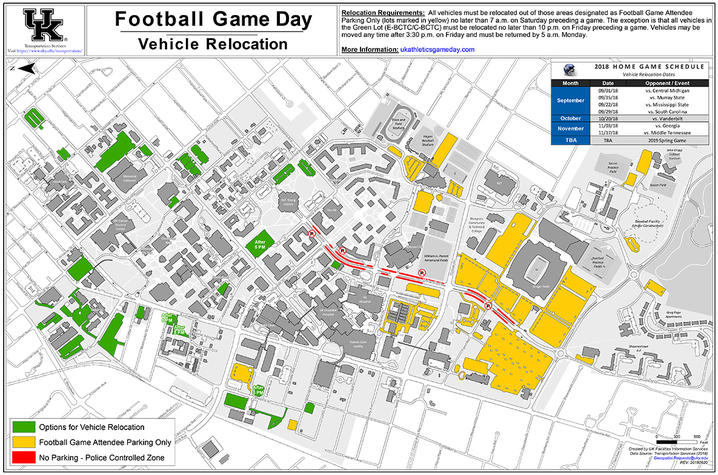 LEXINGTON, KY. (Aug. 31, 2018)— UK's football season begins this Saturday, requiring certain parking permit holders relocate their vehicles so that no one's game day results in an upset.
Any student or employee who parks in the Kroger Field lots and Sports Center Garage/Drive must move their vehicles before 7 a.m. on home football game days. The following parking areas are affected:
Kroger Stadium Blue, Red and Orange lots
Sports Center Garage
Sports Center Drive Lots
Greg Page Overflow Lot
Soccer/Softball Complex Lots
In addition, Kroger Field Green Lot (E-BCTC and C-BCTC) permit holders must move their vehicles before 10 p.m. on the Friday before home football game days. Parking along University Drive is also prohibited beginning at 12:01 a.m. on game days.  
Vehicles may move to most relocation areas after 3:30 p.m. on Friday, and must be moved back to permitted parking areas before 5 a.m. Monday. The vehicle relocation map with the complete list of relocation times can be found here.
Failure to relocate your car to the designated relocation areas can result in citation or impoundment. To learn more about football game day relocation policies, relocation areas and the 2018 football schedule, visit UK Transportation Services website.
For more information, visit www.uky.edu/transportation and follow UK Transportation Services on Twitter @UKParking.