S•KY BLUE House Lands on Main Building's Lawn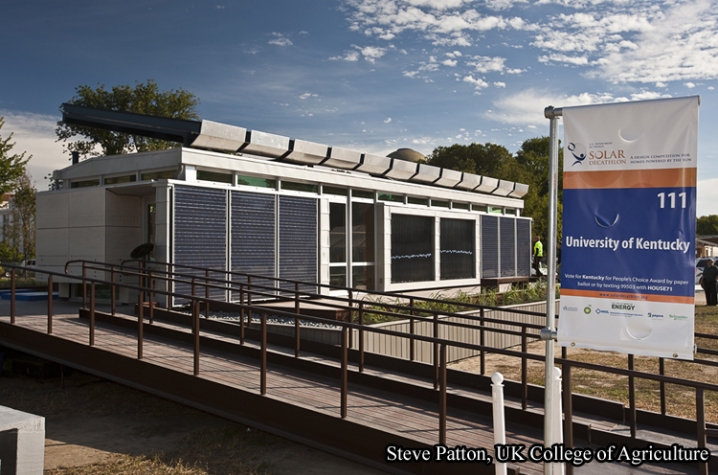 LEXINGTON, Ky. (Jan. 20, 2010) − The University of Kentucky's S•KY BLUE House is moving to the lawn in front of the Main Building. The relocation will give the university community and visitors to campus the opportunity to see the house that finished ninth at the U.S. Department of Energy Solar Decathlon competition on the National Mall last October.
This is one of three opportunities for Kentuckians to see the S•KY BLUE House in person this year. Beginning in mid-February, the house will be open for tours weekly every Monday through the spring semester. The house will also be open for Engineers Day in February and then remain on exhibit in front of the Main Building through the month of August. In addition to the guided tours, individuals will be able to take a Guide By Cell tour when the house isn't open utilizing their personal phones.
After its stint at UK, it will be on display at the 2010 FEI World Equestrian Games, scheduled to begin Sept. 25, 2010, in Lexington. The house will serve as the Visitor's Center and the entry threshold to the Kentucky Experience exhibitions at the events.
 
UK's S•KY BLUE solar house team was an interdisciplinary group comprised of students, faculty and staff from six colleges and 16 centers and departments within UK. The team was led by two principal investigators, Donald Colliver, professor of biosystems and agricultural engineering at the College of Agriculture, and Gregory Luhan, associate dean for research at the College of Design, as well as faculty from the College of Communications and Information Studies and College of Engineering.
For more information on the S•KY BLUE House, visit the team's Web site at www.uky.edu/solarhouse. For more information on the 2009 Solar Decathlon, visit the event's Web site at www.solardecathlon.org.