School-Record-Tying Six Kentucky Teams Win NCAA Academic Progress Rate Award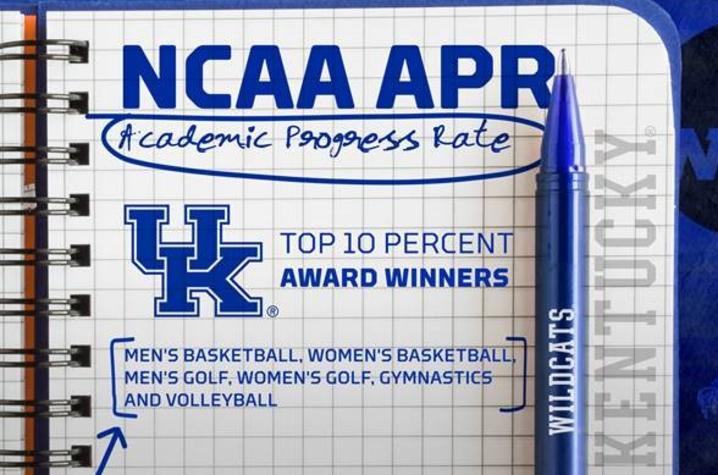 LEXINGTON, Ky. (May 3, 2019) — The University of Kentucky tied a school record with six teams — men's and women's basketball, men's and women's golf, gymnastics and volleyball — receiving Public Recognition Awards for their Academic Progress Rate scores, the NCAA announced recently.
The Wildcat squads received the honor for placing in the top 10 percent of the Division I schools in their respective sports. The APR provides a real-time look at a team's academic success by the progress of each student-athlete on scholarship. The APR measures academic eligibility, retention and graduation. The scores are a four-year composite, covering the 2014-15 through the 2017-18 school years.
Having six teams earn the APR top-10 award ties the school record of six set a year ago. It's also the first time that a UK squad has won in eight consecutive years, as this marks eight in a row for men's golf. Men's basketball earned the honor for the fifth consecutive year and sixth time overall. Women's golf and volleyball are three-year winners. Women's basketball earned the award for the second year in a row and it is the first top-10 honor for gymnastics.
"To again have nearly a third of our teams achieve top-10 APR scores and receive this national recognition is a testament to the hard work of our students and the commitment our coaches and staff make to support them," said Mitch Barnhart, UK director of athletics. "Congratulations to our men's basketball, women's basketball, men's golf, women's golf, gymnastics and volleyball teams for earning these awards."
The Wildcat coaches are excited about their teams' achievements.
"We make a commitment to the University of Kentucky to recruit great athletes who excel in the classroom," said volleyball coach Craig Skinner. "Our student-athletes care about their performance both in the classroom and on the court. This is a program that embodies character, discipline and hard work, and it shows with consistent successes in each area. (Academic counselor) Amy Craiglow guides our players through their academic careers and challenges them to be their best. This recognition is a compliment to her efforts."
"I'm very proud of the academic achievements of our team," gymnastics coach Tim Garrison said. "These young women take their role as student-athletes very seriously and achieve at a high level in competition and in the classroom. I also want to thank (academic counselor) Mike Haley and the staff at CATS for their guidance and dedication."
"We are extremely proud of our student-athletes and our staff for creating a culture of both high academic expectations and academic excellence," said women's golf coach Golda Borst. "To continue to meet our academic standards is no easy task for our girls. Between traveling for tournaments and hours spent on the course working our games, our girls have to diligently manage their schedules and stay on top of their course load. I'm incredibly proud that they continue to do so and understand that there is life beyond golf. They've worked incredibly hard to prepare for the rest of their lives, and I want to thank our academic advisor, Joshua Ray, and his staff for all the time and effort they spend in challenging our girls in the classroom."
"It is an honor to accept this award on behalf of my committed student-athletes and the absolutely fantastic academic support center," men's golf coach Brian Craig said. "In particular, great thanks to Amy Craiglow, who is the finest academic counselor in college sports. I am so proud of my guys' efforts in the classroom and this award is a reflection of that diligent work."
"To earn this honor consecutive years demonstrates how hard our students and staff work on a daily basis to continue a culture of academic excellence within our program," said women's basketball coach Matthew Mitchell. "Tiffany Hayden, who leads our students academically, does a fantastic job of preparing them for life and placing an increased emphasis on the importance of academics. That emphasis is evident by this award, our 100 percent graduation rate and 11 straight semesters with a team GPA of 3.0 or better." 
"With Brad (Calipari) and Jonny (David) graduating this spring, we will have graduated 20 players in the last 10 years," men's basketball coach John Calipari said. "We take a lot of pride in preparing our kids for the next step in their lives. Whether that's playing professional basketball or getting a degree to go on and pursue what their 'genius' is, we have a job to do to make sure they're ready for the rest of their lives. To earn this honor for the fifth straight year proves our kids' commitment to being lifelong learners. They know that if they decide to pursue their genius and play professional basketball, they have lifetime scholarships to come back and finish their degree. I'm incredibly proud of what our kids do with what they're been taught here when they leave Kentucky. They've all learned to give back. Thank you to Michael Stone and our CATS staff for challenging our players in the classroom and for teaching them growth in all areas."  
The APR scores of these teams, along with the scores of every Division I team in all sports, will be released later by the NCAA. Teams are subject to penalties if the APR target score is not achieved.
This news is a continuation of the academic accomplishments of UK student-athletes:
In November, it was announced that UK Athletics set a record for NCAA Graduation Success Rate. UK has broken or tied the GSR record every year since the NCAA began measuring that statistic in 2005.
Last week, it was announced that UK athletes have posted an overall grade-point average over 3.0 in each of the last 13 semesters.
Including the 2018 December Commencement and this week's spring graduation ceremonies, 99 Wildcat student-athletes will have earned degrees during the 2018-19 school year.