Social Theory Journal disClosure Adopts Open Access Copyright Policy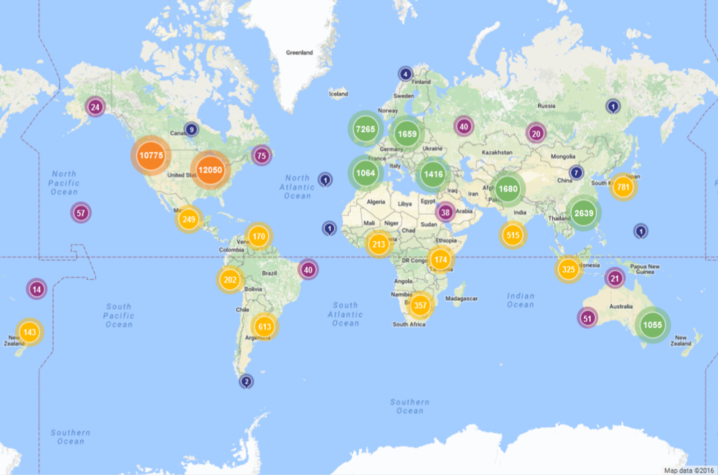 LEXINGTON, Ky. (Jan. 30, 2017) — Graduate students affiliated with the University of Kentucky College of Arts and Sciences' interdisciplinary Committee on Social Theory are hard at work on volume 26 of disClosure: A Journal of Social Theory. Due out in May, the journal will feature peer-reviewed scholarship and artwork that critically examines the concept of "justice." It will also contain interviews with major scholars including Miriam Ticktin, Richard Wolff, Lori Watson, Drucilla Cornell and Elizabeth Shove.
The production of an academic journal is always time-consuming, but this year's Editors-in-Chief Eric Huntley, Lauren Moore, Matthew Rosenblum and Alan van den Arend have also decided to comprehensively rework the journal's copyright policy, adopting a Creative Commons Attribution Non-Commercial license (CC-BY-NC) and committing to open access principles. This move will encourage disClosure's substantial global readership to widely distribute and reuse disClosure content in new and innovative ways.
Removing Barriers to Access and Use
Open access refers to a growing movement in academic publishing that seeks to remove barriers to the access and use of research outputs. While the contents of disClosure have been freely available since 2013, the new CC-BY-NC license goes several steps further. For example, contributors to the journal now retain their copyright in their work. Furthermore, anyone is free to redistribute and rework journal content for non-commercial purposes as long as they credit the original author and describe any changes made. Finally, the new policy retroactively applies to all previously published content: the last 25 years of disClosure are now licensed under the same permissive terms.
"Oh, I freely admit it: intellectual property policy isn't the most glamorous subject, but it is the beating legal heart of the academic world," said Huntley, a doctoral student in geography. "When journals like disClosure open up their copyright policies, they are simultaneously taking a strong position on the public value of academic research and ensuring that a broad constituency is able to access and make use of research findings. It has real effects on the potential impact and reach of academic scholarship."
Alan van den Arend agrees, noting that the theme of this year's journal — justice — made the decision to pursue open access licensing an obvious one. "It seemed hypocritical to not allow our inquiry into matters of access and equity to unsettle our own publication model."
When an academic publishes an article, most publishers require that they cede their copyright in the work. The publisher then controls the distribution, reuse and display of the article. Huntley argues that conventional publishing is needlessly restrictive, to the detriment of scholarship's ability to travel beyond the academy. "The barriers publishers build can be quite high. Subscription costs and per-article pricing sometimes verge on the absurd; cease-and-desist letters have been known to appear in the inboxes of academics that attempt to expand the audience for their work by sharing it on their personal websites. This arrangement has begun to irk many academics who feel that access to their work is being unnecessarily restricted."
A Global Readership
The move to an open access copyright policy will serve to extend disClosure's already global reach. Since September 2013, the journal has been distributed online using a publishing platform supported by UKnowledge, UK's institutional repository operated by UK Libraries. Issues formerly published in paper format have been digitized and made available on the journal site since.
UKnowledge tracks the download rates of disClosure articles and automatically notifies authors of download counts every month. By the end of 2016, disClosure articles had been downloaded over 65,000 times around the world. Of the 394 articles posted online, "Sara Suleri: A Study in the Idioms of Dubiety and Migrancy in 'Boys Will be Boys' and 'Meatless Days'" tops the list with over 2,800 downloads. Other frequently downloaded articles include "Falling through the Cracks: Queer Theory, Same-Sex Marriage, Lawrence v Texas, and Liminal Bodies," "Consuming and Maintaining Difference: American Fans Resisting the Globalization of Japanese Pop Culture" and "Day by Date: Postcolonial Contention and Cosmopolitan Temporality in Niyi Osundare's Days."  
In addition to download numbers, disClosure authors are able to gather data about the geographical and institutional distributions of downloads. The journal has attracted readers from 166 countries in the past two years. While about one-third of the readers come from the U.S., the journal has been well-received overseas, especially in the United Kingdom, China, Germany, Pakistan, Australia, France, India and Russia. According to the IP address distributions, disClosure readers are affiliated with almost 3,000 institutions worldwide. Educational institutions constitute 78 percent of the reader affiliation while the rest is scattered among commercial entities, nonprofit organizations and government agencies. Some of the most frequent educational affiliations include such reputable institutions as University of Cambridge; University of Oxford; University of California, Berkeley; Yale University; and Columbia University. 
The editorial board of disClosure hopes that its decision to adopt an open access copyright policy will further expand the journal's reach, encourage inventive uses of articles and artwork, and contribute to the growth of the open access movement. "It's an exciting time to be editing a journal," Huntley said. "Many of the barriers that have existed for centuries no longer exist by necessity — only by convention. We're glad to be doing our part to create a world in which scholarship is much more open and widely accessible."