Students Stand Up for Their Bodies During Spoken-Word Workshop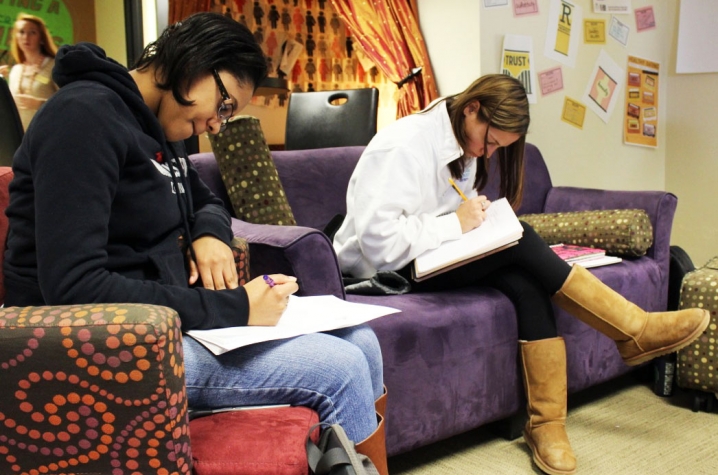 LEXINGTON, Ky. (Feb. 26, 2014) - On two heart-shaped pieces of paper, University of Kentucky junior Darisha Jenkins wrote down a list of things she loved about herself. At the top of that list: her body.  
"I'm proud of my body," Jenkins said, standing in a circle of peers with the paper hearts taped to her sweatshirt and jeans. "It's not perfect, but it's my own."
Jenkins was part of a small group of students who reflected on the meaning of body image and engaged in self-appreciation exercises during the Body Is Not An Apology spoken-word workshop on Feb. 26. Held at the University of Kentucky's Violence Intervention and Prevention Center, the two-hour workshop based on the global movement focused on self-love and body empowerment was part of UK's Love Your Body Week, Feb. 24-28.
During the workshop, students and faculty members learned to identify and express those qualities that they appreciated about themselves in written and spoken form. Exercises included free-writing and an opportunity to perform spoken-word. Catherine Martin, the prevention education coordinator at the VIP Center, prompted students to practice daily rituals of self-love, including journaling about their dreams and achievements. Tori Amason, program director for leadership in the office of student involvement, led participants in watching and developing their own spoken-word pieces.  
Student Colleen Morris plans to take the lessons she learned from the workshop back to her sorority sisters for extra encouragement during Fat Talk Free Week. She thinks many women in college struggle with body image issues.
Although Morris enjoys journaling, she was more interested in listening to the ideas of others than reciting her own spoken-word.
"I'm not a poetry person, but I think it's awesome," Morris said of the spoken-word exercise.
Love Your Body Week events continues through Feb. 28. Students are encouraged to use the hashtag #LoveYourBodyUK to share positive messages about their bodies on social media. For a full schedule of Love Your Body Week events, click here.
MEDIA CONTACT: Elizabeth Adams, elizabethadams@uky.edu