Suder Grant Supports First-Generation Students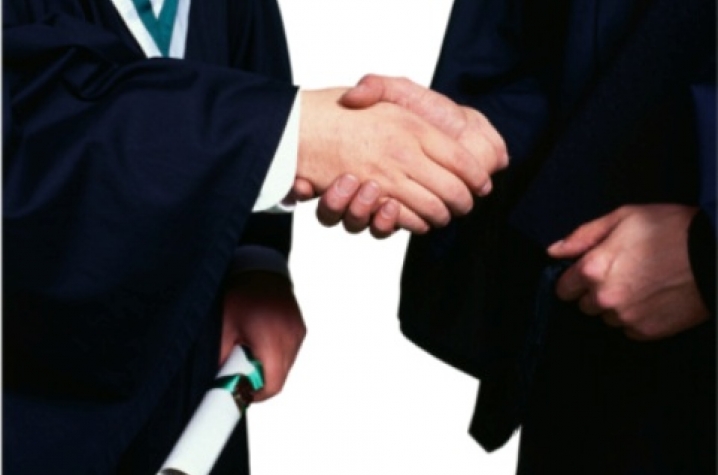 LEXINGTON, Ky. (July 28, 2010) − When Tony Kao steps onto the University of Kentucky campus in August, he will become the first person in his family to go to college. Born in Cambodia to a father who did odd jobs and a mother who worked in a jewelry shop, Kao immigrated to the United States with his parents at the age of 5. He always knew education would be the key to his success here.
"My parents always told me that going to college would really help my future," said Kao, who plans to study mechanical engineering at UK. "All of my friends going to college, too, made me really excited about it."
The recent Scott County Senior High School graduate will join 19 other first-generation college students as a Suder Scholar in UK's new First Scholars program. The program, launched with a $1.1 million grant from the Texas-based Suder Foundation, aims to raise graduation rates among students whose parents have no education beyond high school. It provides each student with a partial scholarship, peer mentoring, additional academic support and campus involvement activities to help them stay in school and graduate. According to First Scholars Program Director Matthew Deffendall, this extra support is exactly what first-generation students need.
"One of the things in my research that has stuck with me is that if you remove all other factors - socioeconomic, gender, ethnicity - just the fact that a student is a first-generation puts that student at risk," Deffendall said. "The research shows that first-generation students lack the 'college student role' - the knowledge of how to make it in the system. They are missing that skill set and support mechanism."
First-generation college students, who represent one in five incoming UK freshmen, lag behind the general college population in graduation and retention rates. Of the class that entered in 2006, the first year such data was collected at UK, 59 percent of first-generation college students were still at UK in their third year, compared to more than 68 percent of the general student population. In a U.S. Department of Education study, only 24 percent of first-generation college students ultimately earned a bachelor's degree, compared to 68 percent of students whose parents were college graduates.
"If a student runs into adversity, who do they turn to? Friends and family," Deffendall said. "But a first-generation student's parents don't have that knowledge. They may not understand why the student has to spend so much time at the library, why they can't come home every weekend, why they can't come babysit their brother. If the student has a problem at school, rather than say, 'Go talk to your professor,' the parent might say, 'Well, maybe you should just come on home.'"
The First Scholar program will pair each Suder Scholar with a peer mentor, an upperclassman who is also a first-generation student. Junior business major Samantha Farmer will serve as one of the mentors. She recalls her own first days at UK when considering advice she'll give to new students.
"Probably one of my biggest challenges was meeting people, stepping out of my home space and going to such a big school," said Farmer. "I would tell them to introduce themselves to whoever they're sitting next to in class. The classes are mostly freshmen, so everyone is in the same boat. They're probably looking for a friend, too."
Farmer said she'll also advise the Suder Scholars to take good notes and ask their professors questions. "Go to your professor's office hours - that's what they're for," she said. "A lot of people don't take advantage of that."
This extra support is what Eric Suder envisioned when his foundation singled out first-generation students for the grant.
"First generation defines the kind of person I want to reach," he said. "If you have a parent who may not have finished high school, you've had very little grooming, very little preparation. Just to have these students apply and be accepted is a huge step."
Suder wants the First Scholars program to help first-generation students continue on that initial success. He would like to see the program become a national model. To get started, the Suder Foundation took applications from 56 college and universities. UK was one of only two schools to receive the initial grant this year. Existing programs like Robinson Scholars, Appalachian and Minority Science, Technology, Engineering and Mathematics Majors (AMSTEMM), Student Support Services, and the Center for Academic Resources and Enrichment Services (CARES) all demonstrated UK's commitment to student success and helped put UK at the top of the list.
"I am thrilled for the Suder Scholars," said UK President Lee T. Todd Jr. "I, too, was a first-generation college student at the University of Kentucky. My UK experience expanded my horizons and provided me countless opportunities in the global economy. I am excited that the Suder Scholars program will do the same for a new generation of Kentucky students."
For students like Tony Kao, the program provides the last piece of the puzzle - the funding and support first-generation students need to alter their futures.
"One of the students said, 'My kids will never be able to say they're first-generation," said Deffendall. "This will literally change their family trees."
Support for first-generation students at UK won't stop here. Another class of 20 Suder Scholars will begin in fall 2011. Deffendall hopes the First Scholars program will continue with new donors and support well into the future. "This is the first rock we're going to throw," he said. "There are going to be a lot of boulders behind it."