Sun Shines Bright on UK's S•KY BLUE House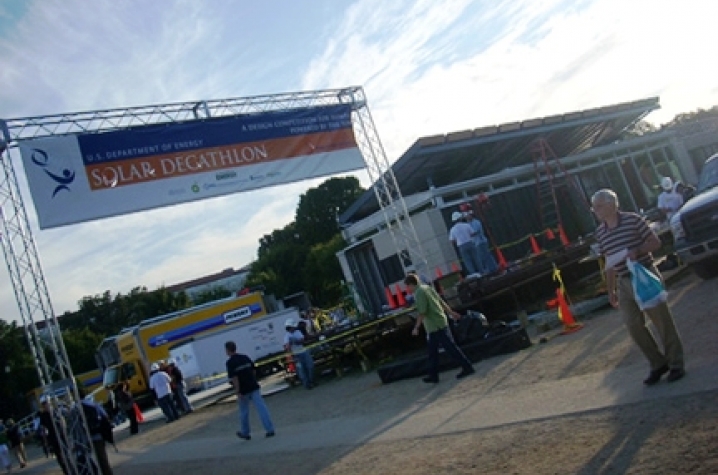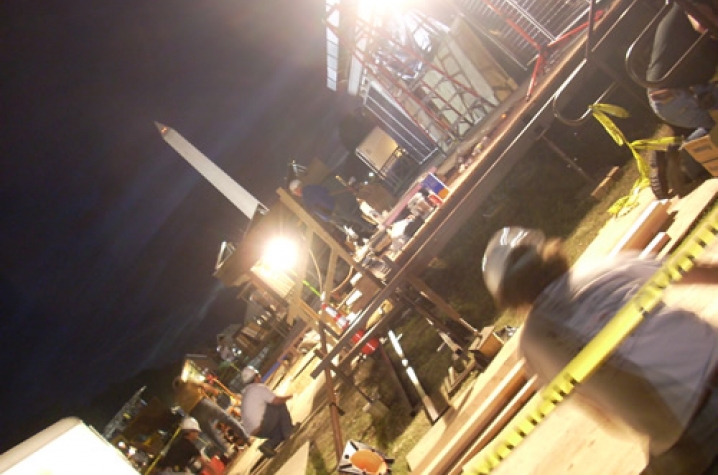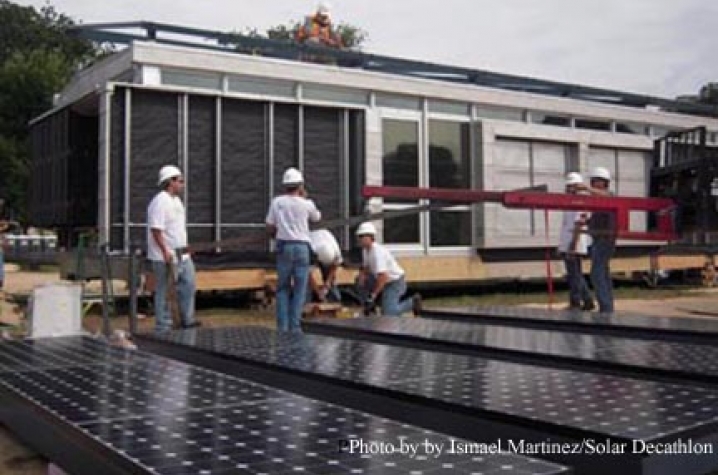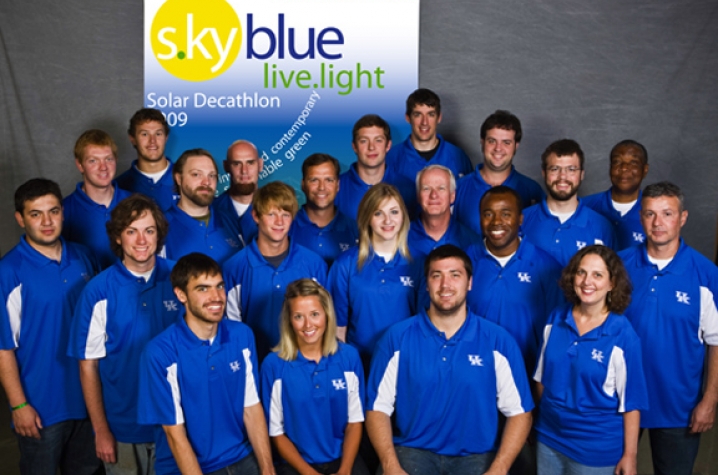 LEXINGTON, Ky. (Oct. 8, 2009) - The sun will shine bright on the University of Kentucky's S•KY BLUE House as it begins the U.S. Department of Energy (DOE) Solar Decathlon competition at the National Mall in Washington, D.C. UK's team joins 19 other schools from across North America and Europe in the prestigious competition that demonstrates homes powered entirely by the sun do not have to sacrifice modern comforts and appealing features.
Since early 2008, UK's team has been hard at work designing and constructing the S•KY BLUE House that will compete in the DOE's fourth biennial solar decathlon. The 20 teams chosen to compete were asked to create and send an 800-square-foot or less solar-powered house, built by students on their home campus, to the National Mall. Each team's house will be evaluated in the competition, running Oct. 9-18, in 10 specific areas: architecture, engineering, market viability, lighting design, communications, comfort, appliances, hot water, energy balance and home entertainment.
UK's team members not only designed their house, but fabricated many of its custom elements including the building's structure, which presented students with the unique opportunity to work alongside metal fabricators at the AMRL (Agriculture Machinery Research Laboratory).
"We've been taking the textbook literally out of the classroom and bringing the students to this new type of classroom, into what I would call a living-learning laboratory," said Gregory Luhan, one of the principal investigators leading the team.
The hands-on work and its value to learning are not lost on the student team members.
"It's been fantastic, it gives you a realistic scope of how things actually work," agriculture engineering graduate student Ben Hobbs told Jeff Franklin of KET's "Growing Kentucky." "You go from a drawing to actually having the physical parts; it's easier on paper than it is in real life."
To see the rest of the story on the S•KY BLUE House from "Growing Kentucky," visit YouTube at www.youtube.com/watch?v=nYhMQINvU_8.
The UK design presents an optimized living and learning environment that engages the landscape through an integrated design approach that demonstrates a range of site-flexible and contextual solutions for living under the sun today. The house makes strong reference to Kentucky's passive architectural roots and integrates forward-thinking innovations into a design based upon an open and porous loft concept anchored by the home's hearth, the kitchen core, and a series of outdoor spaces that envelope the house. A breezeway design blends the beauty, simplicity and passivity of various elements of Kentucky vernacular architecture with modern elements ranging from its furniture to Shaker-style built-in cabinetry, wall-integrated folding tables and chairs to active energy-efficient systems and technologies including an LED illuminated perforated cladding system.
The S•KY BLUE House structure is designed to allow for very quick setup and occupancy. Several unique features include: rainwater harvesting systems, fixed and single-axis tracking arrays, PV cooling, electronically tintable glass in non-shaded areas, super high-efficient appliances, a reverse cycle heat pump, demand controlled ventilation for indoor air quality control, and an Automatic Weather Adaptive Response Energy (AWARE) control system, which optimizes the energy flows in the house based upon zip-code-specific weather forecasts.
To watch time-lapse video of S•KY BLUE House on the National Mall, visit http://oxblue.com/pro/open/solardecathlon/cam2/. UK's house can be seen on the bottom right of the video.  
The University of Kentucky S•KY BLUE solar house team is an interdisciplinary group comprised of students, faculty and staff from six colleges and 16 centers and departments within UK. The team has been led by two principal investigators, Donald Colliver, professor of biosystems and agricultural engineering at the College of Agriculture, and Gregory Luhan, associate dean for research at the College of Design, as well as faculty from the College of Communications and Information Studies and College of Engineering.
Utilizing an interdisciplinary team from across campus, the UK team was able to capitalize on numerous university resources.
"To bring all these leaders (from the individual colleges) together to sit at the table and have a common goal to build a house that celebrates living under the sun today in Kentucky really became a fantastic device to come up with what is going to amount to hopefully an award-winning solution for Kentucky," commented Luhan.
 
To hear more from the UK team and sponsor E.ON U.S., check out a clip of principal investigator Donald Colliver speaking about the team's objectives at the Solar Decathlon at http://yourlisten.com/channel/content/26021/Solar%20Decathlon%20-%20Don%20Colliver. And to listen to Cliff Feltham, of E.ON U.S., speak about the reason they became one of the chief sponsors of the UK team, visit http://yourlisten.com/channel/content/26025/Solar%20Decathlon%20-%20Feltham.
After the competition, the UK S•KY BLUE House will return to the Commonwealth to be exhibited at the 2010 FEI World Equestrian Games, scheduled to begin Sept. 25, 2010, in Lexington, Ky. The house will serve as the Visitor's Center and the entry threshold to the Kentucky Experience exhibitions at the events.
For more information on the UK S•KY BLUE House or to check out video, blogs and photographs from the team, visit the team's Web site at www.uky.edu/solarhouse. For more information on the 2009 Solar Decathlon, visit the event's Web site at www.solardecathlon.org.