Triathlon to Benefit UK Eye Research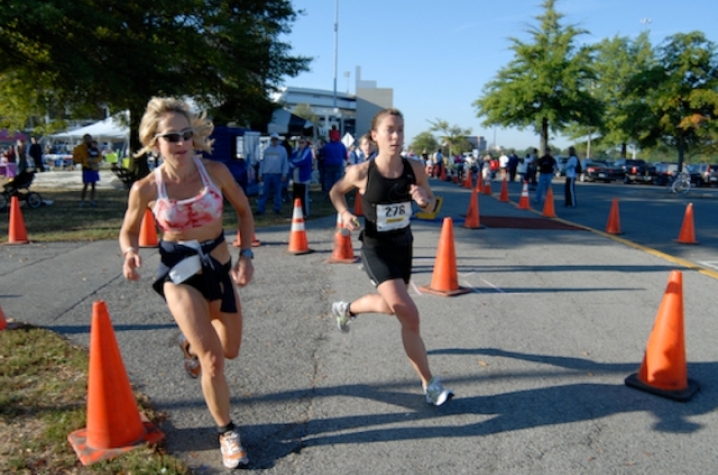 LEXINGTON, Ky. (Sept. 2, 2010) − Dedicated triathletes love the thrill of competition, whether it be against an opponent or themselves, but at the 8th annual Susan Bradley-Cox Triathlon for Sight, the thrill of the competition will be in raising money to benefit the Eye Research Fund at the University of Kentucky College of Medicine and to bring public awareness to eye disease.
 
The Tri for Sight, sponsored by Swim Bike Run of Kentucky will begin at 7:15 a.m. on Sunday, September 5 at UK's Lancaster Aquatic Center and Commonwealth Stadium parking lot. Over 450 triathletes are expected to participate in this year's event which combines an 800 meter pool swim followed by an 18.5 mile bike ride and concluding with a four mile run. A duathlon (run / bike / run) option is also available. The bike course will follow Cooper Drive through Lansdowne Merrick and Gainesway subdivisions out to Delong Road horse country via Armstrong Mill Road. The run will pass through the UK-Lexington Fayette County Government Arboretum on Alumni Drive.
The inaugural Tri for Sight was held in 2003. The directors established the race as the Susan Bradley-Cox Tri for Sight in honor of Lexington's own world champion triathlete. At the age of 74 Bradley-Cox continues to coach and inspire local triathletes of all kinds. This year she has been mentor to twenty-six Team-In-Training first-time triathletes participating on behalf of the Leukemia and Lymphoma Society, while continuing to coach the UK Masters Swim Team and compete internationally.
UK's Delta Gamma Sorority, dedicated to fighting eye disease on a national level, provides critical support to the event. Sorority members line the race course to give athletes safe guidance and enthusiastic cheers as they endure the miles. Over the years, this event has also forged lasting relationships with the Lexington Lions Club, the faculty and staff at the UK Department of Ophthalmology and Visual Sciences, the Wildcat Masters Swim Team, the Bluegrass Triathlon Club, and multiple local sponsors.
Dr. Sheila P.Sanders, associate professor and director of Glaucoma Service in the Dept. of Ophthalmology and Visual Sciences at the UK College of Medicine and co-founder of the event saw the need to support vital eye disease research in progress at the University of Kentucky. This work has provided major advancements in the treatment of macular degeneration, diabetic retinopathy and ocular inflammation. Understanding blood vessel changes in the eye has also led to better understanding and treatment of cancers and other diseases. Race proceeds will also be used to initiate new eye research projects at UK. Many athletes choose to race in honor or in memory of someone with a visual impairment.
Entries will be accepted through Saturday morning, and race course volunteers are always welcome. For more information, contact race director Beth Atnip at 475-3313, Dr. Sheila Sanders at 859-323-5875, or visit www.triforsight.com .