UK Alumna, Vanderbilt Clinician, Forever a Cats Fan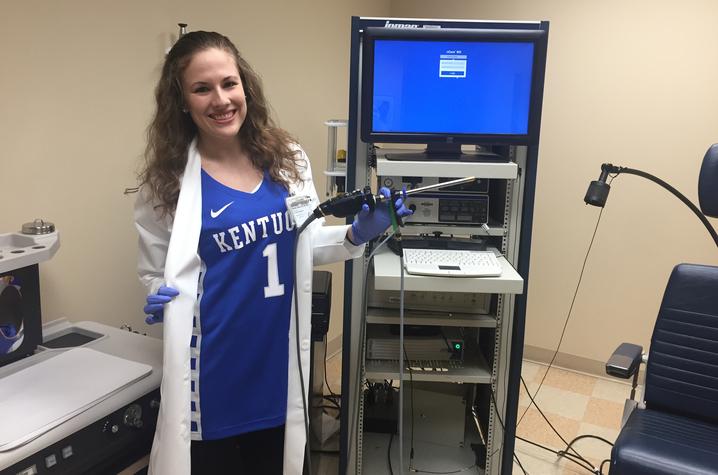 LEXINGTON, Ky. (Jan. 30, 2018) — It's not easy being a Wildcat fan when you live in the Music City — especially when you work for another SEC school. No matter what, Rachel Sims, an alumna of the communication sciences and disorders graduate program in the University of Kentucky College of Health Sciences, will always bleed blue.
Originally from Eminence, Kentucky, just east of Louisville, Sims now lives in Nashville, where she works for Vanderbilt University Medical Center as a speech language pathologist (SLP). An SLP, often called a speech therapist, is a clinician who specializes in the evaluation, diagnosis and treatment of communications disorders, voice disorders, and swallowing disorders.
Years of education put Sims in the role she's in now. She has an undergraduate degree in communication sciences and disorders, a masters degree in speech language pathology, completed an externship at the UK HealthCare Voice and Swallow Clinic and a clinical voice fellowship at Vanderbilt before receiving her current full-time position as an SLP specializing in voice disorders.
Her time at UK prepared her for the work she does on daily basis. Sims said her experiences during her graduate program, particularly during her time as an intern in the Voice and Swallow Clinic, provided her with the foundational knowledge and skills she needs to successfully evaluate and treat patients with a variety of voice disorders. Voice is a very small subspecialty within the field of speech-language pathology, and gaining exposure to this area of expertise as a graduate student is often difficult. Thankfully, she had access to the UK HealthCare Voice and Swallow Clinic, and the opportunity to immerse herself in the world of voice for an entire semester, which would prepare her for her work as a clinical fellow at Vanderbilt.
The decision to become a speech pathologist and help patients who have difficulty speaking due to complications from other medical issues such as head and neck cancer or Parkinson's disease was personal for Sims. "I have a great uncle who underwent a total laryngectomy [removal of the voice box] and spoke with an artificial larynx, the mechanical device placed on the neck which creates sound," she said. I remember as a child watching him become frustrated when he experienced difficulty communicating with others. When I discovered speech pathology and the opportunity I would have to help facilitate communication for other people, like my uncle, I knew I had found my passion."
Being a Kentucky fan is in Sims's blood, both her parents are enthusiastic in their support of the Kentucky Wildcats, especially the basketball programs. That's why on game days, even when UK and Vanderbilt play one another, Sims wears blue to the office and cheers for Kentucky.