UK Alumni Honored for Service to Alma Mater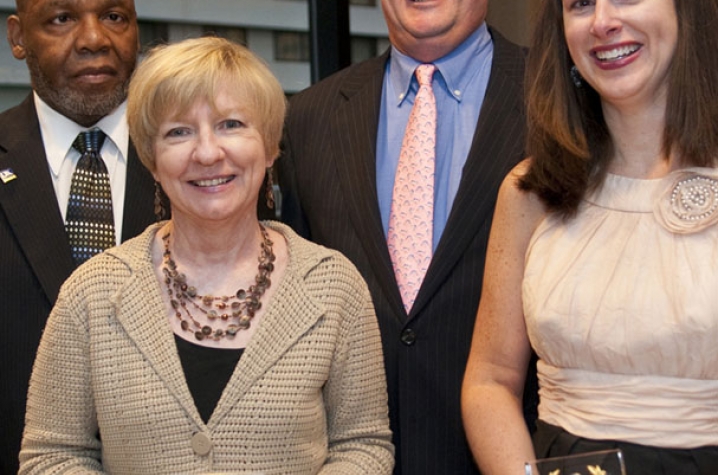 LEXINGTON, Ky. (July 16, 2010) -- The University of Kentucky Alumni Association Distinguished Service Awards are presented annually to honor and recognize those who have provided extraordinary service to the university and the association. The 2010 recipients were honored during the UK Alumni Association Board of Directors Summer Workshop in Louisville.
The 2010 recipients are Brenda Gosney of Alexandria, Kelly Holland of Lexington, Lee Jackson of Lexington, and Dan McCain of Nashville.
Brenda Gosney has served on the UK Alumni Association Board of Directors since 2002. She has served in numerous leadership positions including vice chair of the Nominating for the Board Committee, a member of the Nominating for Trustee Committee, and chair of the Membership, Club Development and Scholarship/Great Teachers committees. She has also served on the board of directors of the Northern Kentucky/Greater Cincinnati UK Alumni Club for over 20 years and has held the offices of president and secretary. Gosney was instrumental in establishing a scholarship endowment that has had contributions totaling more than $200,000. She has been actively involved in many club efforts, including the annual golf scramble which helps raise money to support four $2,500 UK scholarships for graduating seniors in the club area.
Gosney earned a bachelor's degree in physical therapy from UK in 1970 and a master's degree in higher and adult education in 1975. She is CEO of HealthSouth Northern Kentucky Rehabilitation Hospital. An active member of UKAN, she is a UK Fellow and a Life Member of the UK Alumni Association. She and her husband, Dennis, reside in Alexandria.
Kelly Holland has been a member of the UK Alumni Association Board of Directors for six years, serving on the Membership, Life Member, Nominating for Trustee, and Nominating for Board committees. She also provided valuable assistance in helping the association become involved in student recruitment. For 10 years she worked as associate director of admission for recruitment and outreach at UK. In this position, she promoted higher education, managed recruitment initiatives and educated alumni. She worked in coordination with alumni clubs and leaders throughout Kentucky and nationally to organize successful recruitment events and campaigns. Holland has served as president of the Fayette County UK Young Alumni Group and as president of the Fayette County UK Alumni Club. She also was honored with the Joseph T. Burch Young Alumni Award in 2004.
Holland earned a bachelor's degree in psychology from UK in 1993 and a master's degree in kinesiology and health promotion in 1998. While on campus, she was a member of Chi Omega, was named Homecoming Queen, and was recipient of the Otis A. Singletary Outstanding Senior Award. She was inducted into the UK Greek Alumni Hall of Fame in 2005. Currently, she is a senior professional representative for Merck & Co. She and her husband Darin, also a UK grad, are Life Members of the UK Alumni Association. They reside in Lexington, and have a son, Jacob.
Lee Jackson has been an integral part of the Lyman T. Johnson African-American Constituent Group Planning Committee for many years. He is very active in planning the group's annual banquet, coordinating numerous details that go into making the event a success each year. He served as a member of the UK Alumni Association Board of Directors in 2004-05. Jackson is also involved in planning the African-American Admitted Students Receptions in Lexington and Louisville, attending each year to share his UK story with prospective students and their families. He is very active with Alpha Phi Alpha Fraternity Inc., both on the local and national level. He was Kentucky district director of Alpha Phi Alpha for nearly 14 years and currently serves on the Kentucky regional staff, is treasurer of Alpha Beta Lambda chapter and treasurer of the Kentucky district. He has served as treasurer and planner of the Martin Luther King Unity Breakfast for many years.
Jackson earned an associate degree from Southeast Community College in 1970 and a bachelor's degree in sociology from UK in 1973. He retired from the Department of Employment Services in 2008 after working as a manager for 25 years. His daughter, Michelle Tarese (Jackson) Ramey is a three-time UK graduate, earning her doctorate degree in physical therapy in 2009. He and his wife Carolyn reside in Lexington.
Dan McCain has served two terms on the UK Alumni Association Board of Directors. He has served as chair of the Membership Committee and on the Executive Committee. He has been active in the Greater Nashville UK Alumni Club as a board member and officer for 20 years. He served as the club's treasurer for many years and served one and a half terms as president and is the 2010-11 president-elect. McCain has also served as longtime chair of the club's Derby Party Committee and is involved in planning and coordinating most of the club's events. He organized a food drive for the Nashville Rescue Mission as part of the club's Cats for a Cause service project. He also headed up efforts to get the state of Tennessee to approve University of Kentucky vehicle license plates. This was a long and tedious task in the 1990s.
McCain earned a bachelor's degree in accounting from UK in 1981. He is currently a budget coordinator for Nissan North America. He is a Life Member of the UK Alumni Association and lives in Nashville.