UK Board Accepts Joe Craft Gift to Gatton College's Institute for the Study of Free Enterprise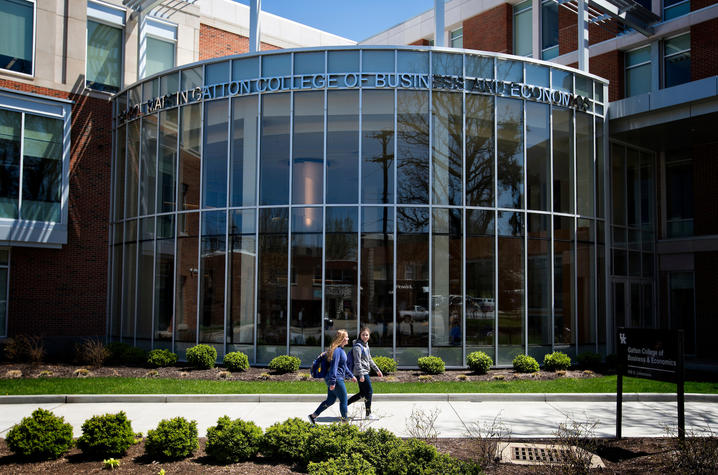 LEXINGTON, Ky. (June 21, 2019) — The University of Kentucky Board of Trustees formally accepted a $3 million gift today from the Joseph W. Craft III Foundation to support the Institute for the Study of Free Enterprise, which is housed in the Gatton College of Business and Economics.
The institute is dedicated to understanding the role that markets play in the economy and in society. Its mission is to generate intellectually rigorous research and an open dialogue to discover and understand how free enterprise affects peoples' lives and the well-being of society.
Craft's gift will be used to support that mission as well as fund faculty positions, doctoral fellowships, a research associate and research support, among other things. The institute already has published research on a broad range of topics, from the impact of educational funding on test scores to the impacts of health insurance reforms on health behaviors.
"Free enterprise is central to our economy. A deep and dispassionate approach to studying and understanding our free enterprise system — how it works and how it can work better for our society — is a critically important undertaking for a top-tier business college such as Gatton," said Simon Sheather, dean of the Gatton College of Business and Economics. "Joe Craft is one of our country's most successful businessmen as well as being a generous and thoughtful philanthropist. His gift will help ensure that the important work being undertaken by the institute can continue to thrive and grow."
"We are extremely grateful for Mr. Craft's support and his confidence in the institute's mission," said Aaron Yelowitz, professor of economics and director of the Institute for the Study of Free Enterprise. "The institute — which has affiliates housed in economics, finance, and philosophy — will continue our commitment to peer-reviewed research and public programming on the most pressing economic issues, as well as providing mentorship and scholarships for undergraduate and graduate students. Our university is training the future leaders and job creators for Kentucky, and it is essential for students to understand how free enterprise works."
Craft, a native of Hazard, Kentucky, received a bachelor's degree in accounting from UK's Gatton College in 1972 and a law degree from the UK College of Law in 1976. He is currently president, CEO and chairman of Alliance Resource Partners LP, the second largest coal producer in the United States.
Craft's gift supports the institute alongside earlier contributions of $4 million from the Charles Koch Foundation.
Last July, UK terminated agreements with John Schnatter related to his financial support for the institute and the new Gatton building following reports that he had used racially insensitive language.
Craft has a long history of giving to UK, including the College of Engineering, health care, UK Athletics and other initiatives. In 2010 he was inducted into the Gatton College's Alumni Hall of Fame and the university's Hall of Distinguished Alumni.