UK Cadets Head for the Skies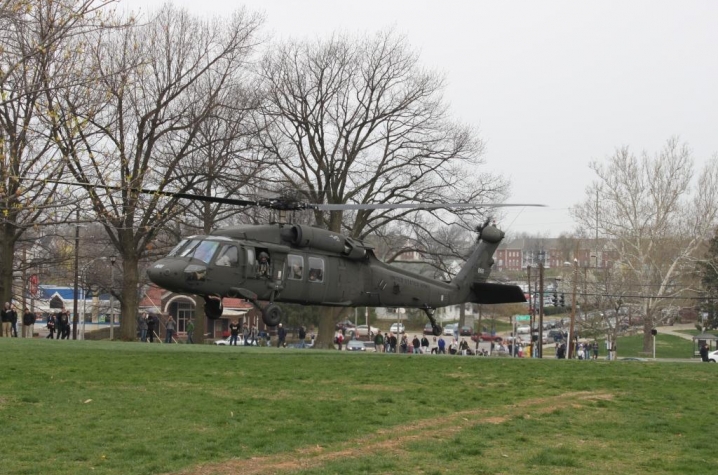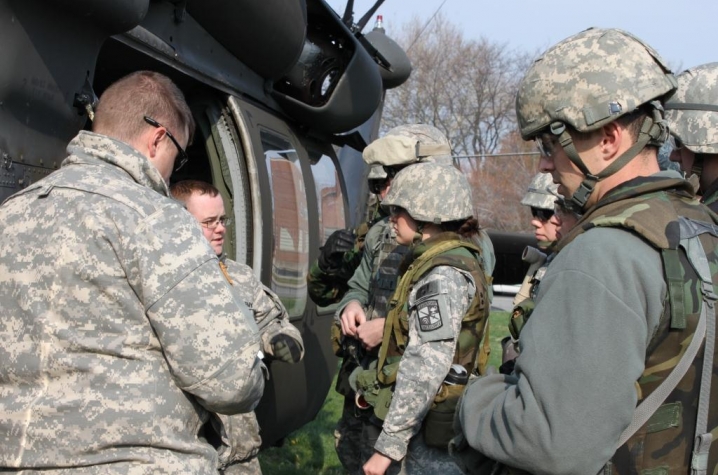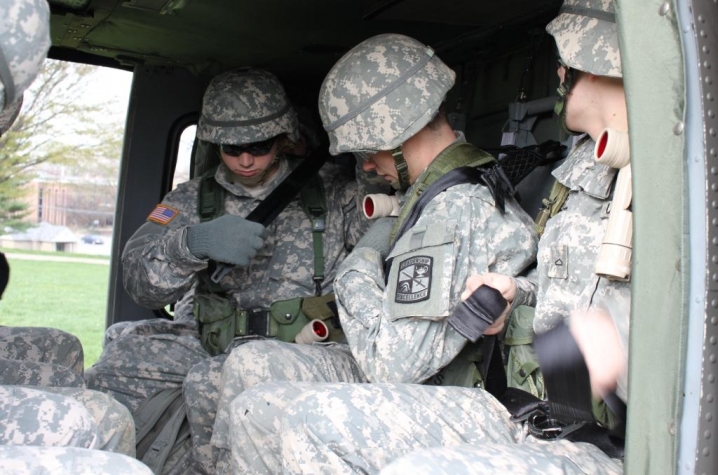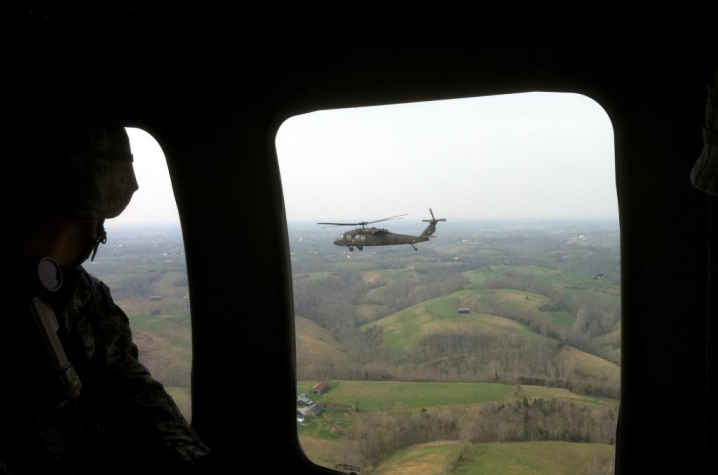 LEXINGTON, Ky. (April 5, 2011) — University of Kentucky's main campus was shaken awake late Friday morning as two Black Hawk helicopters touched down on the Main Building lawn to help out a UK program.
UK's Army ROTC was headed for a weekend of training on Friday, and ROTC officials were able to give 20 cadets a lift from the Army National Guard in style.
According to Captain Joey Orr, the top 20 cadets were from the program's Order of Merit List, which is determined by grades, performance in physical training and program participation.
Most cadets don't see the aviation side of the Army while in the ROTC program at UK, according to Orr. "Our goal is to show cadets their options. It should excite them not only about their future as Army officers, but what the potential has for that future as leaders," he said. "It's our job to give them at least some type of knowledge on what all those options are, so it can help make up their minds."
Aircraft aviators visited campus weeks before the trip to survey the landing zone. "They knew exactly how to come in," Orr said.
Crowds began to form around the front lawn as the Black Hawks landed just after 10 a.m.
Once the helicopters were shut down, the cadets were able to approach the vehicle and got a 40-minute crash course on safety in the aircraft they would travel in for the next hour.
"The anticipation and excitement among cadets as the birds made their approach to land on the lawn was incredible. This feeling and experience is one I will never forget," said Cadet Richard St. Onge, a junior at UK who is interested in a future as an Army pilot "Once in the air, the pilots demonstrated some of the maneuverability of the aircraft, doing hard banks left and right as well as rapid dives to induce the feeling of weightlessness. It was a very exciting ride and was a huge source of adrenaline throughout the weekend of field training."
Just before 11 a.m., the helicopters took off with shouts, cheers and thumbs-up from the crowd. The Cadets then headed to the Harold Disney Training Center in Artemus, Ky., for UK's annual joint Spring Field Training Exercise with the University of Louisville. 
"Army ROTC has been a phenomenal force in my life," said St. Onge, "keeping me focused on the importance of academic success, physical fitness and leadership by example, as well as providing me with opportunities such as this Black Hawk ride which cannot be found elsewhere. Through the hard work and ingenuity of our Cadre, we (cadets) are often afforded rare and exciting opportunities as reward for excelling in the above mentioned dimensions."
In addition to St. Onge, the 19 other cadets chosen to ride in the Black Hawks included: Jonathan Kippler, Jeremy Drury, William Pritchett, Reid Dodson, Jacob Asbury, James Conway, Christopher May, Caleb DeVries, Colleen Fitzpatrick, Andrew Holben, Jonathan Workman, William Million, Ross Jarrett, Clabe Mosley, Craig McIntosh, Kenneth Hurst, Jeff Kelley, Ryan Howell and Marlee Price.
UK ROTC instructors Major Kris Morlen and Sergeant First Class Michael Hubbard were aboard the aircraft as well.