UK Campus Goes Purple With a Purpose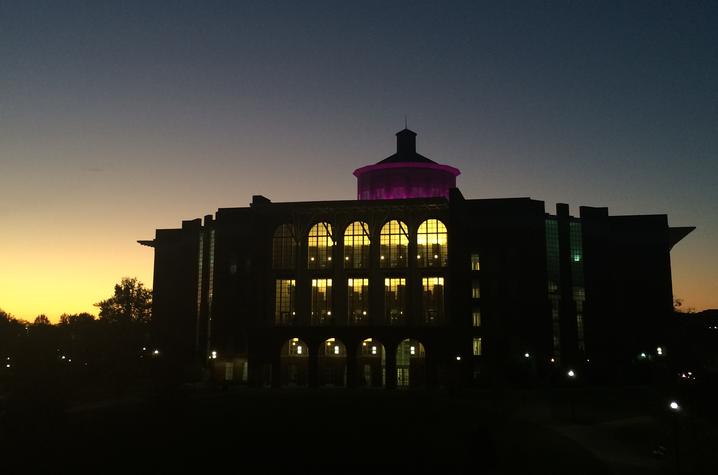 LEXINGTON, Ky. (Nov. 8, 2017) — This week, buildings across campus are lit with purple lights to show the University of Kentucky's commitment to a world without Alzheimer's disease and to commemorate the important work done by caregivers.
The promotion is a joint effort of the UK Work-Life/Elder Care Office and UK's Sanders-Brown Center on Aging in recognition of National Alzheimer's Disease Awareness Month and National Family Caregiver's Month. President Ronald Reagan designated November as National Alzheimer's Disease Awareness Month in 1983. At the time, fewer than 2 million Americans had Alzheimer's; today, the number of people with the disease has soared to nearly 5.4 million.
That's why the Sanders-Brown Center on Aging, which leads the world in Alzheimer's and dementia research, is committed to translating research findings into interventions to benefit older adults. The center also helps to promote healthy brain aging through research, education and clinical programs.
National Family Caregiver's Month celebrates the contributions of friends and family members who care for loved ones. An estimated 34 million Americans have provided unpaid care to an adult age 50 or older in the prior 12 months, according to a 2015 AARP report. Many members of the UK family on campus and across the state are caregivers for someone with Alzheimer's or another related dementia.
To assist caregivers, the UK Work-Life /Elder Care Office will host its second annual Senior Resource Fair from 10 a.m.-1:30 p.m. Friday, Nov. 10, at the Hilary J. Boone Center. The Senior Resource Fair will have 40 exhibitors who can provide community elder care services, support and information on in-home care, senior housing, health care, transportation services, elder law and much more to help those in their caregiving role. The office will also host a Dementia Care Workshop from 9 a.m.-12:30 p.m. Friday, at the Boone Center.