UK Celebrates International Education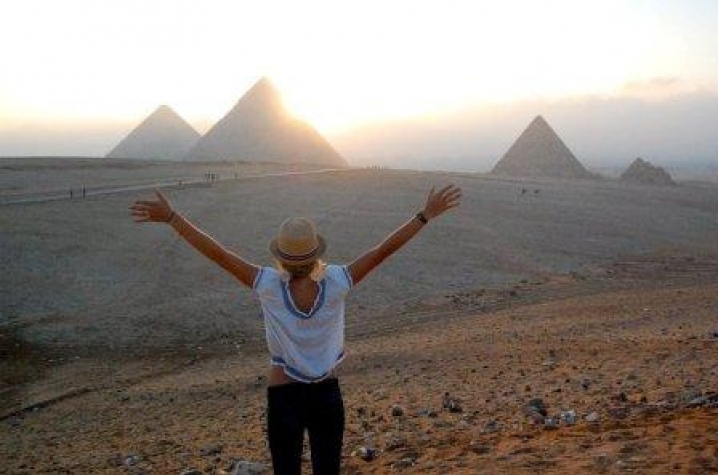 LEXINGTON, Ky. (Nov. 15, 2010) - It is mid-afternoon on a bright and sunny November day in the Commonwealth, and University of Kentucky senior James Chapman is sitting on the balcony of his apartment in Cairo, Egypt.
The Hopkinsville native fell in love with the Middle East, its people, culture, languages, cuisine, sights, sounds, and experiences over the course of his studies at UK.
"I got the international bug at UK!" said Chapman, who plans to attend law school and also pursue a master's degree in International Relations. "I became fascinated and intrigued by its political, economic, and social importance to the United States and the international community."
Chapman is one of many UK students continuing to push the boundaries of international participation on campus, with the support of a devoted and passionate UK faculty.
The United States celebrates International Education this week, but UK has escalated its presence and connectivity across the globe since Provost Kumble Subbaswamy established the Internationalization Task Force in February 2007.
"Our students, regardless of whether they come from rural Kentucky or from outside the U.S., are increasingly aware of the importance of being ready for the global marketplace," said Subbaswamy. "Thus, it is our responsibility to make sure that UK provides them ample opportunity to become 'world ready.' Our internationalization efforts are aimed at achieving this strategic goal."
International Education Week is an opportunity to celebrate the benefits of international education and exchange worldwide. The joint initiative of the U.S. Department of State and the U.S. Department of Education promotes programs that prepare Americans for a global environment and attract future leaders from abroad to study, learn and exchange experiences in the United States.
UK students and faculty have a lot to celebrate.
Just last month, UK was recognized by the Chronicle of Higher Education as a top producer of Faculty Fulbright Scholars for 2010-11 academic year, with four recipients as of Sept. 9.
This summer, UK was chosen as one of five U.S. schools to update the structure and curriculum of higher education in Iraq through the Academy for Educational Development Center Iraq University Linkages Program.
UK is involved in the Iraq Education Initiative as well, which will eventually send several thousand students per year over the next five years to the U.S., United Kingdom, Canada and Australia to complete their higher education studies.
"Education is the greatest form of diplomacy," said Pat Bond, Senior Assistant Dean of the Graduate School. Bond traveled to Iraq in early 2009 to participate in the initial planning phase of the program. "The Iraqi people have been isolated for decades and now, through this educational program have an opportunity to play a significant role in their country's redevelopment. Education is key to making a difference in Iraq's democratic reform. We are so pleased to be a part of this exciting initiative."
UK's first Iraqi students arrived in August, and now Lexington is home to new Iraqi students with more planning to arrive in early January. After completing their degrees here, they will return to help in the Iraq rebuilding process.
International changes can be felt throughout campus; UK's international undergraduate population grew from 169 in 2005 to 358 in 2010, according to Susan Carvalho, associate provost for international programs.
"We are very pleased to have as a part of our Enrollment Management Strategic Plan and mission the goal of enrolling more international undergraduate students. We have an excellent partnership with the Office of International Affairs to collaborate on recruiting initiatives that showcase the University of Kentucky and the outstanding academic and extracurricular opportunities," said Don Witt, vice provost for enrollment management. "The globalization of our campus helps to synergize the entire UK community. As more students, faculty and staff from across Kentucky, the country and the world contribute to our educational mission – we are building a stronger university poised to address the global issues of today and tomorrow."
The International Studies major in the College of Arts and Sciences has been overwhelmingly successful among UK undergraduates, with 361 majors and 25 minors in only its 4th year on campus.
The Global Dynamics piece of UK's new General Education program will ultimately touch every undergraduate at UK, with a course solely devoted to global citizenship.
UK's participation in the German-American Fulbright Commission's five-week "Discover Germany - Discover USA" program allows a diverse group of students from both countries to the life, culture, civilization, society and values of their host countries.
"What this program does for Kentucky students is almost immeasurable," said Vice President for Institutional Diversity Judy "J.J." Jackson. "For many of them, participating in this program takes them outside of Kentucky or the U.S. for the very first time in their lives. Thus, they get to see and live among/engage with people from 'another world' and learn other peoples' values, customs, thought and way of life. At the same time, they get to see themselves through the eyes of these people from another world."
Most recently, UK joined universities from around the U.S. and the world to host a Confucius Institute, which will provide Central Kentuckians, as well as UK students, faculty and staff the opportunity for a greater understanding of China through community classes, teacher preparation courses and events and services for the public.
UK's connection abroad is as wide and diverse as the countries the university travels to, which includes the Gatton College of Business and Economics' Global Scholars Program; the Career Center's increased emphasis on international internships, UK Libraries' work digitizing folklore in northern India; UK Voice Professor Noemi Lugo's musical education work in Latin America; UK Opera's involvement with the Haitian children's choir Haitian Harmony; the College of Journalism and Telecommunications' AIDS journalism reporting project in Africa; College of Agriculture programming; The College of Arts and Sciences' South Africa Initiative, themed "Different Lands, Common Ground; and global comparative education in the College of Education. The list continues to grow.
"Education in the twenty-first century is about the global exchange of ideas. All students involved in higher education need the opportunity to work alongside their international peers, and this can happen by our welcoming international students to the UK classrooms as well as by sending our students out into the world for classes, research, and engagement," said Carvalho. "It also happens in our increasingly global curriculum; even courses focused on the U.S. need to consider our place in a worldwide context. Our goal is to make sure that all students can speak with first-hand knowledge about cultural differences, international situations, and how knowledge is produced globally."
International Education Week is Nov. 15-19. Events, sponsored by the Office of International Affairs, include a film series; sessions for UK students on study abroad, international internships, employment and research; and workshops for international students on American slang and southern barbecue.
For more information on International Education Week at UK, see the OIA website.