UK College of Education Alum Cheri Issel Finds Love on Court and on Canvas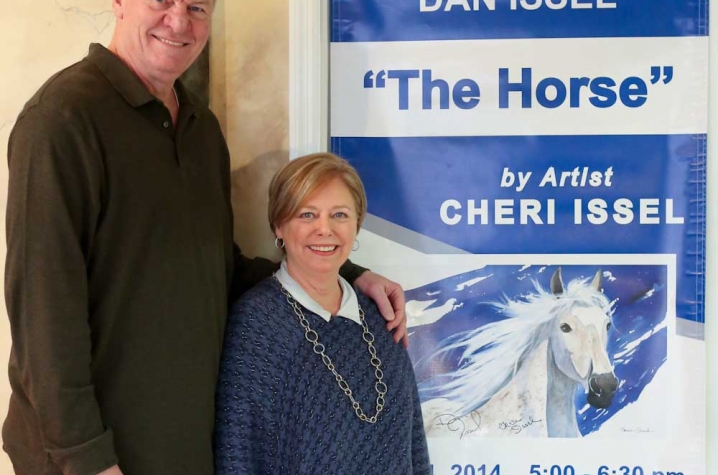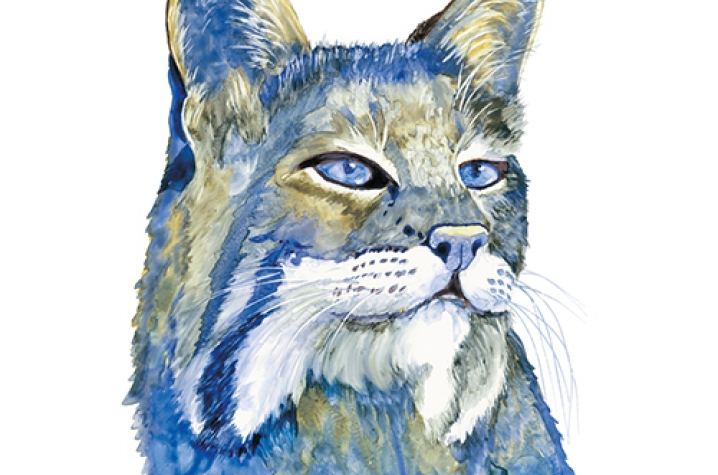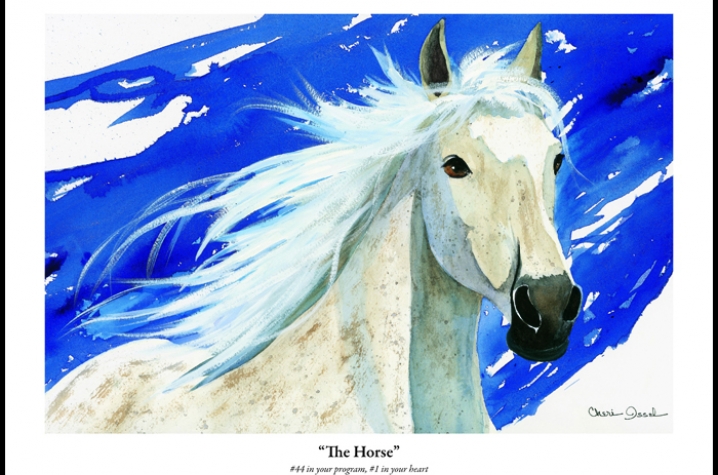 LEXINGTON, Ky. (Feb. 13, 2015) — University of Kentucky College of Education  alumna Cheri Issel is filled with adoration for her newfound career. She graduated from UK in 1970, yet it wasn't until 2010 that fate led her to one of her most passion-filled ventures yet.
Her husband, Dan Issel's, job had taken them to Bel Air, California, where she made a friend who happened to have some unused art supplies stored in her garage. On a whim, they took out the brushes and paints and began meeting weekly by her pool. A few years later, the friends ventured into an art gallery in Palm Desert, California.
"The owner asked to see some of my work and wanted to feature me as a guest artist in his gallery on El Paseo Drive," Issel said. "He wanted colorful renditions of animal faces and that led me to the type of art I enjoy. It was a great experience; I sold a few paintings and got up the courage to continue down that path."
Issel found herself making a new career out of what had started merely as time spent talking with a friend.
"We basically taught ourselves and enjoyed conversation and advice on beautiful sunny California days," she said. "Never in a million years did I plan to do any more than that."
Yet Issel knew from as far back as college that decisions made on a whim can have a lasting impact.
When the Lexington native graduated from Lafayette High School in 1966, the Beatles were topping the charts with "Day Tripper," UK basketball coach Adolph Rupp was prepping for his 36th Wildcat team, and Issel was busy completing her enrollment forms for the UK College of Education, where she would major in physical education with a minor in biological sciences.
It was an exciting time in her young life, punctuated by receiving news her tryout for the UK cheerleading squad had been successful. Cheri was a lifelong UK fan (she grew up attending games with her father) and her family's ties to UK are part of its rich history — her mother sewed the body of the suit the very first Wildcat Mascot ever worn in 1968.
Also enrolling at UK in the fall of 1966 was a 6-foot-9 basketball player from Batavia, Illinois. On the court, Dan Issel was soon averaging 25.7 points per game and would be named an All-American for two of the three seasons he was eligible for the award. His career points total remains the highest among UK men's players.
Following a game in Georgia their sophomore year, Dan approached Cheri. He wanted to know if he could give her a ride home when they returned to Lexington.
"I think we were together most every day or night after that," Cheri said. "We were engaged when we were juniors and married before our senior year. It was a fairy tale, a dream come true. My time at UK included probably some of the best years of our life. UK fans are some of the loudest and most supporting. I remember being in awe of the enthusiasm and response to our cheers and the players' actions on and off the court. Athletics (and all that goes with it) became what I lived and breathed during those years. UK boosters and fans treated us like royalty, and we will never forget that! It was a very exciting experience and I was blessed to be in the heart of it all!"
The next chapter of the Issels' life took them to Louisville, where Dan signed to play in the American Basketball Association (ABA) with the Kentucky Colonels.
"What fun those five years were," Cheri said. "We built our dream house and planned to live in it the rest of our lives. Our daughter, Sheridan, was born there and life was good."
Dan was traded after winning the ABA championship. The family moved to Denver, Colorado, where Dan played in the NBA for the Denver Nuggets for 10 years. Their son Scott was born there.
During Dan's 15-year professional playing career, Cheri balanced motherhood and was involved in many charities, served on many boards, and chaired many fundraising events. She also went back to school and took classes in interior design.
"We moved from house to house, and I loved to decorate them," she said. "My sense for color, creativity, and design blossomed then. Later I believe that led to my success as an artist. I believe we have lived in 21 houses through all these years!"
Through it all, family remained deeply important. Although they owned a horse farm in Versailles for a few years, Dan and Cheri eventually moved back to Denver (where Dan had coached the Nuggets twice, following his playing career) to be closer to their adult children, who identify Denver as their home.
"I owned my own interior design company (with two dear friends) and dabbled in marketing, design, and travel," Cheri said. "Our kids married and had kids of their own. Sheridan married Rick Whipple and we have two grandkids, Ben, 12, and Addy, 10. Scott married Kristen Ely, and we have two grandkids, Brody, 5, and Greyson, 3. They are expecting their third child in July. They are the love of our lives!"
Cheri's sister, Vicki Sageser, and her husband, Gene, still live in Lexington. Vicki was also a Kentucky cheerleader and graduated from the UK College of Education. She currently is a part-time instructor in the college's Department of Kinesiology and Health Promotion, where she teaches CPR and first-aid.
"Because of her involvement with UK, I have been able to keep in touch with past teachers there as well as administrators in the College of Education," Cheri said. "She is a role model to me and a devoted Christian woman. My dad, Virgil Hughes, is there in Lexington as well, and he is 89. He is so proud of my art, and I love him dearly. My mom died at 67 years old of emphysema, but I know she is proud as well. They were wonderful parents and loved Dan as their own son."
Today, Cheri is still learning and painting with other artists in Denver to improve her ability and style. She mainly enjoys watercolor on different types of papers but does some acrylics as well. She paints mostly from photos of things she captures and loves. Her only regret is that she didn't start years earlier.
She has partnered with Your Frame of Mind Galleries in Lexington on the release of two UK-themed paintings thus far – "The Horse" and "Wildcat Glory."
"My idea of 'The Horse' came from our love of thoroughbreds and Dan's nickname (because of  his work ethic on the court). I wanted to incorporate the heart and spirit of a horse, my husband, and UK athletics," she said.
Her latest release, "Wildcat Glory," a rendition of the Kentucky Wildcat, will be available on Valentine's Day – Feb. 14, 2015. Cheri and Dan, along with the other two members of Kentucky's 2,000 point club, Kenny "Sky" Walker and Jack "Goose" Givens, will be signing the painting at the Your Frame of Mind Galleries location in the Lexington Center shops at Rupp Arena.
More information is available at http://www.yourframeofmind.biz/. 
MEDIA CONTACT: Whitney Harder, 859-323-2396, whitney.harder@uky.edu